Most Innovative Meetings 2018: #6 Microsoft Ignite
How the tech company made diversity and inclusion a major focus of its conference.
January 15, 2019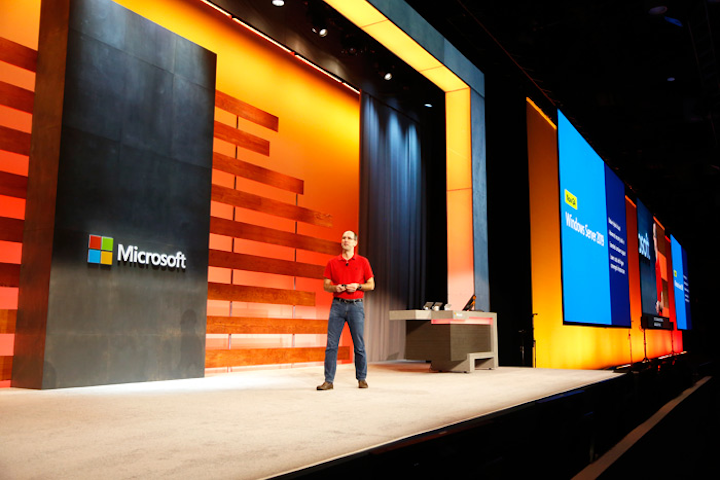 Photo: Brian Smale
Microsoft's Ignite conference, its largest event for IT professionals and enterprise developers, brought some 26,000 people from 100 different countries to the Orange County Convention Center in Orlando in September. Along with executive keynotes, hundreds of sessions, and announcements, the conference focused on diversity in the age of the #MeToo movement.
The tagline "Together, we're stronger" coincided with the Diversity and Tech track. Conference materials described it this way: "Celebrate inclusion in technology. Diversity and Tech at Microsoft Ignite focuses on empowering people of all gender identities, ethnicities, sexual orientations, and abilities to accelerate their technology careers and advocate for themselves at work."
The first day of the conference brought voices from the top: Leaders discussed building inclusive work cultures. "Diversity goes beyond gender, ethnicity, and race—encompassing accessibility and a level playing field for people of all abilities and social backgrounds," it said in the description of the panel discussion.
The panel included Marianne Roling, Microsoft's general manager of small and mid-market customers for Central and Eastern Europe (and one of Financial Times' Top 100 OUTstanding L.G.B.T. Executives); Jenny Lay-Flurrie, Microsoft's chief accessibility officer; Tara Roth, the company's corporate vice president of customer success engineering; and Claudia Galvan, a technical adviser and doctoral candidate in gender studies at Drexel University.
Diversity and tech breakouts and theater sessions included a host of topics from workplace toxicity to stories about career journeys and strategies to boost diversity and inclusion in tech. TechWomen representatives came from as far as Algeria, Tunisia, and Lebanon. Nisreen Deeb spoke on "What it's like to be a woman in technology in Lebanon: My journey from being the only woman in class to speaking on a global stage," explaining the challenges women from her culture face, and how she was able to overcome them.
Sessions also included Model 47 for Business: Transcending culture to solve real-world problems; evolving strategies for diversity and inclusion; the business case for supporting L.G.B.T.Q. employees; and discovering your diversity superpower.
Meetups were designed so attendees could not only make new connections but discuss such topics as parents in tech, women in tech, and diversity and inclusion strategies. There was also the Diversity and Tech Lounge where attendees could mingle with peers who are passionate about inclusion, and attendees could also schedule one-on-one idea-sharing sessions using the Ideas and Mentoring Tool in MyIgnite.
The conference also had seven student ambassadors from the University of Florida, the University of Central Florida, and Valencia College who champion diversity and inclusion in tech on their campuses.
Finally, the conference offered several live podcasts with hosts discussing topics related to diversity and inclusion in tech.
Previous: Salesforce 2018 Connections
Next: International Woodworking Fair
A version of this story appeared in the Winter 2018 issue of BizBash.
Featured Venues/Suppliers: