This Week in Canada: a Drive-Through Pacific National Exhibition, Shakespeare in a Truck, Oktoberfest Goes Virtual
BizBash's new Canada-focused column covers the week's biggest event news.
August 27, 2020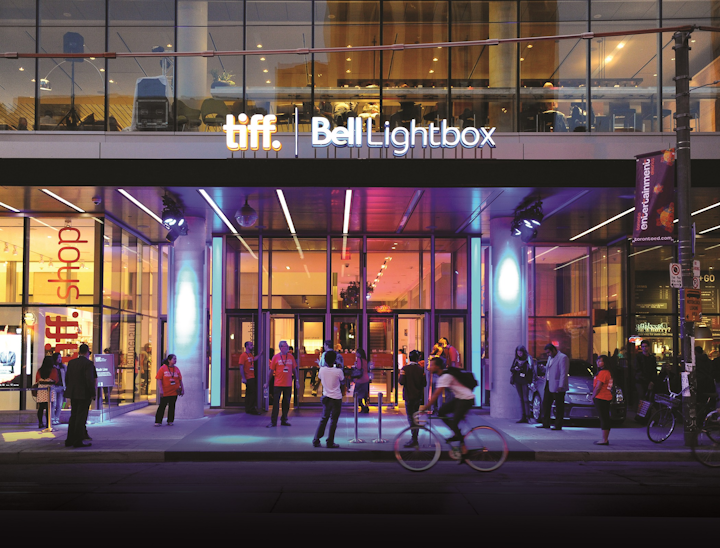 Photo: Courtesy of TIFF Bell Lightbox
Welcome to BizBash's newest column, covering Canada's biggest event news from coast to coast. Got a tip? Get in touch!
Provincial News
British Columbia: Over the weekend, the Pacific National Exhibition, which holds its annual fair at Vancouver's Hastings Park, opened a drive-through experience in the Playland amusement park. Until Aug. 30, attendees can catch the President's Choice SuperDogs tailgate party, visit barnyard animals, and join a reverse parade featuring dancers, puppeteers, and other buskers on the way out. Local food trucks—including Tin Lizzy Mini Donut Factory, Summerland Soft Serve, Hunky Bill's, Saltspring Noodle Bar, and Steve O's—will be serving a variety of summer treats on the way out.
Alberta: The 65 Roses Ladies Golf Classic, Calgary's longest-running women's golf tournament, announced that its 31st event will take place as planned at Earl Grey Golf Course on Sept. 28. Safety measures include limiting the player capacity to 100, mandatory masks, limiting cart rides to individual partners, an online silent auction, and a socially distanced dinner and presentation ceremony. Event proceeds will go to support Cystic Fibrosis Canada, which has raised $1.2 million dollars for the cause to date. 
Ontario: The Kitchener-Waterloo Oktoberfest announced that this year's festivities will take place over three weekends from Sept. 25 to Oct. 12. Live entertainment streamed online from Oct. 9-10 is free with a donation to the Onkel Hans Food Drive, which supports the Food Bank of Waterloo Region. Although this year's parade has been canceled, participants can purchase an Oktoberfest-in-a-Box package, which includes traditional garb, decorations, and sponsor gifts, and local restaurants will be offering "Micro-FESThallen" events featuring Bavarian-theme food specials, beer pairings, and entertainment. 
Quebec: POP Montreal International Music Festival and Productions La Bete Rouge are collaborating to open "Macbeth: A Reimagining on the Streets" on Aug. 29. Scenes from the Shakespeare tragedy will be performed on a stage in the back of a moving truck traveling through the streets of Mile End and Plateau. Complete with music, smoke, and witches on bikes, the play will be updated with contemporary language, with a mix of comedy and performance art paying homage to Renaissance-era theatrical troupes.  
Nova Scotia: Tonight, The Carlton's executive chef Mathias Probst is hosting a craft draught showdown between Big Spruce and Upstreet at the downtown Halifax venue. Probst will serve a five-course meal, with each course paired with two 4 oz. brews selected by the two brewmasters to complement the dish. Attendees will vote for their favorite pairing throughout the evening, with the winner announced after five rounds. 
Coast-to-Coast
Parkinson Canada has announced safety measures for its Superwalk fundraiser, which annually attracts more than 10,000 participants from across the country. Following the livestreamed opening ceremony on Sept. 12, registrants can open their "Walk in the Box" package with sponsor gifts, safety tips, and customizable T-shirts. "A big part of that has been creating a sense of togetherness among participants," said Amanda Stanton, the organization's interim lead of events and partnerships. "This year, it's important for us to offer the same connectivity to something larger than oneself, and provide the opportunity to make personal meaning through the walk despite limitations on public gatherings. We're proud to be sending some warmth into our walkers' homes at a time while they may be feeling disconnected."
The Hudson Bay Foundation announced a $50,000 investment in the Toronto International Film Festival's (TIFF) For the Love of Film Fund, which works to integrate traditional cinema-going with digital technology, support TIFF's year-round programs, and champion Canadian talent—particularly filmmakers from underrepresented communities. This year's TIFF festival will host physically distanced screenings over the first five days, with digital at-home screening happening from Sept. 10-19. 
Overheard
"When we took over the minor ball association, we said we need to get this field up and running for the younger kids. Once they turn 15 or 16 years old, there's no senior league, there's no junior league, and they sort of give up baseball. So we came up with the idea that we need to get funding for our field. Next year we get to host the provincial Senior-B championship, which we haven't done in probably 10 or 15 years, so that's been a big push for us to get the field up and running. For these kids, it means they won't have to give up baseball. They continue playing the great game of baseball for the rest of their lives."
—Robert Kelly, speaking to CBC about receiving a $25,000 grant from the Blue Jays' Care Foundation to revitalize the field for Gander Minor Baseball field in Newfoundland. 
On the Scene
On Aug. 31, the Montreal Biodome re-opened after a multimillion-dollar renovation over two years.