Jaguar Builds Giant Snow Globe (in Summer) to Promote New Cars
August 17, 2012
As a way to capture attention and introduce its new all-wheel-drive models, British carmaker Jaguar opted to build a larger-than-life snow globe in New York in the height of summer. The promotion, which opened Thursday, August 16 and runs through Saturday, August 18, is dubbed "Chill NY" and includes an ice-skating rink open to the public. 
"Obviously with all-wheel-drive you have to have some kind of inclement weather, and we thought doing something like a snow globe in the middle of the city—especially during one of the hottest summers—would really stand out," said Maryclaire Grace, MKG director of production.
Housed within a transparent, spherical tent situated on a vacant lot by the High Line, the stunt has a snow machine that adds to the wintry setting with falling ice flakes. Professionals give visitors skating lessons on a rink with a synthetic plastic, rather than ice, surface. Surrounding the globe are white tents emblazoned with the event's official hashtag, #ChillNY, which provide shade over a lounge area equipped with Wi-Fi and white couches, and the skate rental counter. Other nods to the icy theme include large snowflake- and iceberg-shaped sculptures that serve as a backdrop for the photo op, and cool treats like ice cream and snow cones supplied via a convoy of food trucks.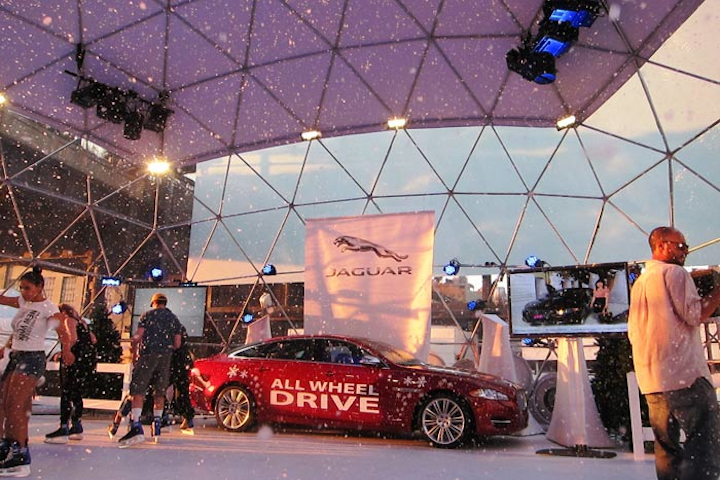 Photo: Courtesy of MagicSnow
Featured Venues/Suppliers: