Grammy Awards Preview: 'Midsummer Night's Dream'-Inspired Menu for 5,000 After-Party Guests Revealed
Patina Catering will offer fanciful takes on Shakespeare's classic at four distinct stations.
January 30, 2017
With the Recording Academy's Grammy Awards coming up on February 12 at the Staples Center, Patina Catering has just released details of the menu it will serve to 5,000 guests at the Grammy Celebration, the show's official after-party at the Los Angeles Convention Center.
The official caterer of the event for the second year in a row, Patina will serve a menu meant to convey what the company bills as "an imaginative and fantastical approach to the evening's theme," which this year will be A Midsummer Night's Dream. 
Patina will present its menu at four different stations within the massive space, drawing inspiration from the enchanted forests and settings portrayed in the famous Shakespeare work.
The "Forest Foraged" station draws ingredients and inspiration from forests, with dishes like local crudités, black bean hummus, and pumpernickel meant to evoke soil; wood-grilled beef sirloin skewers with arugula and chimichurri sauce; and red quinoa with medjool dates, roasted sweet potato, mustard greens, and warm sage vinaigrette.
The second station, billed as "Mystical," will offer whimsical offerings with edible flowers and herbs, such as fruit salad with with winter citrus, walnuts, pineapple, and marshmallow; crispy yucca root fries with banana ketchup; and baked three-cheese mac and cheese.
At the "Enchanted Gala" station, dishes will include earthy options like Scarborough Farms baby field greens with lemon vinaigrette and crispy root vegetable ribbons, and red wine-braised short rib with crispy shallot rings and natural jus.
Last, the "Fairy's Land" station will offer desserts with significant visual interest. It will present sweets, petit fours, and candy, like vegan coconut verines with tapioca-mango passion sauce, tropical fruit, and super seed brittle; tarts in flavors like caramel chocolate, lemon meringue, apple vanilla, and apricot almond; and a dish known as "Dragon's Breath," which will appear to be smoking, in flavors like  bubble gum, rose water, and cotton candy.
"Our goal is to immerse guests in A Midsummer Night's Dream with a menu featuring earthy textures, delicate floral and herbal details, and a colorful spread of enchanting treats," Patina chef Joachim Splichal said in a statement.
The Recording Academy's Branden Chapman, the executive in charge of production and the chief business development officer, added: "Hosting and serving 5,000 guests does have its unique challenges, but it's also immensely rewarding to be able to create an exhilarating guest experience from the ground up with ... Patina."
In addition to the official event's menu, Patina Restaurant Group will serve Grammy-inspired cocktails at its Los Angeles restaurants: Nick & Stef's Steakhouse, Ray's & Stark Bar, Café Pinot, and Kendall's Brasserie. Running now through awards night, the venues will serve on-theme cocktails such as Becky's Lemonade (inspired by Beyoncé's Lemonade, a twist on a whiskey smash), "Love in the Dark" (inspired by Adele's 25, a drink that combines activated charcoal and lavender syrup), and "Strength and Guidance" (inspired by Drake's Views, a wintertime twist on an old-fashioned).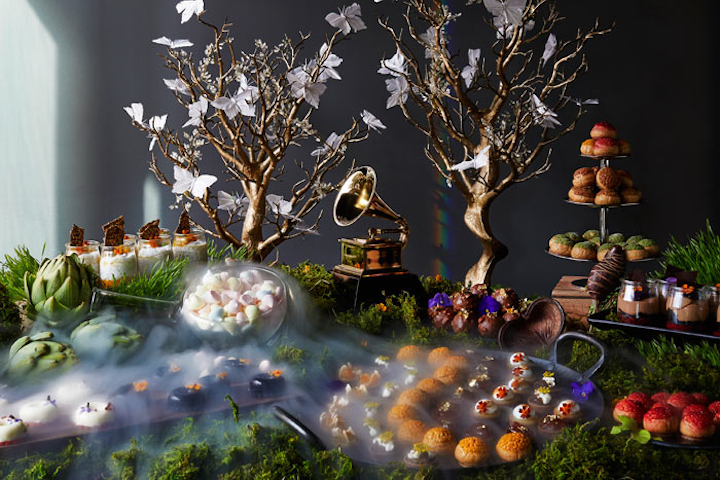 Photo: Daniel Collopy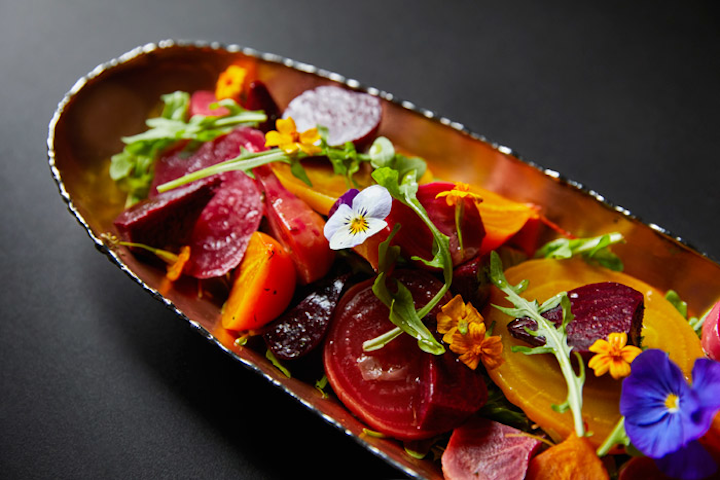 Photo: Daniel Collopy
Photo: Daniel Collopy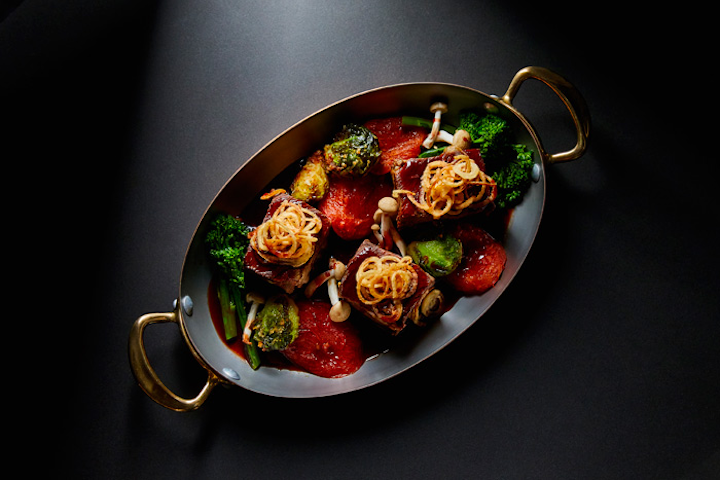 Photo: Daniel Collopy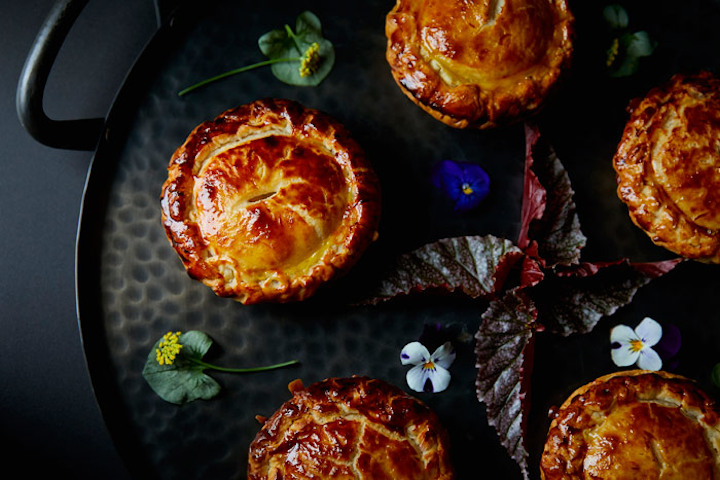 Photo: Daniel Collopy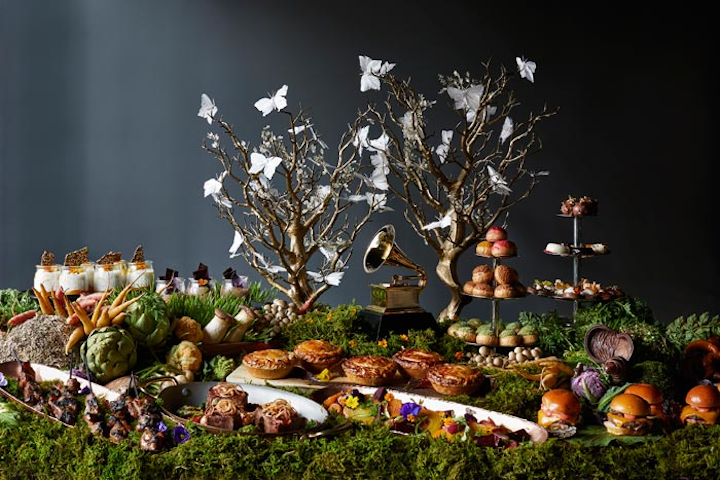 Photo: Daniel Collopy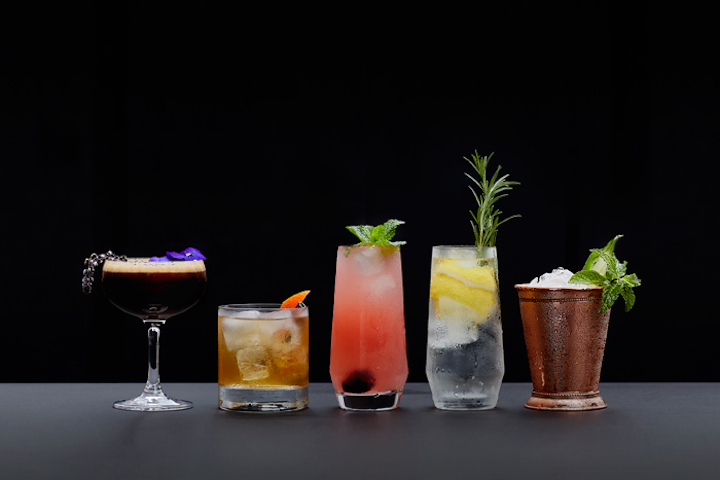 Photo: Daniel Collopy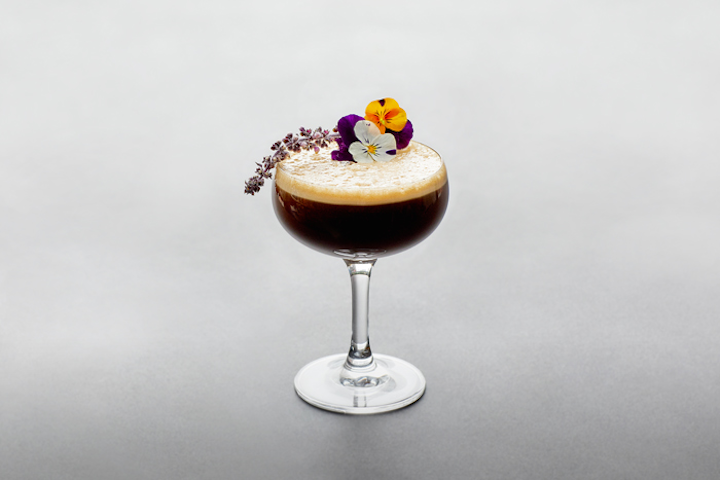 Photo: Daniel Collopy
Featured Venues/Suppliers: