Podcast: Creating High-End Experiences for Ultra V.I.P.s (Episode 175)
Quintessentially's Anna Davey shares how she creates intimate, highly tailored experiences for luxury clients.
December 3, 2019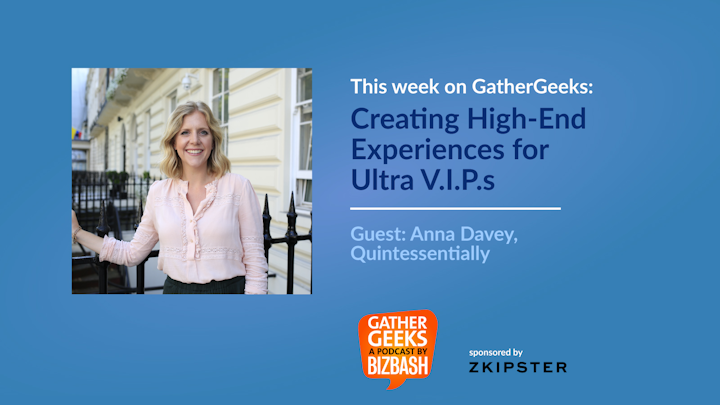 Hosts: David Adler, Beth Kormanik
Guest: Anna Davey
In the latest edition of GatherGeeks' series on sparking change, BizBash C.E.O. David Adler and editor in chief Beth Kormanik hear from Anna Davey, director of bespoke projects for Quintessentially in the United Kingdom. She shares how her team entertains small V.I.P. groups in highly tailored ways, drawing on the company's personal concierge roots to create unique, memorable experiences for clients. Davey also shares what luxury means today, why she always says "yes," how to help the C-suite understand the value of events, why attendees want an educational component, the importance of understanding cultural nuances, and more. 
Sponsored by Zkipster. Running time: 34:23
Show Notes
Roundtable Discussion: why the luxury market is shifting from material things to experiences; the trends she's focusing on right now; how younger audiences—and social media—have changed the luxury market; do audiences change from country to country?
Further Reading:
From Caviar to Cadillacs: 10 Luxury Teambuilding Activities for Groups https://bit.ly/35ih9Lo
This Episode Is Sponsored By: Zkipster
Building a memorable experience for your guests means planning every detail right. Zkipster is the guest management platform designed to help you create perfect experiences, from impressive online invitations to seamless check-in at the door. Get started at zkipster.com with a free test event.