The 10 Most Anticipated Interactive Experiences at Comic-Con
Here's a look at some of the most interesting attractions that fans can expect this week in Comic-Con International in San Diego.
July 19, 2016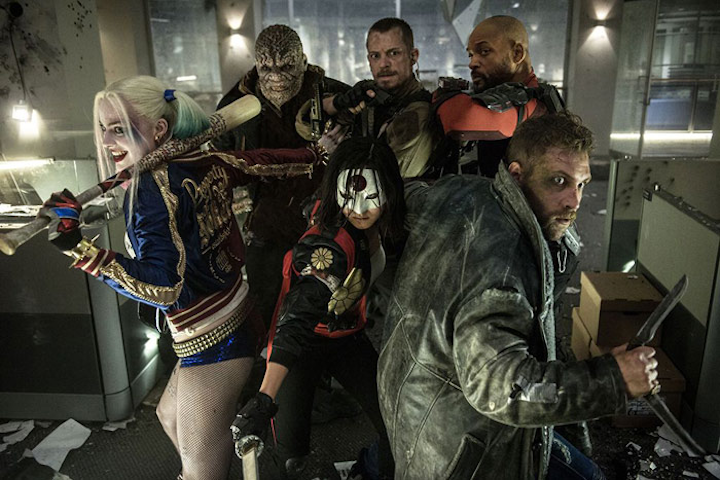 Photo: Courtesy of Warner Bros. Pictures
Every year, an estimated 130,000 pop-culture fans gather in San Diego for Comic-Con International, to get sneak previews, buy merchandise, meet celebrities, and immerse themselves in the parties, interactive experiences, and circus-like atmosphere. This year's edition, which takes place Thursday through Sunday at the San Diego Convention Center, will have its share of surprises. Here are the 10 most anticipated attractions to watch for.
1. Suicide Squad
In addition to a panel and autograph session with the film's stars Viola Davis, Jared Leto, Margot Robbie, and Will Smith at the convention center, fans can head to the Hard Rock Hotel for an interactive experience. The Suicide Squad Belle Reve penitentiary—the high-security prison in which the movie's Suicide Squad members are held—will be recreated, and fans will have the chance to take part in film-theme experiences such as getting a custom tattoo in Harley Quinn's tattoo parlor. Fans will also have the option to "Join the Squad," an interactive feature that enables them to take a personality quiz to create their own Suicide Squad character and generate a short video of themselves to share on social channels. Fans can also make custom T-shirts with personalized skull icons. DC Entertainment, Warner Bros. Pictures, Samsung, the Visionary Group, White Walls Fabrication, and publicity/marketing firm PMK-BNC worked with Brightline Interactive to create the activation.
"It's one thing to take a photo with a character, but when you create your own alter-ego, you're really immersed in the media, and it looks you're creating your own promo. And because of that, it's creating an emotional experience that you wouldn't be able to do in another exhibit," says Brightline Interactive C.E.O. and chief creative officer Erik Muendel. Given that Comic-Con is notorious for having long lines, Muendel says that the Suicide Squad VR activation (which used technology such as the FFmpg) was designed to help reduce that problem; it should take participants an average of 45 to 90 seconds to complete the experience. "A lot of the elements have never been done before," adds Brightline Interactive marketing manager Clark Douglas. "Taking augmented reality and virtual reality to create a mixed reality—that's something we're going to see get big over the next year."
2. Star Trek
Several events are timed to the 50th anniversary of the original Star Trek series. There will be six Star Trek panels (including one on Saturday that will gather several cast members of various Star Trek shows), a 50th anniversary art exhibit, and a preview of the Star Trek makeup collection from M.A.C. Fans can jump aboard a "transporter" to explore strange new worlds for photo ops. In addition, Star Trek Beyond, the third installment in the Star Trek movie series reboot, will have its California premiere at Embarcadero Marina Park South on Wednesday, two days before the movie hits theaters. The event will be the world's first outdoor IMAX premiere, according to Paramount Pictures, and the San Diego Symphony Orchestra will present a live performance of Michael Giacchino's Star Trek Beyond film score.
3. South Park
The raunchy animated Comedy Central show South Park is celebrating its 20th season this year with "South Park 20 Experience," which can be seen at Martin Luther King Jr. Promenade Park. The activation will have several components, including 20 life-size scenes, allowing fans to jump into some of the most memorable moments in South Park history and share the results on social media. There is also the Coon & Friends Experience from Ubisoft to promote the launch of the new video game South Park: The Fractured But Whole. In addition, a photo booth will allow fans to create an animated GIF with various characters, and share it across social media.
Next to the interactive experience, at the San Diego Wine & Culinary Center, a Hulu viewing lounge will have a South Park marathon with episodes from all 19 seasons. There is also an art gallery with a Ron English-curated exhibit of South Park pieces from 20 artists. And at the convention center on Friday, a panel will feature the show's creators and voice stars. Pop2Life, which created a South Park 15th anniversary interactive experience at Comic-Con in 2011, also built the South Park 20 Experience.
The show's reputation for vulgar content presented some challenges. "We tried to pick scenes that were iconic and memorable but also [create] a balance that would not have too much that's offensive to people that would distract from the event," Pop2Life C.E.O. Eric Murphy says. "We also have to keep some of the edge and remain true to what the show is."
4. Game of Thrones
The popular HBO fantasy series will have a panel discussion on Friday, but throughout Comic-Con this year, Game of Thrones fans will get a new interactive attraction: an elaborate scavenger hunt. To participate, attendees must complete six challenges by going to announced Comic-Con locations, posting Twitter photos of themselves with specific Game of Thrones products and using the hashtag #GoTScavengerHunt. People who complete all six challenges then can go to USAopoly's Clue: Game of Thrones Experience Booth on Saturday to enter a raffle for various prizes.
5. American Horror Story
From Thursday to Sunday at Hilton Bayfront Park, the FX series will present the AHS Fearless VR Experience that takes participants on a virtual-reality journey through terrifying encounters inspired by the show. To avoid waiting in long lines, fans can reserve a spot at AHSreservations.com.
6. Batman: Arkham
Visitors to DC Entertainment's booth in the convention center can see the demo for Batman: Arkham VR (from Rocksteady Studios), the first virtual-reality experience that allows players to put on the cape and cowl of the Dark Knight. Comic-Con attendees will get to preview the video game before it is released in October. Participation in the experience will require wristbands.
7. MTV Fandom Awards
The third annual award show, held Thursday at Petco Park, is open to Comic-Con badge-holders and features live performances and amusement-park rides. The ceremony, which celebrates entertainment that has a passionate fan following, relies heavily on social media for its voting and attendee interaction. This year, the show added a category for video games, and the Power Rangers have been announced as presenters. MTV will televise the Fandom Awards on Sunday.
8. Wonder Woman
This year marks the 75th anniversary of Wonder Woman as a DC Comics character. To celebrate, DC Entertainment and Warner Bros. Consumer Products will be exhibiting Wonder Woman merchandise, costumes, and props on the convention floor, including some from the 2017 Wonder Woman movie. Outside the convention center, the superhero's Invisible Jet will be displayed. It will illuminate at night and offer fans the chance to take a photo in the pilot seat. There will also be a larger-than-life art installation featuring Wonder Woman-inspired pieces created on-site by female artists.
9. Vikings
Fans of the History fantasy show can experience the Vikings Vipers Den on the convention floor. Through a video simulation, participants will feel the fear of being surrounded by snakes in a dark abyss with no immediate escape. Attendees will have their screams and writhing captured on camera in shareable GIFs, and receive a Vikings viper cuff as a souvenir.
10. Timeless 
To promote the new time-traveling TV series (which premieres in October), NBC and Sony Pictures Television are giving fans a ride on a Gravitron, which simulates time travel. Participants can take a shareable motion graphic photo that captures their experience. And on Saturday at the convention center, a Timeless panel will have a sneak preview of the first episode, followed by a Q&A with stars and producers of the show.
Featured Venues/Suppliers: