This Week in Los Angeles: Interactive Sponsor Activations, an Untraditional Gala Format, a Nostalgic Trade Show Booth
West Coast bureau chief Claire Hoffman covers the week's biggest event news.
November 15, 2019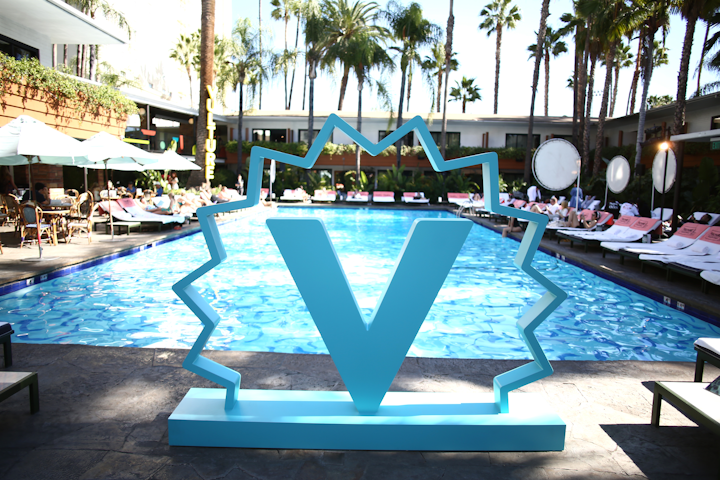 Photo: Tommaso Boddi/Getty Images for New York Magazine
LOS ANGELES—Welcome to BizBash's Los Angeles-based column, where West Coast bureau chief Claire Hoffman recaps the week's biggest local news. Got a tip? Get in touch!
Moves & Milestones
Amy Thurlow is the new president of Dick Clark Productions, producers of the Golden Globes, the Billboard Music Awards, the American Music Awards, and other high-profile live events. Thurlow previously served as the company's C.O.O. and C.F.O.
The Los Angeles Convention Center has two new hires: Scott Banks is now vice president of security and guest services, while Patrick Smart is the new general manager of Taste of L.A. by Levy.
Allison Lesser is the new director of sales and marketing at the 199-room Hotel Maya, a DoubleTree by Hilton, in Long Beach. Lesser has previously served as vice president of business development at BTS Hospitality, vice president of event sales for Patina Restaurant Group, and vice president of sales for the Long Beach Convention & Visitors Bureau.
In Case You Missed It
On Tuesday, we revealed our 2019 list of Event Innovators. Click through to get inspired by 14 event producers, tech strategists, conference organizers, and thought leaders from all corners of the meeting and event industry.
And if you missed it last week, we rounded up the 15 most innovative meetings of 2019, including Summit L.A. and the Epic International Summit in Ojai. We also published 32 cool ideas from events for Watchmen, Jojo Rabbit, and other top TV shows and movies.
Spotlight On
Inner-City Arts hosted its annual Imagine Awards on November 3. Once again bucking the standard gala format, the daytime brunch was held on the Inner-City Arts campus and was hosted by philanthropist Glorya Kaufman. Stoelt Productions produced the event, which featured a gourmet brunch, a Mariachi band, student performances, VR experiences, and more.
"This year marked the 30th anniversary of the Imagine Awards, so it was the perfect opportunity to invite guests to the ICA campus in the heart of Skid Row to witness firsthand the phenomenal staff, classrooms, and facilities of the program," explained Stoelt Productions owner Matt Stoelt. "Always looking to break from the norm, Inner-City Arts president and C.E.O. Bob Smiland is very passionate about shaking things up and evolving the traditional gala format. Choosing a Sunday-morning brunch format created the perfect opportunity for guests to explore and experience the individual studios on their own time, in their own way."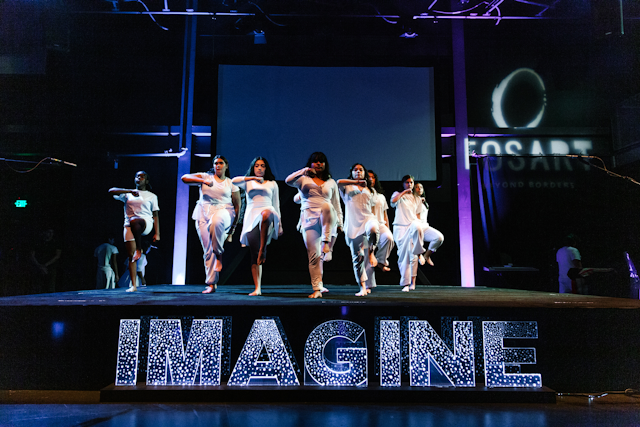 Photo: Courtesy of Stoelt Productions
In the News
Alicia Keys will host the Grammy Awards in 2020. The Hollywood Reporter: "After making a well-received debut as host at the 61st annual Grammy Awards earlier this year, Keys will do the honors again for the 62nd annual Grammys, which are set to air January 26. ... Keys will be just the third woman and the first female music star to host the show more than once. ... The upcoming Grammy telecast will be the last one to be executive produced by longtime Grammy producer Ken Ehrlich."
Sommelier Anthony Cailan has been accused of sexual assault. The New York Times: "At 29 he is already a celebrity in the small world of high-end wine. He had worked at influential Los Angeles restaurants like Bestia, Animal, and Eggslut, where his brother, Alvin, is the chef. Last year, the two were recruited to open a New York restaurant, the Usual, where Anthony's wine list received glowing media attention ... Four women in Mr. Cailan's professional circle contacted The New York Times to allege that he had either sexually assaulted them or tried to do so—allegations Mr. Cailan has denied."
Rapper Drake was reportedly booed off the stage at Tyler, The Creator's Camp Flog Gnaw Carnival, held at Dodger Stadium on November 10. The New York Post: "Tyler hadn't announced the headliner ahead of time, but fans had guessed the final act would be Frank Ocean. When Drake appeared instead, the audience was quite vocal about their displeasure. ... He reportedly performed nine songs—including Meek Mill's 'Going Bad'—before taking off 20 minutes early."
Trade Show Booth Inspiration
At ComplexCon, held at the Long Beach Convention Center November 2 to 3, Budweiser worked with Team Epiphany on a nostalgic booth celebrating the 20-year anniversary of the famous "Whassup" commercial. Influencers, celebrities, and other attendees could film their own versions of the commercial inside the booth, which also included limited-edition versions of vintage Budweiser gear curated by clothing shop Procell.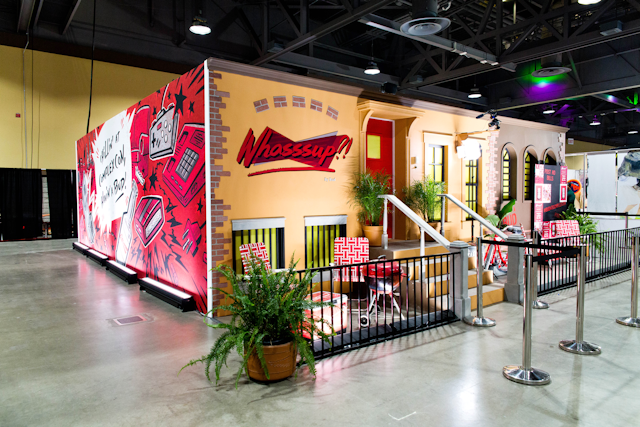 Photo: Budweiser/Team Epiphany
Surprise Metric of the Week
5 minutes: the amount of time it took for tickets to a Schitt's Creek pop-up to sell out. The Pop TV event, sponsored by State Farm, will take over Goya Studios from November 22 to 24 before heading to New York. Adweek: "Pop created its first-ever pop-up as an opportunity for fans as well as advertisers. With linear ratings falling across the board for most networks, 'we knew we needed to change things up to meet that challenge and inspire advertisers to partner with us in other ways,' said Caroline Wilson, vice president of integrated and partner marketing at Pop."
Venue Buzz
Onda, a collaboration between Jessica Koslow and Gabriela Cámara in partnership with Proper Hospitality, is now open in Santa Monica. The eatery, which serves Los Angeles- and Mexico City-inspired food, is housed in a 1920s Spanish Colonial landmark building.
Esquire's annual list of best new restaurants features a bunch of familiar faces, including Bon Temps in the Arts District, which grabbed third place; chef and owner Lincoln Carson was named Rising Star of the Year. Joy in Highland Park, Alta Adams in West Adams, and Sushi Note in Sherman Oaks also made the list, and Dear John's in Culver City was named Pop-Up of the Year.
Overheard
"Pay yourself a salary. We often put ourselves last. You can't be of service to your company if you're crashing and burning yourself."
—News anchor Nicole Lapin, sharing advice for entrepreneurs at the #BlogHer19 Biz conference at the Riveter on November 9. The self-described "boot camp for entrepreneurs" featured panels from Molly Simms, Kate Somerville, and other female business owners. 
On the Scene
For a private dinner held at the California Club, Revelry Event Designers used custom oversize frames, wrapped in red florals from Celio's Design, to create arches over the tables. The event was planned by Exquisite Events, with additional design by Marc Friedland Couture.
What's Next
The Adult Swim Festival takes place today and tomorrow at the Banc of California Stadium. In addition to games and experiences inspired by Rick and Morty and other shows, the event will feature performances from the likes of 2 Chainz and Captain Murphy. 
Also happening now is A.F.I. Fest, which kicked off yesterday and runs through November 21. The Audi-sponsored film festival has resumed charging for tickets this year, after offering them for free since 2009. "There were a couple of reasons [for the change]," festival director Michael Lumpkin told the Los Angeles Times. "One, the mechanism for getting a free ticket was cumbersome and not customer-friendly. And we had to overbook to ensure a full house. And so there was this increased risk of going to Hollywood and Highland, parking, and then not being sure you're going to get in. I also think that we were missing a certain segment of moviegoers by having this cumbersome system between them and watching a great movie."
And looking into next week, Automobility L.A. runs from November 18 to 21. The four-day trade show—which annually takes place right before the 113-year-old Los Angeles Auto Show—includes sessions focused on the future of security in the mobility sector, marketing in the auto industry, car design strategy, and more.