This Week in Los Angeles: Frieze L.A.'s 'Star Trek'-Inspired Installation, Plus a Stylish IMDb Lounge and the Reopening of Bernie's Coffee Shop
West Coast editor Claire Hoffman covers the week's biggest event news.
February 21, 2020
Photo: Casey Kelbaugh
LOS ANGELES—Welcome to BizBash's Los Angeles-based column, where West Coast editor Claire Hoffman covers the week's biggest local news. Got a tip? Get in touch!
Moves & Milestones
EventWorks has promoted Alisa Walsh to the role of co-owner and president, replacing former president Janet Elkins. Walsh joined the company in 2016 as director of business development. 
Debbie Megna is the new destination sales executive for Travel Costa Mesa. 
Michelle Ellamae has launched Ellamae Productions, a design and production studio focused on social good events. "Our objective is to elevate social good events on minimal budgets to maximize fund-raising and profits, so that the organizations can expand their reach and growth," explained Ellamae, who formerly worked at Sequoia Productions. "We specifically target collaborating with organizations which promote equal education, female empowerment, and ending human trafficking."
In Case You Missed It
Now that award season is a wrap, we've rounded up the most inspiring event design trends from the most glamorous parties. Click through for plenty of adaptable ideas for color schemes, wallpaper and carpeting, branding, and much more.
And speaking of design inspiration: We took a look inside a truly over-the-top, Salvador Dalí-inspired birthday party. Feast your eyes on the photos, then listen to designer Marc Friedland share behind-the-scenes details in this week's GatherGeeks podcast.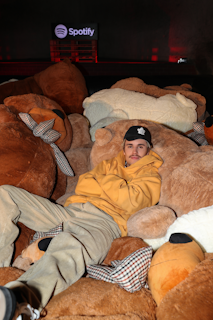 Bieber himself made a surprise appearance at the event.Photo: Alfredo Flores
Spotlight On
On February 14, Spotify hosted Justin Bieber's official Changes album launch party at Berrics skate park downtown. Dubbed the "House of Changes," the immersive event featured a series of vignettes designed to tell the story of the album, including a banquet inspired by the "Yummy" music video and a pit of oversize teddy bears inspired by Bieber's clothing line. In a black-and-white room, guests wrote their own "Intentions"—another song from the album—on the walls, plus there were photo moments that turned fans into the album cover star. Attendees also could customize T-shirts using decals designed by visual artist Gianpiero D'Alessandro.
In the News
Los Angeles has officially banned the use of exotic animals for entertainment and at events. The Hollywood Reporter: "The city council voted unanimously on the measure Tuesday, which applies to such animals as elephants, giraffes, and lions, but does not include horses. 'The issue of wild, exotic, and even dangerous animals being used for entertainment came to our doorstep four years ago, when a baby giraffe and elephant were being marched up the Hollywood Hills for a house party,' councilmember David Ryu stated. ... Wildlife conservationists (with proper permits) and the Los Angeles Zoo are exempt from the law."
Goldenvoice's newly announced Lovers & Friends Festival, which takes place May 9 at the Grounds at Dignity Health Sports Park, has raised concern after several artists denied their involvement. (Lil Kim has since posted an update to say she is actually involved after a discussion with promoter Snoop Dogg.) Complex: "Promotional powerhouse Goldenvoice took to social media on Tuesday to reveal the festival's first-ever lineup, which included acts like Megan Thee Stallion, Ludacris, Fat Joe, Jhené Aiko, Lil Kim, Summer Walker, T-Pain, and Saweetie. However, moments after the performers were announced, several of the billed artists began denying their involvement, leading some fans to believe the event wasn't legit. ... When reached for comment, a rep for Goldenvoice told Complex, 'Our festival is 100% confirmed. Lineups are always subject to change.'"
Johnnie's Coffee Shop on Wilshire Boulevard, which has been decorated with colorful murals of presidential candidate Bernie Sanders since 2016, reopened this week as "Bernie's Coffee Shop." The venue hosted a watch party for Wednesday's Nevada Democratic Party debate. CBS Los Angeles: "The watch party [was] followed by musical performances, speeches, and poetry. ... Sanders-theme food and beverages [were] available at the shop including Break Up the Banks Burgers, Health Care for All Hash Browns, Justice for All Jambalaya, and Coke No Koch drinks. ... After the primary election, the coffee shop will serve as a volunteer office for the campaign."
Surprise Metric of the Week
90,000: The number of people who reportedly registered for tickets to the Kobe Bryant memorial in the 24 hours since they went on sale. Many seats at the 20,000-seat Staples Center—which is hosting the February 24 memorial—were reserved for invited guests; for the remaining seats, Ticketmaster selected fans at random, who could then purchase a maximum of two tickets at $224 or $24.02. Proceeds will be donated to the Mamba & Mambacita Sports Foundation.
Venue Buzz
The Academy Museum of Motion Pictures will open on December 14. The museum says it has raised 95 percent of its $388 million pre-opening goal, and construction on the interior's four floors is slated to begin soon.
The Kimpton La Peer Hotel has been awarded four-star status by Forbes Travel Guide. The 105-room property is the first West Hollywood hotel to earn the status. 
Overheard
"We are embracing the dream that music can bring to get us to a better place—for our fans, for our people, for our communities, and for our planet. We envision a tomorrow where festivals live and breathe the extraordinary—Virgin Fest looks to lead that charge."
—Jason Felts, C.E.O. and founder of Virgin Fest, discussing Virgin's inaugural music and tech festival with Rolling Stone. Virgin Fest will take place June 6 and 7 at Banc of California Stadium; Lizzo and A$AP Rocky will headline. 
On the Scene
At the Elton John AIDS Foundation's annual Oscars viewing party, 15/40 Productions created an eye-catching interview lounge for sponsor IMDb. The space, which broadcast the annual "IMDb Live" streaming show co-hosted by Aisha Tyler and Dave Karger, tied into the event's orange-and-black color scheme designed by Antony Todd. See more: Oscars 2020: Steal-Worthy Event Design Ideas From the Week's Most Stylish Parties
What's Next
The Create & Cultivate L.A. 2020 conference takes place on Saturday at Rolling Greens. Hosted by C.E.O. Jaclyn Johnson, the event will include keynote speeches from Jessica Simpson, Eva Mendes, Lauren Conrad, Jessica Alba, and Queer Eye's Antoni Parowski. 
Gaming festival Dreamhack makes its U.S. west coast debut at the Anaheim Convention Center today through Sunday. The massive event, which spans 400,000 square feet, will host esports tournaments, live music concerts, film screenings, a cosplay competition, and more. Guests who purchased three-day passes will have 24-hour access to the festival.