Vivid Ideas Shine at the BiZBash M&C Trade Show
Thursday, November 9, 2006 at The Unconvention Center at Pier 94 in New York City
December 12, 2006
Hosting more than 100,000 events each year, New York City is arguably the de facto capital of the event planning business. And for six years running, BiZBash Media has brought together event professionals in the industry's Mecca for its annual Meeting and Event Style Show. Presented for the second time in partnership with
Meetings & Conventions magazine
, the 2006 gathering was the biggest and best yet.
More than 300 exhibitors and over 2,500 planning professionals flocked to the largest gathering of event, meeting, hospitality and event marketing professionals in the Northeast, this year held at Manhattan's
The Unconvention Center at Pier 94
on Thursday, November 9. Both vendors and planners alike came from around the country to celebrate and soak up the trade show's 2006 theme: Vivid Ideas.
Among the show's attendees were representatives of KPMG, Turner Broadcasting, O, The Oprah Magazine, GenArt, Yahoo!, Lifetime Television, The L Magazine, CLIO, Lehman Brothers, Forbes, Bloomberg, and NBC.
Presented in a new one-day format, the event featured fresh concepts at every turn in the form of eye-catching and interactive booths from vendors on the trade show floor, engaging speakers at general sessions, live entertainment and professional development seminars with some of the industry's leading experts.
True to the show's name, vivid/compelling ideas and innovative concepts were found at every turn throughout the day. Before even entering the exhibition space, guests were greeted by
CPR Multimedia Solutions'
impressive outdoor digital monitor which played music and displayed branding and welcome messages for the show's entirety, as well as giant fabric balls created by
Pink Inc.
, and colorful signage provided by
Blazing Signworks
. Across the threshold, striking performers from
Pink Inc.
flanked the hall's entryway, while the colorful bold background at the registration desk, also provided by
Pink Inc.
, immediately communicated the spirit of the show.
On the show floor, vendors brought their A-game, resulting in a diverse collection of booths that were visually stunning, interactive and indicative of the latest trends and technology in the event industry. Form D?cor created a lush an inviting space with its stylish furniture pieces, while
EventStyle
offered a luxurious and open setting incorporating white sofas. Adding whimsy to the mix were exhibitors such as
Eclectic Encore
and
Screaming Queens
, who offered photo ops with a hunky "Tarzan" and fabulous drag queens, respectively, and
SPArty
, who provided manicures to all who stopped by their white-shag carpeted space. Booths with eye-catching flair included
Party Rental Ltd.'s
floral vision in pink, and
PBG's
arresting space topped with a canopy of blue "cloud-covered" umbrellas. Just outside of
PBG's
booth, an interactive screen by
Monster Media
projected images from key sponsors such as American Express,
MSG Entertainment
, and
Columbus Circle Experiences
on to the floor, which changed as passersby walked over them. Capturing all of the spectacles and activities throughout the day was
brightroom.com
, the official BiZBash M&C Meeting and Event Style Show photographer.
Luxury brands also came out in full force, with companies such as Tourneau,
Bulova
, Montblanc, and
Simon Pearce
all on hand to present planners with rewards and incentive ideas. Attendees looking for the next place to hold a meeting or convention were provided plenty of inspiration, with representatives from such organizations as the Greater Miami CVB, Maryland Office of Tourism, Hawaii Visitors & Convention Bureau, and Keystone Resort & Conference Center on hand to showcase their offerings. Thankfully, show bags courtesy of
Bagmasters
provided the perfect way to stash the overwhelming amount of samples and literature offered in the exhibition space.
Beyond dazzling the eyes, many exhibitors tempted attendees' taste buds with samples of the most decadent and delicious variety. Chocolate Dreams offered unique bars and truffles; Dale and Thomas doled out popcorn - spiked with jalape?o or drizzled with rich chocolate; Mandler Sausage Company passed savory cured meat slices, and
Tip of the Tongue
catering provided elegant hors d'oeuvres. Anyone weary from a full day could stop by
Heartland Brewery
for a beer,
GothamComedy Club
for a pomegranate martini, or even 02 Bar NY for a quick, chem-free pick-me-up. And for those who just needed a comfortable place to recharge, stylish furniture from
Cort Event Furnishings
in the food court, back lounge, courtyard, Columbus Circle Experiences Room and The Concierge Lounge provided plenty of options.
Anchoring the center of the show floor was the OPEN from American Express? Business Lounge, where event professionals could sit and relax while they learned about the benefits of getting an American Express Business Card through BiZBash. For those who applied and were approved for a Card at the trade show, OPEN? provided automatic statement credits up to $250 and a fee-free first year of Cardmembership and BiZBash offered advertising discounts and complimentary enhanced listings in multiple BiZBash channels. BiZBash and OPEN will continue their partnership with a new value package for event professionals in 2007.
In the day's first open general session, held in the Columbus Circle Experiences Room, Daniel G. Belmont, chairman of the Event Marketing Council for the Advertising Research Foundation, offered insight into "Engagement Marketing: The Hottest Trend Driving the Event Strategy for the World's Most Successful Brands." Belmont stressed the importance of creating a relevant, personal and immersive experience for consumers, and illustrated the effectiveness of this strategy in increasing overall customer engagement and sales citing examples ranging from the brandscape of NikeTown to Lucasfilm's extraordinarily successful retail partnership with Wal-Mart. All events in the Columbus Circle Experiences Room were enhanced by the use of
Alden HD Event Solution's
innovative WATCHOUT Technology.
The afternoon general session featured Disney Events Group managing producer Dennis Wirzman discussing "The Disney Approach to Meetings and Events." Wirzman illustrated how Disney goes the extra mile to customize its facilities and events for clients, and injects both humor and the unexpected into the company's internal meetings. Both general sessions featured top-notch entertainment offerings: Broadway's The Umbilical Brothers, courtesy of
CAMI Spectrum
, provided a whimsical opening act for Belmont's talk, while
Disney on Broadway
punctuated Wirzman's remarks with performances from the Broadway cast of the musical Tarzan.
Additional learning opportunities were presented in more intimate Hotel and Education sessions sponsored by
New York Marriot Marquis
. Over 500 conference participants attended these workshops, which addressed such topics as "Exploring the New Food Frontiers", "Your Career Path", "The Cutting Edge of Event Design" and "The Keys to Successful Business Planning and Operations." In "Creating and Evaluating Bids, Proposals and Presentations" Dan Held of
ADM Productions
and
EventStyle's
Mark Addison offered candid advice on the best strategies for impressing and capturing potential clients. At "Production, Technology and a Behind-the-Scenes Look at the Trade Show", BiZBash Hall of Fame honoree Peter Scharff of
Scharff Weisberg
demonstrated the current cutting-edge uses of lighting and video, and Dennis Prueher, C.E.O.
Alden HD Event Solution's
, showed the multiple capabilities of his company's versatile WATCHOUT technology. All forums featured expert panels and speakers, and were followed by lively Q&A sessions. Later in the afternoon,
The Flower Council of Holland
hosted a packed demonstration illustrating the latest in floral trends and innovative design techniques.
Roundtable luncheons provided not only the opportunity for colleagues to network and nourish, but entertainment at the trade floor's rear stage as well. (Even the lunch itself, a stylish creation courtesy of
Hudson Yards
created a buzz all its own. The translucent, multi-tiered box was taken home by many attendees, (and word of it hit the blogosphere the following day.) In addition, guests could take in presentations including "Incorporating Timelines into Everyday Client Communications" from
Alpine Creative Group
; "Rental Remix: Versatility and Creativity with Rentals" courtesy of
Party Rental Ltd.
, and "Total 'Eventagration': Using Multi-touch Points to Fully Brand Your Event" from
Columbus Circle Experiences
. For those who needed a quick but tasty bite, the inviting central food court from
Great Performances
provided a relaxing setting, along with offerings ranging from fresh fruit to paninis and crabcakes straight from the company's organic farm, and water was provided by
Sei
.
At the Tastemakers Luncheon, an invite-only crowd gathered for current chairman, president, and C.E.O. of the West Paces Hotel Group Horst Schulze's talk, "The Luxury Edge: New Expectations for Events and Customer Relationships." His audience included some of the industry's top event planners from such companies as Morgan Stanley, Artful Affairs, Prudential Financial,
Hotel Gansevoort
,
IMG
, Maidenform and the Smithsonian National Air and Space Museum.
David Beahm
provided the setting for the lunch with elegantly-set tables draped in linens courtesy of
Resource One
. The topic-appropriate meal of "Lobster, Two Ways" (warm lobster parsnip vichyssoise with lobster coral dust and lobster salad nicoise on the same plate), which began with a truffled macaroni and cheese, came courtesy of
Abigail Kirsch Catering
. To come up with the menu, Abigail Kirsch partner and C.E.O. Alison Awerbuch commented, "We brainstormed about traditional luxury items and wanted to bring a unique, contemporary twist to them. As we thought of the definition of "luxury", we wanted to make sure that we included elements of both comfort and surprise, with the food itself, and with the presentation."
And kicking things off was award-winning violinist Lorenzo Laroc, whose performance was presented by
BONGARBIZ Acts & Artists Network
, Inc.
In his remarks, Schulze explained that "luxury" means different things to different people - a desired feeling, things, surroundings, or convenience - but that earning and retaining the trust of the luxury consumer is paramount. And he guaranteed an evergreen and expanding luxury market in years to come citing the retiring Boomer generation and a thriving international economy.
Any event industry gathering wouldn't be complete without some kind of party, or two. The day's activities were topped off, so to speak, by the BiZBash Hall of Fame Cocktail Party, sponsored by American Express Meetings Group,
Absolut Vodka
,
Great Performances
, and
E&J Gallo Winery
. The party featured entertainment provided by
Marcus Goldhaber
, MC stylings from Chris Cardone of
The Flair Bartenders' Association, Inc.
(FBA), and the good-natured competition of the "Mix it Up" bartenders contest, which awarded the
Hard Rock Caf?'s
Eric Noir the top prize. Runners-up included Danny Rosario of
Planet Hollywood
, Eddie Jauqes of
Gotham Comedy Club
and Justin Pallack of
Slate
, all of whom received prizes for participating. Tips collected during the mix-off were donated to
The FlowerPower Foundation
, the industry non-profit that repurposed all the floral arrangements from the trade show floor and then delivered them to patients in local hospitals, nursing homes and more.
Finally, some of the event industry's finest and most-admired members were honored at the BiZBash Hall of Fame ceremony, sponsored by
MSG Entertainment
. Courtesy of
Comix
, Comedy Central's Greg Giraldo wowed the crowd with a refreshingly funny set, and then the golden statues, designed and provided by
MK Shannon Awards and Rewards
, were presented. Honored this year were Felice F. Axelrod, president, Council of Protocol Executives (COPE) and vice president, protocol, Lehman Brothers; Susan Magrino Dunning, president and C.E.O.,
Susan Magrino Agency
; George F. (Jeff) Little II, president and chief operating officer of
George Little Management, LLC (GLM?)
and the George Little Management team; Liz Neumark, C.E.O.,
Great Performances
and the Great Performances team; Peter Scharff, chairman,
Scharff Weisberg
, and Sylvia Weinstock, baker and decorator,
Sylvia Weinstock Cakes
.
Of course, the crowd gathered to celebrate afterwards, and was served a BiZBash-customized cake from Sylvia Weinstock's team, which was created as a surprise for her, and featured a miniature Sylvia on top.
A delicious end to a feast of a day.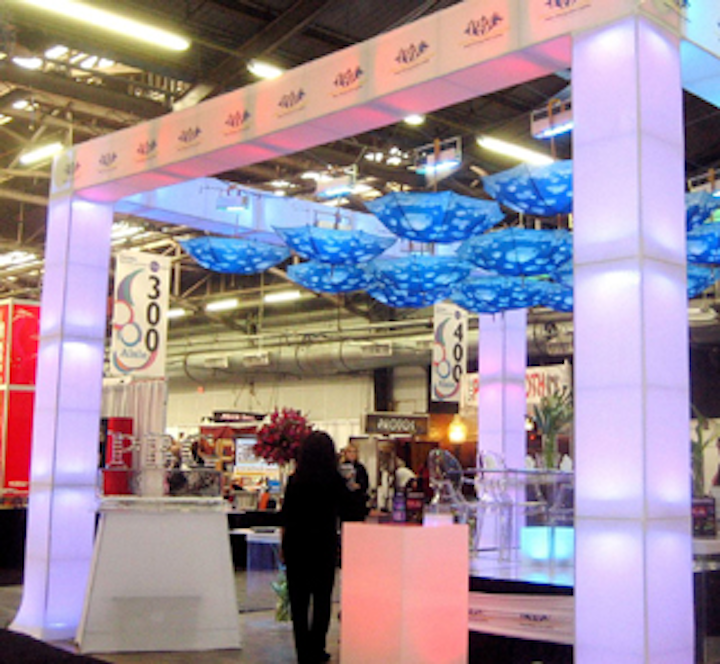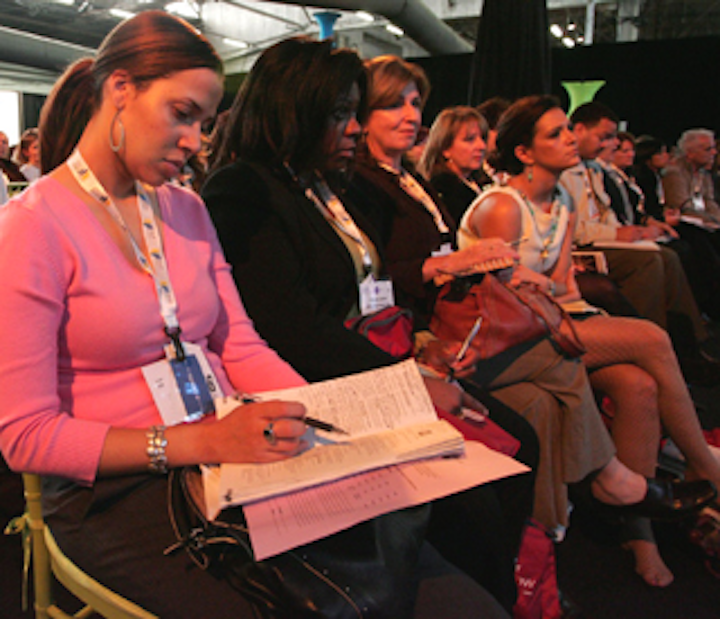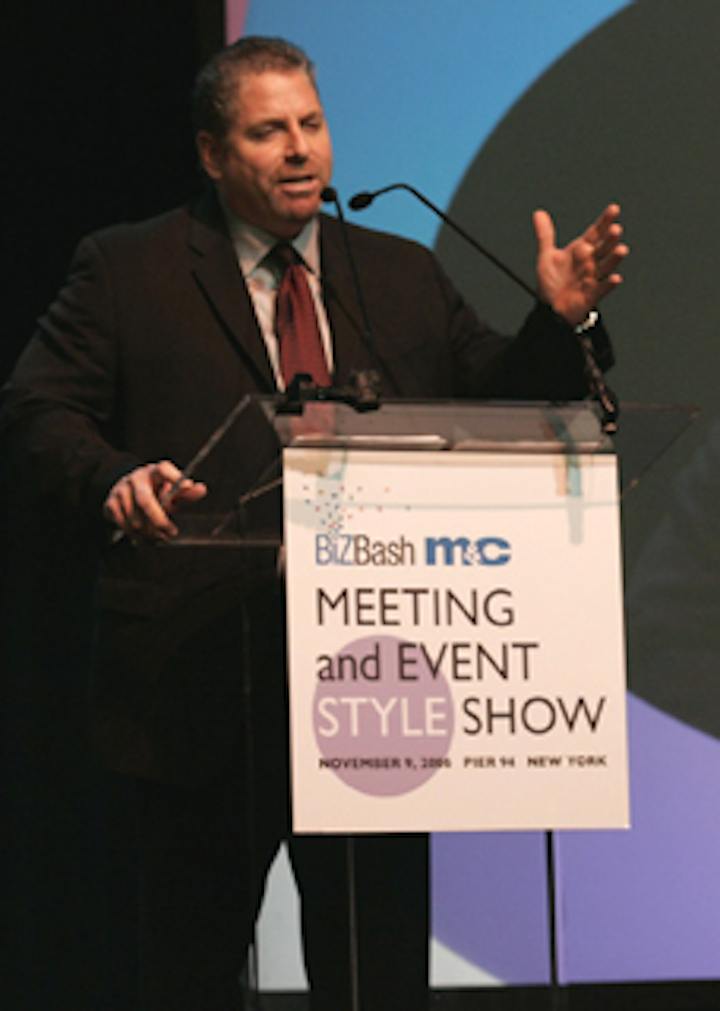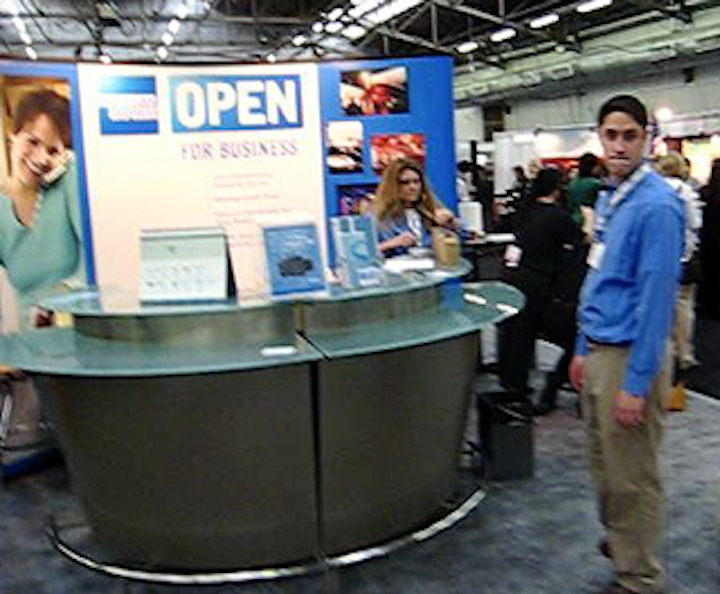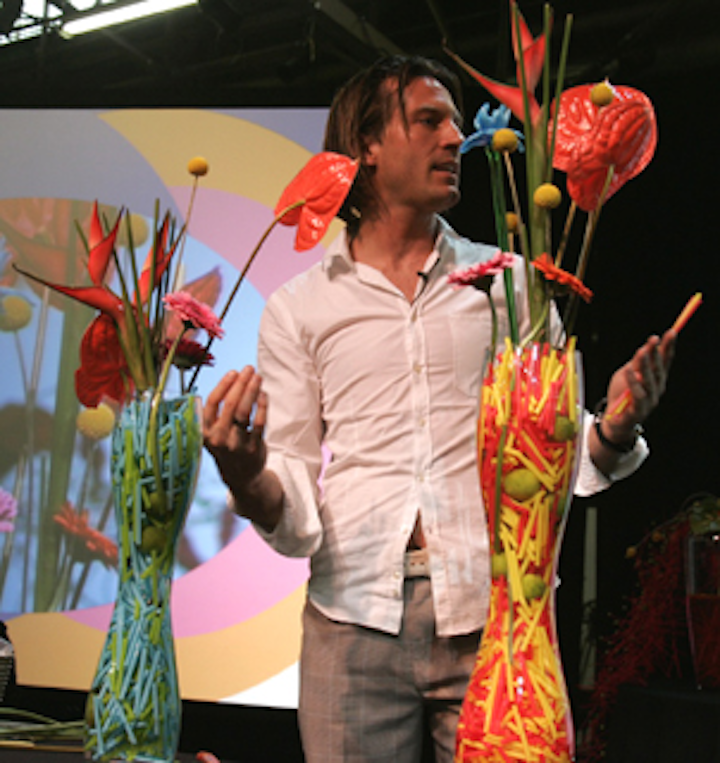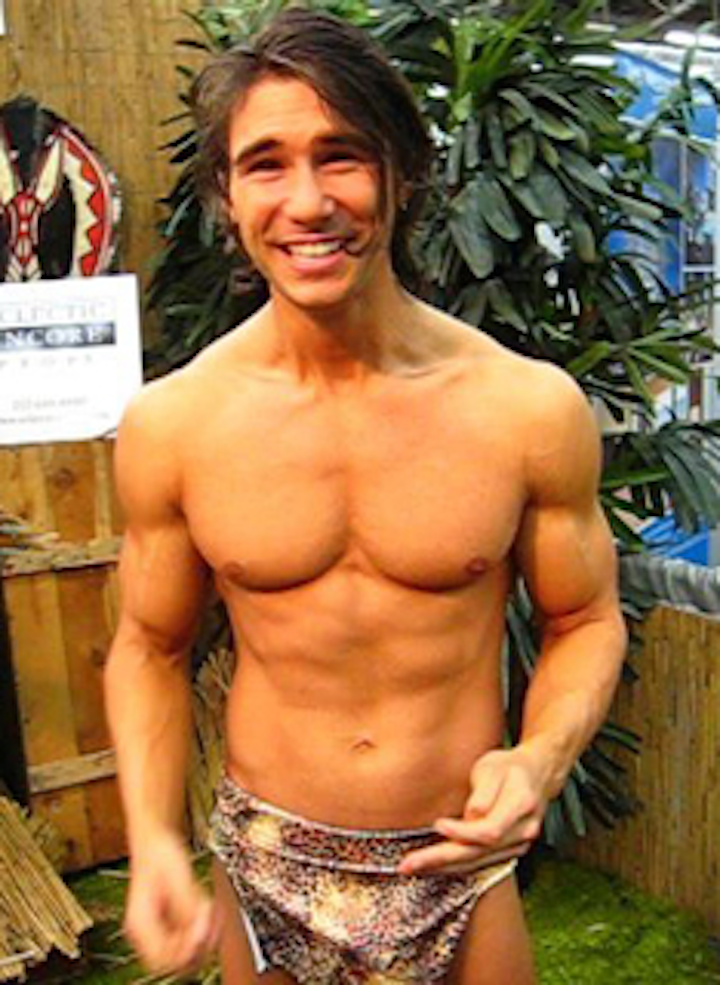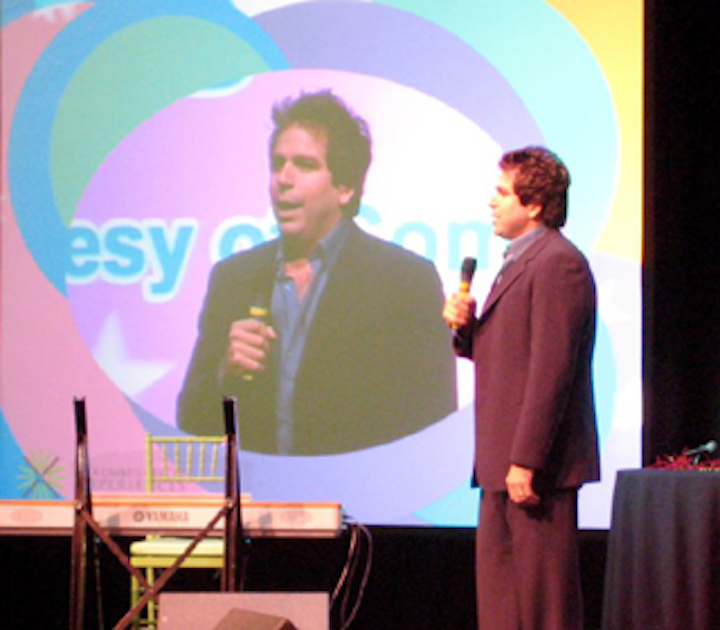 Featured Venues/Suppliers: