How Brooklyn Became a Hot Event Location
After years of refusing to leave Manhattan, some New York event hosts now want the style and audience across the East River.
October 1, 2014
Columnist Chad Kaydo (@ChadKaydo) is BizBash's former editor in chief and the founder and editor of The X Letter, a website and newsletter about experiences, brands, and culture.

Last month I was invited to two events in the same venue.
That might not sound noteworthy—I write about events, I get invited to plenty. I've been in certain Midtown hotel ballrooms and converted former bank halls more times than I can count.
But the venue in question is the workshop of an outdoor mural painting company, Colossal Media Group, an industrial space with paint-splattered concrete floors, florescent lights on the ceiling, and long metal ladders hanging on the walls.
It's in Williamsburg, Brooklyn, a subway ride with a transfer—or an Uber trip across a bridge—from those Midtown hotels.
And these were business events: a food conference sponsored by American Express and a launch party for a Perrier ad campaign, one of the brand's biggest events to date.
They were also a reminder that while many companies still refuse to host anything in New York outside of Midtown Manhattan, Brooklyn addresses are showing up on more and more business-related invitations. As the borough has become the home of—and an internationally recognized symbol of—a generation of creative people working in food, technology, art, and publishing, Brooklyn has also become a home for a certain stripe of marketing events.
(And of course, we're talking about a subset of gentrified, Manhattan-adjacent Brooklyn neighborhoods, not the entire borough.)
In May, Christian Dior staged its largest resort fashion show ever in the Duggal Greenhouse in the Brooklyn Navy Yard, a week after AOL held its NewFront, a showcase for advertisers, in the same spot.
"It was a week and a half debate," said Stacy Lambatos, AOL's director of corporate events, before the team decided to leave Manhattan. "To stay on brand and keep a reputation of being on the cutting edge and a little ahead of the curve, we were more [focused on] the possibility of what we could create rather than the possibility of people not showing up."
In September 2013, designer Rachel Comey staged her Fashion Week presentation during a dinner in Red Hook—far from the Mercedes-Benz-sponsored tents at Lincoln Center, prompting Cathy Horyn, then The New York Times fashion critic, to write, "If there was anything to regret about Ms. Comey's Red Hook excursion, it was that it may be our only escape this week."
But back to that paint studio. On September 25, Perrier used the Colossal space to launch a street-art initiative that includes limited-edition bottles designed by three graffiti artists and outdoor murals in New York, Chicago, and Los Angeles painted by Colossal's team.
Perrier's experiential agency, Mirrorball, pitched the venue to the brand after visiting the space to talk about the murals, not the party. "As soon as we stepped in we were able to imagine how the creative could be brought to life," Mirrorball account director Jacinta Chen said. "It was really important to us that the venue felt authentic. This is where Colossal's artists work every day."
Chen originally questioned if Perrier's Stamford, Connecticut-based executives would trek to Brooklyn. "They got it when they saw the space," she said. "I don't think we would have found the space that we did in Manhattan and have the same impact and value." (Perrier paid Colossal for the artwork and the outdoor mural venues, but got the venue for the party as part of the deal.)
The Colossal space is located on the northern edge of Williamsburg, amid some still-scruffy streets but just a block away from Brooklyn Bowl and the $32 million Wythe Hotel (where AOL has also hosted a client summit). Perrier used car services to get some V.I.P. guests there. But much of the guest list was media, and because lots of journalists live in the borough, Mirrorball didn't expect attendance to be a problem. While the party didn't feel especially packed while I was there, Chen said the final guest count was 322, above the 250 to 300 they expected, and it was a rainy night.
The food event I attended at Colossal had a more obvious reason to happen in Brooklyn: It was founded by Northside Media Group, which publishes Brooklyn magazine and calls itself "the Gateway to Brooklyn." The company also runs the Northside Festival, a showcase for music, film, and start-ups billed as "Brooklyn's showcase of the latest trends in trailblazing creativity."
"We started our company in 2003; it was definitely a time when everybody was living in Brooklyn but no one was doing events in Brooklyn," said Northside co-founder Daniel Stedman. "Now it's just incredibly desirable. It's the destination where people want to be and where brands want to be."
On September 13 and 14, Northside held the second annual Taste Talks, a weekend of panels and tastings for food enthusiasts, chefs, bloggers, and restaurant world types. Some panels were at the Wythe, while the Future Food Expo, a showcase of culinary products and startups, was in the Colossal space. Exhibitors like Squarespace and Miracle Grow set up tables just feet from a wall of paint supplies.
"We almost wanted it to be the anti-expo—not Javits," said Northside account executive Will Levitt. "Exhibitors were really excited about that. They found it refreshing."
While the Taste Talks were presented with Mario Batali, and American Express was a sponsor, the conference had a scruffy, D.I.Y. feel, with folding chairs packed tightly in some venues and a knife-carving demo outside on the street. (It felt accessible and not terribly corporate, but a couple friends I saw there, one a longtime event producer, found it all a bit too scruffy and thrown together. Which perhaps raises a question: Is there a specifically Brooklyn event style?)
While Stedman said it can still be a challenge to get some brands to go to Brooklyn, it's an obvious choice for those looking to reach a creative, trend-forward demographic. Tiffany Aprile, a senior venue manager at Skylight One Hanson, a large venue inside the former Williamsburg Savings Bank in Fort Greene, reports that it has primarily booked fund-raising galas and culture and food events like the LivingSocial Craft Beer and Food Truck Festival. Gin brand Hendrick's staged a large promotional event there in December 2013.
Jamin Warren, the founder of Kill Screen, a magazine about video games and culture, has hosted its conference, Two5six, at two Brooklyn venues. "I really didn't want the conference to feel like a conference, so a hotel ballroom or something wasn't going to be a good fit," he said, and his audience of game designers and people who work in tech startups and advertising live in Brooklyn anyway.
"Brooklyn is shorthand for creativity," he said. "We talked about trying to do Manhattan, but we felt like the spirit we were trying to evoke with Two5six would be found in Brooklyn. I can't think of doing this anywhere else."
Perrier Street Art Party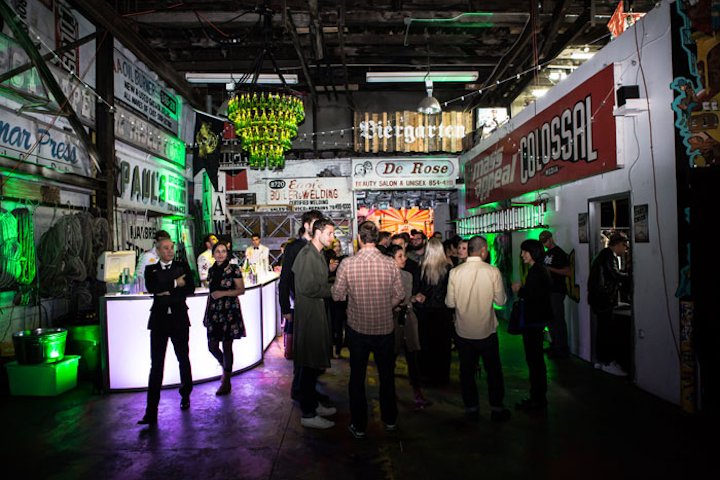 Photo: Patrick MacLeod Photography
Perrier Street Art Party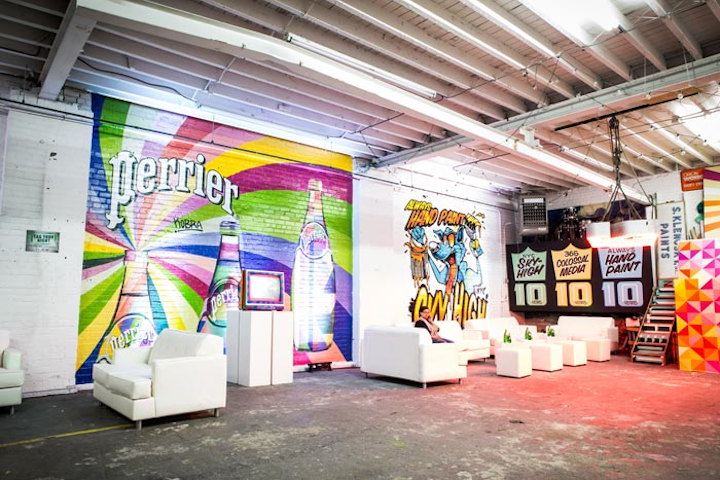 Photo: Patrick MacLeod Photography
Perrier Street Art Party
Photo: Patrick MacLeod Photography
Taste Talks Future Food Expo
Photo: Cara Howe
Taste Talks Future Food Expo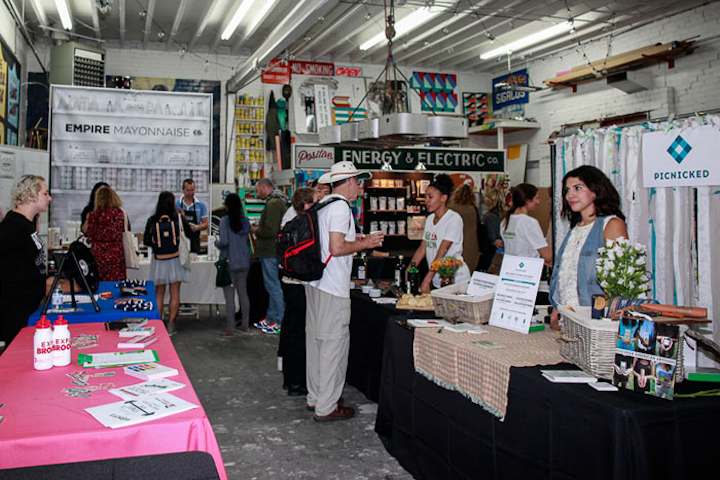 Photo: Cara Howe
Featured Venues/Suppliers: