How Mercedes Captured Time at the North American International Auto Show
The automaker dipped a 1979 G-Class in synthetic resin, a nod to its "Stronger Than Time" slogan.
January 25, 2018
To mark the global debut of its new G-Class, Mercedes-Benz chose to highlight the timeless off-road capabilities of what is arguably the world's most recognizable SUV in a most unique way: by dipping it in 44.4 tons of synthetic resin.
Generating a social media frenzy, visitors to Cobo Center for the 2018 North American International Auto Show, which runs through Sunday, are greeted by an 18- by 10.2- x 8.4-foot cuboid structure displayed at the building's entrance. The installation—cast in 90 days—symbolizes the timelessness of the off-road legend and makes a conscious reference to the natural phenomenon of insects preserved in amber. Enclosed in the square block in a dynamic position, it gives the impression that it has been engulfed by synthetic resin mid-stream while driving off-road, in its natural habitat.
Preserving—or sacrificing—1979 G-Class in a decidedly Jurassic Park-like fashion references the "Stronger Than Time" slogan and social media hashtag. "The amber cube puts the uniqueness of the G-Class in a nutshell," said Dr. Gunnar Güthenke, head of the off-road vehicle product unit at Mercedes-Benz. "Our cult off-road vehicle has been continuously evolving for nearly 40 years—without losing its character or its core values. Its DNA is stronger than time and than any fashion trend. The cube expresses this to stunning effect and thus embodies the objective for advancing the G‑Class.
The idea and conception of the campaign are from the Mercedes-Benz creative agency Aantoni. The production of the resin Cube was carried out by Markenfilm Crossing. After its premiere in Detroit, the cuboid will travel the world making appearances at select new G-Class debuts—just in time for its 40th anniversary in 2019.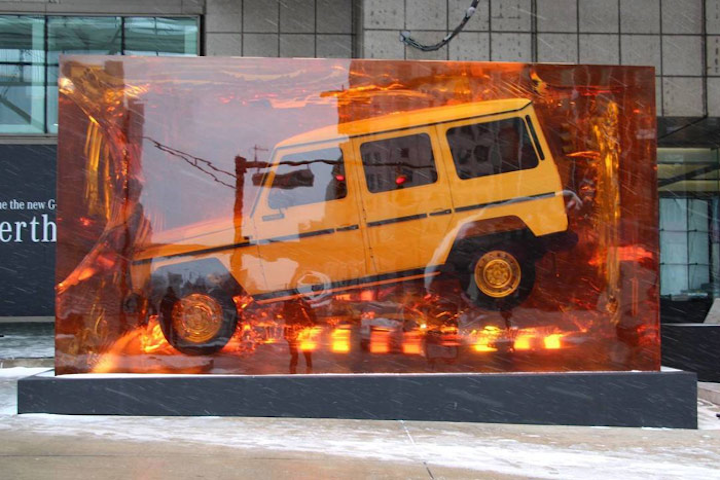 Photo: Courtesy of Mercedes Benz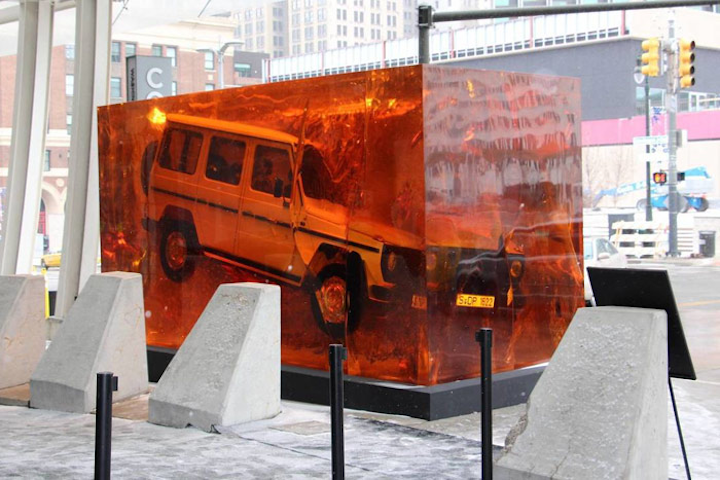 Photo: Courtesy of Mercedes Benz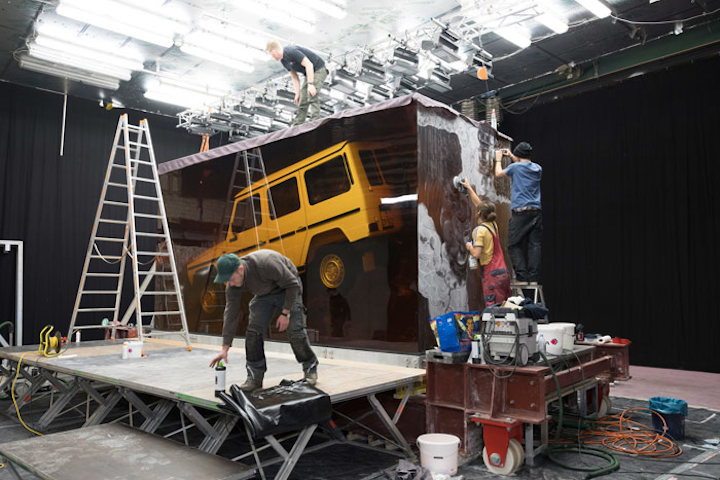 Photo: Deniz Saylan
Featured Venues/Suppliers: