Won't You Be My Neighbor? A Look Inside Sidewalk Toronto's Pop-Up Space
Find out how the high-tech project connected to Google is engaging the local community.
April 11, 2019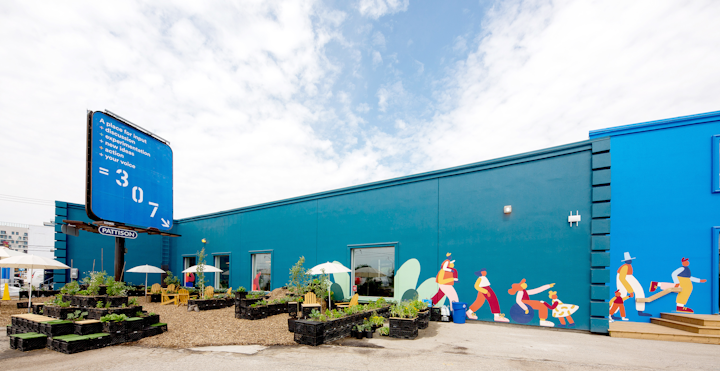 Photo: David Pike
TORONTO—Several North American cities such as Pittsburgh continue to revamp, revitalize, and even reinvent themselves, as more and more tech companies look to them to set up shop.
But Toronto is hoping to take it a step further by essentially rebuilding its waterfront area from the ground—or rather Internet—up.
In 2017, Waterfront Toronto, a nonprofit corporation that heads up the area's renewal, joined forces with Sidewalk Labs, a subsidiary of Alphabet, Google's parent company, in the hopes of creating the "neighborhood of the future."
The project, known as Sidewalk Toronto, would establish a brand-new neighborhood called Quayside, which would be located at Parliament Slip, just southeast of downtown Toronto, and eventually encompass the city's entire Eastern Waterfront.
One of the objectives of the project is to "make Toronto the global hub of a rising new industry: urban innovation," as well as to serve as a model for sustainable neighborhoods by tackling issues such as energy use, housing affordability, and transportation. It would also be the new home of Google's Canadian headquarters.
Currently, the plan is for the community to be a mix of retail and residential housing that's built entirely from mass timber, and it will feature covered public walkways, known as "stoas," which would adapt for different uses. Plus, the streets would be designed specifically for pedestrians, not vehicles.
Although flying cars haven't been proposed (yet), the urban revitalization project does include a digital infrastructure that will collect data in an effort to streamline urban living. The exact types of information that will be gathered is still T.B.D., but it will be what Sidewalk Labs calls "urban data," and it could be used to inform tech innovations like a new navigation app, a smarter traffic light, or other digital services.
This data-driven concept has raised plenty of privacy concerns among the community. And in an effort to educate the public and perhaps ease suspicions, Sidewalk Toronto opened a semi-permanent pop-up space/headquarters called 307, so named because of its address on Lake Shore Boulevard.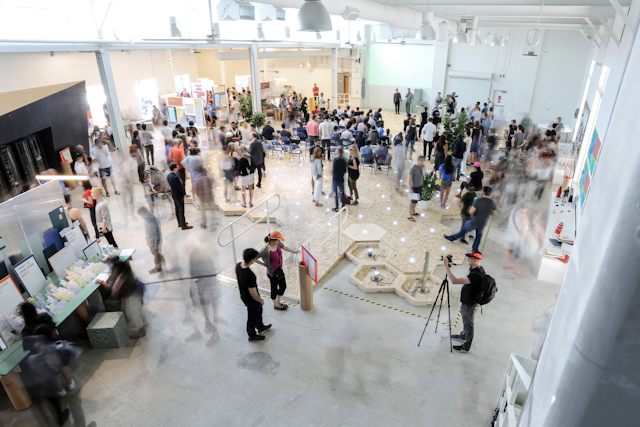 A large open space called the "XXL Workshop Space" allows for large-scale collaborations, public forums, and exhibitions.Photo: Pooya Aledavood

In addition to serving as a testing ground for new initiatives as well as an office space for the Toronto team, the space, which opened in June 2018, hosts a variety of events and activities aimed at getting Torontonians involved in the project, including a series called Open Sidewalks. These afternoon-long events allow the public to engage with prototypes and exhibits that are designed to spark dialog and collect feedback.
Toronto-based interdisciplinary design studio Lebel & Bouliane transformed a former fish processing plant into 307, creating group meeting spaces, boardrooms, break-out and review spaces, and an open kitchen for Sidewalk Labs, plus a large open space, which is referred to as the "XXL Workshop Space," for the ongoing public forums, events, and exhibitions.
For example, visitors can check out the Dynamic Street exhibit, a prototype of a modular paving system with integrated lighting that communicates with drivers, cyclists, and pedestrians. The interactive system allows for changing traffic patterns, depending on the time of day or season.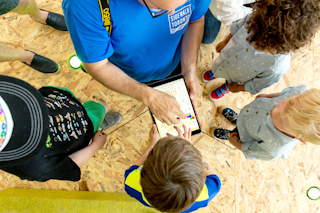 The Dynamic Street exhibit is a prototype of a modular paving system with integrated lighting that communicates with drivers, cyclists, and pedestrians.Photo: David PikeAlso on display is Navigating 307, a partnership with the Canadian National Institute for the Blind's ShopTalk program and BlindSquare that tests how Bluetooth beacons for the blind and visually impaired can help visitors navigate an ever-evolving space.
"Sidewalk Labs was looking for a temporary office and community meeting space where [its] ideas could be showcased and discussed with the community at large, with local groups and designers, and where new ideas could surface and be tested," explains Natasha Lebel, principal and studio director of Lebel & Bouliane.
"The space is very versatile and designed to evolve with the needs of the community and Sidewalk Labs as the greater waterfront project develops. By design, the space will continue to evolve with the ideas that are presented to the public and tested in the space. This is the key takeaway for visitors: that great spaces come from collaboration and participation."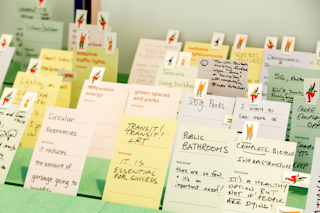 307's Sidewalk Labs exhibit is designed to collect feedback from the local community.Photo: David PikeRight now, visitors can stop by during the day on Sundays to view the exhibits and ask questions; facilitators are on site to guide them through the space. The outdoor area, which features picnic tables with umbrellas and a free water kiosk, is open to the public 24/7. Sidewalk Toronto has also partnered with local businesses and food vendors to further create that community center-type vibe.
Other than its bright cobalt blue exterior with playful illustrations, there's nothing about the space that's particularly "on brand" for Google. Lebel says that designing a community space like 307 is different than building a trendy pop-up for a specific company.
"The key difference is the large range of audience that the word 'community' implies," she says. "These spaces need to cater to a wide variety of uses, a wide age range, and varied interests. Issues pertaining to barrier free and universal design are critical. A community space reflects the community, not the brand."