This Week in Toronto: Champions of Sinai's Live Fundraiser, Pride's Virtual Plans, Tasty Mother's Day Activities
BizBash's Toronto column from Calvin Barr covers the week's biggest event news.
May 7, 2020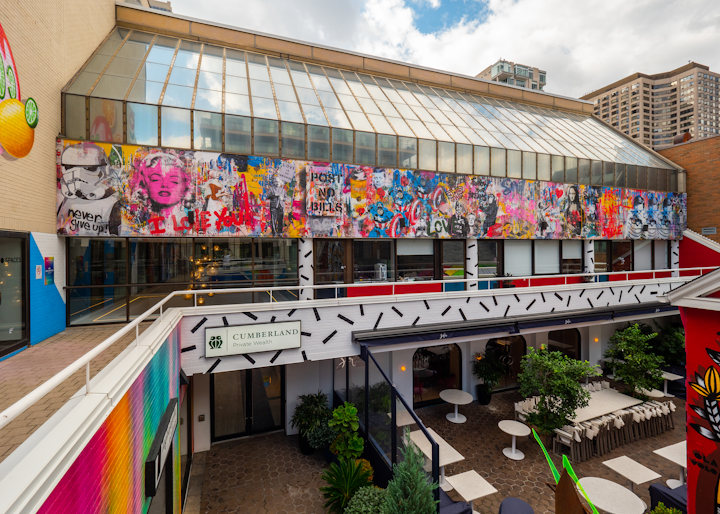 Photo: Courtesy of Taglialatella Galleries
TORONTO—Welcome to BizBash's Toronto-based column, where Calvin Barr covers the week's biggest local news. Got a tip? Get in touch!
In Case You Missed It
Don't forget to check out last week's edition of Conversations From the Inside, where BizBash spoke with Toronto event industry leaders Anthony Vade of FMAV, Natasha Mytnowych of The Globe and Mail Centre, Qasim Virjee of StartWell, and Marc Dorfman of CN Tower about the impact of COVID-19. 
In other news, Toronto theater and dance company Corpus, recognized for its globally toured Les Moutons production, held an online event on May 3 that invited viewers to "meet the sheep" in the experiential show. The troupe, which specializes in surrealist humor and experimental theater imagery, has developed 14 shows that have been shown at venues and events internationally and across Canada—including Toronto's Milk International Children Festival, Just for Laughs, and the Canada Dance Festival.
Diamond Marketing Group recently hosted a webinar examining ideas on how brands can safely interact with customers as lockdown measures begin to ease. "Engagement in a Low-Contact Environment," led by group account director Nicole McCallum and senior producer Abigail St. Pierre, covered topics on how companies can approach live experiences while following physical distancing measures, plus maximizing technology to gain consumer insights and continue driving growth.
News
Taglialatella Galleries has partnered with Mr. Brainwash to distribute a limited-edition print by the acclaimed graffiti artist titled "We Love Canada'' that features the Toronto cityscape. Ten-percent of revenue will be donated to Street Haven, a local emergency women's shelter. "Art has the ability to bring joy in the most challenging times," said Alan Ganev, director of Taglialatella Galleries Toronto. "With an artist like Mr. Brainwash, where love and happiness play a central role in each piece, the We Love Canada print is an opportunity to express gratitude, give back, and remember this moment of history in years to come." Mr. Brainwash's "Toronto is Beautiful" solo exhibition opened at the venue last summer, as part of the inaugural Yorkville Mural Festival.
Pride Toronto has confirmed that its annual roster of June events—including the flag-raising ceremony at City Hall, artist performances, rallies, and the parade—will be livestreamed. DJs, drag artists, musicians, and dancer programming is set to focus on Toronto-based talent and women, black, indigenous, and people of color artists from local queer communities. Kicking off Pride month on June 1, Pride is collaborating with Club Quarantine and Bud Light to host an online gala called "FEEEYASS!" with a retro warehouse- and ballroom drag-style theme. The full lineup of special events, weekly live programming, artist announcements, and parade information is expected to be released in the coming week.
And "Champions of Sinai," a livestreamed fundraiser for front-line staff at Mount Sinai Hospital, took place on May 2. Mayor John Tory was interviewed by Ben Mulrony, and there were featured appearances from Scott Saunderson, the executive chef of Casa Loma's BlueBlood Steakhouse, plus Come From Away authors David Hein and Irene Sankoff and SportsCentre host Marissa Roberto. The event, which raised more than $60,000, was also supported by a number of hospitality companies and gaming leagues including Drake, Stact Market, Eleven Gaming, and Collegiate Starleague. 
Turn of Events
Although a small selection of Ontario businesses were allowed to re-open this week, Toronto city officials and event organizers are implementing more measures to deter large crowds from gathering as the weather improves. The cherry blossom trees at High Park bloom are fenced off to discourage people from gathering, while cameras have been installed to allow people to view them from home. Additionally, the Toronto ferry is now closed to everyone but Toronto Island residents.
Following Pride's virtual agenda announcement, Hot Docs Film Festival is showing 135 films online this month, Luminato will be streaming programming from June 11 to 13, and Canada Day in Toronto will also be done digitally this year.
Overheard
"You're outdoors, you're exercising, and you're in communication with your neighbors, albeit at a distance. I have to say, it got me off the couch, it got me away from the TV. I had no idea that this was going to be this much fun, and there are days that ... I wake up and I say, thank goodness I've got line dancing. I've got something to do. I thought I'd have a few neighbors come out and say 'Okay I'm bored.' In fact, now I'm feeling pressure to learn new songs because I'm here every day!"
—Donna McDougall, who taught line dancing at the YMCA, speaking to Newstalk 1010 about teaching her neighborhood to boot-scoot at a distance during quarantine. 
On the Scene
To mark Doctor's Day on May 2, the CN Tower was lit blue to honor physicians and healthcare professionals. 
What's Next?
For Mother's Day, Voice of Customer (VOC) Events, an at-home virtual chef's table service, is providing traditional sushi experiences curated by Shoushin's chef Jackie Lin and available for delivery across the Greater Toronto Area. In addition to preparing her specialties—including seasonal sashimi, horse-mackerel rolled in seaweed with cucumber and ginger, and deluxe "barachirashi zushi"—chef Lin will be joining families via web-conference to walk them through her inspiration for the dishes. Wine pairing and flower arrangements by Secret Florals are also available as part of the package. 
Vino to Go, a wine-tasting event company, is hosting an online "Rosé on Mother's Day" event on May 10 via Zoom. Mothers and children are invited to open a bottle of wine along with founder Tasha Taylor and her mother, and take part in a discussion on the regions, pairing, and tasting notes of various dry, sweet, and flowery rosés. Upon registering, guests are asked to confirm which label they'll be drinking at the event, to allow the host to cover each vintage.