4 Restaurants for Game-Day Group Events
September 15, 2010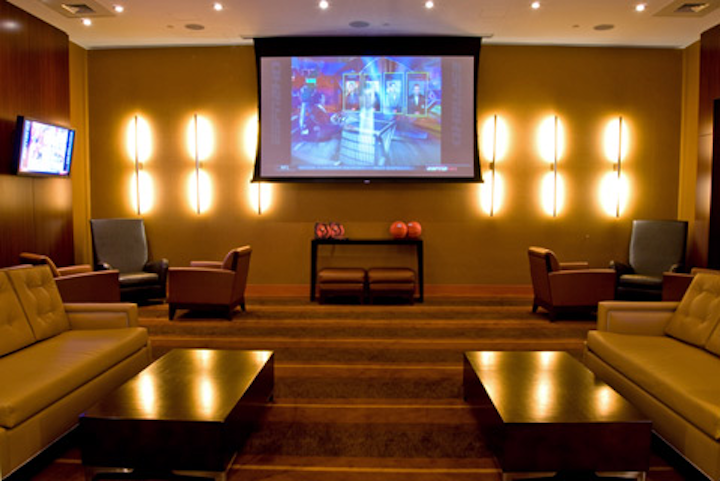 Photo: National Pastime Bar and Grill
With the NFL and college football in full swing as of this weekend, here are four venues in Virginia, Maryland, and the District where you catch the big game with a group.
2. Velocity Five
This 8,000-square-foot sports bar and restaurant in Falls Church, Virginia, has more than 50 flat screens and an all-American menu specializing in steaks, burgers, and gourmet chicken wings. In addition to the main bar and dining area, Velocity Five has two private rooms available for groups. The private Velocity Room can accommodate groups of 12 to 75 people and offers sofa seating and four televisions, including a 106-inch high definition projector. The Red Zone V.I.P. area can host groups of 10 to 50 people and has a private bar and lounge area.
3. Penn Quarter Sports Tavern
With two outside seating areas, and two levels packed with 19 large screen TVs, the Penn Quarter Sports Tavern is a convenient downtown option for the game. The 5,000-square-foot bilevel venue offers reserved space for as many as 150 people. For private events, the second floor can accommodate up to 75 people.
4. BlackFinn Bethesda
This 2,800-square-foot venue is part of the national BlackFinn American saloon chain of restaurants and one of two locations in the Washington area. A popular spot for Penn State University and Northwestern University Alumni on Saturday game days, the venue has two private rooms with Wi-Fi access and complete audiovisual capabilities. The 800 square foot Pearl room has a private bar, four flat screen TVs and can accommodate up to 35 people seated, and 75 standing. The Trophy room has a private entrance, bathrooms and a bar along with five large screen TVs and fits 100 seated or 200 standing.
Featured Venues/Suppliers: