Does This High-Tech Stage Set Represent the Next Big Thing in Visual Effects?
V Squared Labs worked with the electronic dance music band Krewella to create a so-called "reflection mapped" set piece, which debuted earlier this month.
September 16, 2013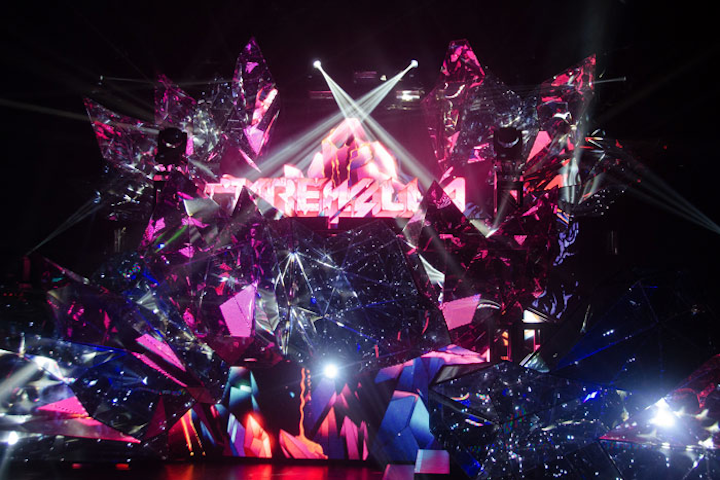 Photo: Max Chang
You've heard of projection mapping, but you've likely never seen this before: so-called "reflection mapping" is an innovation from V Squared Labs that uses mirrors, light, and sculptural form to dramatic effect—and it's just debuting on the live event scene this month.
The visual arts studio teamed up with electronic dance music group Krewella to create the visual technology as a stage set for the band's tour. Dubbed "the Volcano," the set is comprised of mapped crystal structures, with crystals made out of one- and two-way mirrored acrylic plastic outfitted with reflective backing to create an interior mapping effect. Each crystal is also equipped with either LED, video LED tape, or both, inside, creating complex reflection effects that appear visually to change the structure from within. See a video of the look beginning around the 2:08 mark here.
The creation is a huge 30 by 18 feet, and the massive set was designed to tour with the band to more than 50 venues across North America—an additional engineering challenge.
V Squared Labs founder Vello Virkhaus and lead designer Amanda Hamilton collaborated with fabricator and technical engineer Stefano Novelli to bring the vision of "'reflection mapping" from pencil sketches and creative reference point into the real world.
"We are are always pushing the envelope with existing technology to generate new forms of experiential visual art," Virkhaus said. "The Volcano is our next experimental design integrating lighting, reflection mapping, and sculptural form."
Hamilton added: "The inspiration came from Krewella's 'Play Hard' cover art, which depicts a crystalline explosion. Creating a volcano of exploding crystals became the premise of the design, so from there I studied the mechanics of crystal growth and their formation in nature. The mirrors as a material choice were to enhance the crystalline quality and their explosive formation focuses your eye on the performers in the center. The crisp definition between the lighting effects outlines the separation of the crystal outgrowth from rocky cluster, and the LED screen acts as an overall environment and light source for the form."
As to future applications of the product, Hamilton said, "The effect of contained infinite reflections is a technique we'd love to explore further, as controlling chaos is an exciting challenge."
Featured Venues/Suppliers: