New App Turns Smartphones Into Microphones
See how a new app connects audience members' smartphones to an event's or meeting's sound system.
March 4, 2014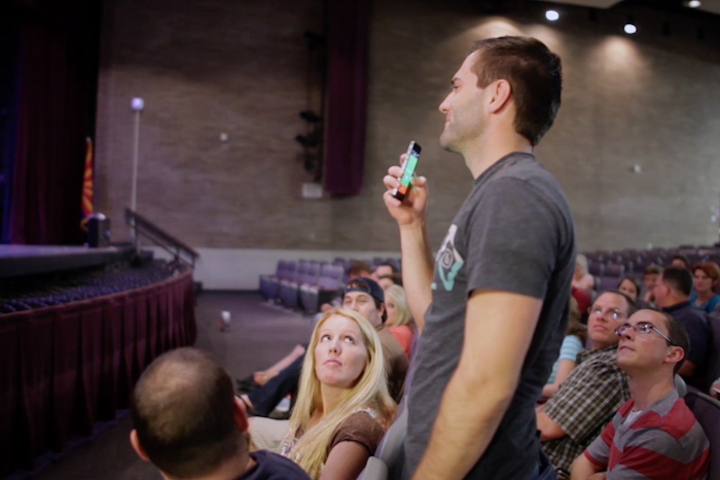 Photo: Courtesy of Crowd Mics
Gathering audience questions and feedback at a meeting or event is usually done by positioning stand microphones around the room or by passing around a wireless unit. Crowd Mics, an iOS and Android app released last week at Launch Festival, provides a new option: it connects audience members' smartphones to the room's sound system, so every person has his or her own microphone.
The system requires that the presenter and all audience members are connected to the same wireless router, which can be via a venue's Wi-Fi or a stand-alone wireless router device. Crowd Mics doesn't require an Internet connection because it only uses the router to push data back and forth.
So how does it work? The speaker on stage plugs a smartphone into the room's sound system and creates a name and access code for the event in the Crowd Mics app. Audience members download the app and enter the code to join the event. When they want to ask a question or make a comment, they tap their phones, and the presenter will see a list of people who want to talk in the order they came online. The presenter can enable an individual microphone, mute a microphone, or put the system in "open mic" mode so anyone can comment. Audience members can also submit text comments to the presenter through the Crowd Mics app, and the system offers basic polling functions.
Crowd Mics is free for audience members. The event organizer, presenter, or venue pays for access to the system based on the size of the crowd. It's free for 20 people or fewer, and then starts at $25 for 50 participants.
Featured Venues/Suppliers: