Better Than a Booth Babe? A Virtual Presenter for Trade Show Booths
Find out about how virtual presenters can help you capture interest and leads.
February 6, 2014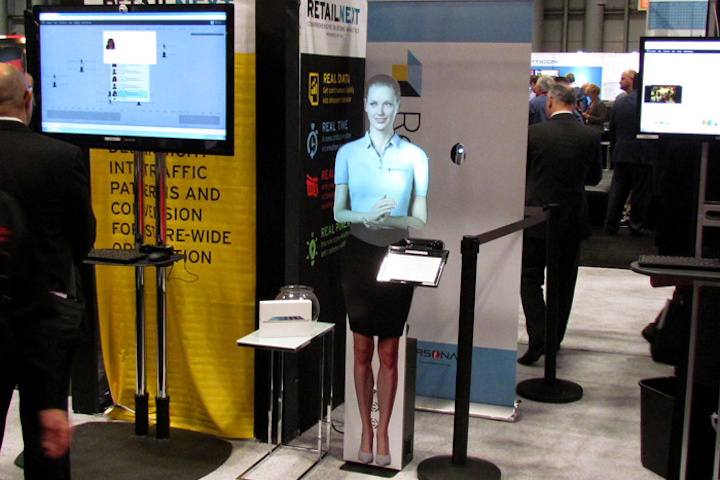 Photo: Courtesy of David Rose
RetailNext, a company that helps retailers and shopping centers collect and analyze consumer data, was looking for a way to stand out on the crowded floor at Retail's Big Show, hosted by the National Retail Federation in mid-January at the Jacob K. Javits Convention Center. The company decided to try a new tactic to entice attendees to stop at its booth: a life-size, lifelike virtual presenter from Prsonas.
"Using human models can be intimidating, and for conferences like ours that are more technical and a little more conservative, I don't think they are as effective," says Suzanne Tran, director of marketing communications for RetailNext. "Also, models that you hire may not be fully educated in understanding the business and communicating the value propositions and other types of messaging. Not to mention [virtual presenters] aren't widely adopted yet. People walk by and are not used to seeing these things, so it's a big eye catcher."
The company positioned the virtual presenter in a high-traffic spot in its 30- by 30-foot booth. While in idle mode, the unit would look around and wave to attract attention from passersby. As attendees got within a few feet of the unit, motion sensors would trigger it to speak a welcome message that invited them to select an option from an attached touch screen, such as watching a video about RetailNext or submitting contact information. As attendees stepped away from the unit, it would say good-bye and thank them for visiting the booth, and RetailNext staff members were nearby to answer any questions.
This was one of the first virtual presenters created with Prsonas's new computer-generated system, which creates the lifelike image entirely through computer animation rather than shooting video of a real actor. "That's important for a couple of reasons. Before, you had to book talent and go back into the studio each time you needed to change the content. Now we can update the content over the Web and we don't have to shoot video at all," says David Rose, C.E.O. of Prsonas. Rose uses live talent for the voice recordings, because he said it is warmer and more engaging than a computer-generated voice. Clients provide the scripting for the presenter's messages—which can be recorded in multiple languages—and they also customize its appearance, choosing hair style and color, eye color, and clothing.
The virtual presenter can be configured to swipe attendee badges for lead capture or process credit cards for exhibitors that are selling products in their booths. The system captures data such as how many people interacted with the presenter, the duration of the interactions, and which topics on the touch screen were most popular. RetailNext's virtual presenters played its welcome message 800 times during the two-day show and average interaction time was about 40 seconds. "It was a fun, compelling way to pull people into our booth," Tran says.
Featured Venues/Suppliers: