The Physical Web: What It Is and Why It Matters for Events
Find out how Google's open Web discovery system is changing the way content is shared at meetings, trade shows, and other events.
September 8, 2016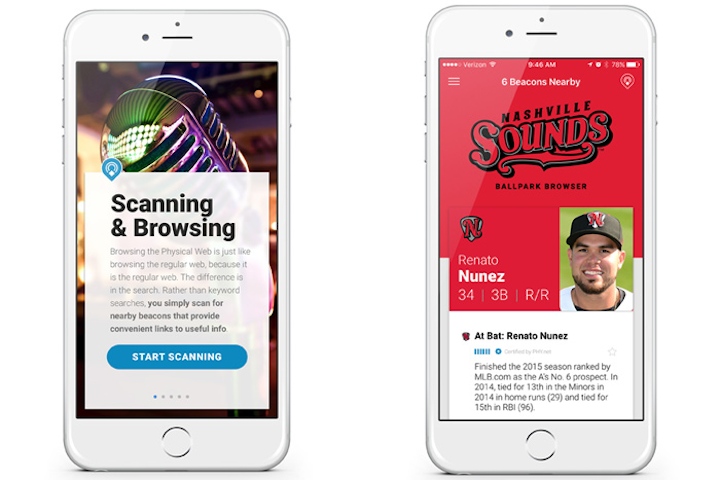 Photo: Courtesy of BKON
Google's informational website for the Physical Web summarizes the concept in the headline: "Walk up and use anything." The idea is that any object or location equipped with a Bluetooth low-energy beacon (B.L.E.) can become a source of content that is accessible on any smart device. But unlike iBeacons, which also use B.L.E., the Physical Web does not require an app to access content, and it is based on "pull" not "push" communications. Those are important distinctions according to Richard Graves, president of BKON, a company that creates beacon-based solutions for several clients that include events, venues, and retail outlets.
"Most iBeacons are customer-tracking and push technology. For example, you're at Macy's, it sees you are in shoe department and the iBeacon pushes you a message that says, 'We have blue shoes on sale,'" Graves says. "The Physical Web is the inverse of that. It is 100-percent customer-driven. Beacons are not tracking your movement. Beacons are simply broadcasting content that is accessible by consumers when consumers are interested in that content."
The ability of the Physical Web to put control in the hands of the user can be particularly valuable at a large event where there may be a constant stream of content to be shared from exhibitors and sponsors. Transmitting that content via iBeacons that send an alert in the event app creates the risk of annoying some attendees. Graves says, "The problem with that model is … you've made an assumption about what is of interest to them. If you push too many messages, the customer may say, 'I don't want this app on my phone, I don't want to be bothered,' and they take it off."
Using the Physical Web, an attendee at a trade show, for example, would see a list on their device of nearby booths offering content and then could choose which to click to get more information. In a meeting room, there could be multiple beacons offering a variety of content related to the session, such as the speaker's bio, PowerPoint slides, or a link to a post-session survey. And that content can be pre-programmed to change as needed—for example, at the start of each new session. To alert attendees that content is available in a particular location, planners would display the Physical Web logo, which looks like a modified raindrop with a diamond shape at the bottom.
Another point of differentiation is the way content is accessed. With iBeacons, users must have an app on their devices that is configured to detect content coming from nearby beacons. With the Physical Web, anyone with a smartphone can access the content near them using a variety of options.
"Google's Nearby technology is now natively built into all Android devices," Graves says. "Physical Web content is also available in iOS devices through compatible browsers like Chrome and Opera, or you can have an app that allows you to scan what's around you."
Users that access Physical Web content through Google Nearby or a compatible browser do so anonymously, but the number of visits or clicks can be tracked. If access is integrated into an event app that requires login, hosts would get more detailed information regarding who is accessing content.   
Each beacon has a unique ID code that allows planners to link content to that beacon using an online dashboard. "At the end of your event, you can throw them in a bucket and carry them to the next event and put them back out again. You don't pair with them, you don't have configuration apps. None of that exists in our world," Graves says.
Featured Venues/Suppliers: