When Fandom Meets Foodies: This Team Builds Restaurants Inspired by Your Favorite '90s Entertainment
The producer behind Saved by the Max, Good Burger, and Peach Pit restaurants discusses the power of nostalgia, going beyond an Instagrammable moment, and his unexpected career journey.
September 5, 2019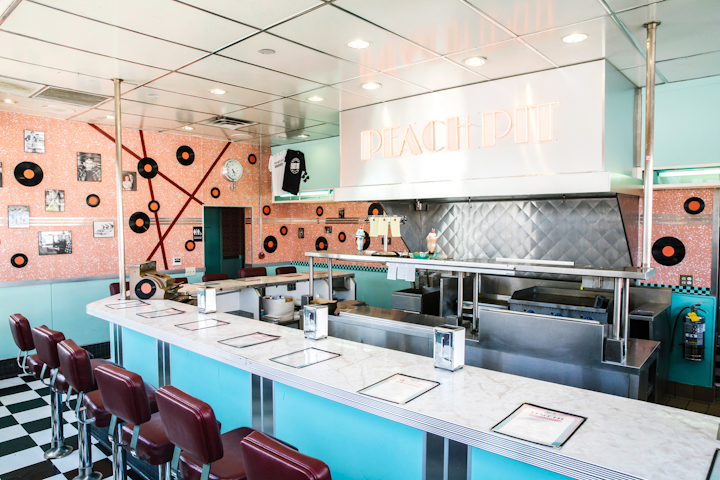 Photo: Courtesy of the Peach Pit
LOS ANGELES—It started on a whim back in 2016. Derek Berry was working as an event and nightclub promoter in Chicago when a friend told him about a vacant restaurant space in Wicker Park, asking if he wanted to host any one-off activations. Berry jumped at the chance to expand the monthly '90s-theme parties he'd been throwing—and the headline-grabbing Saved by the Max pop-up restaurant was born.
The idea was simple but ambitious: Berry wanted to build a fully immersive activation that doubled as an ongoing,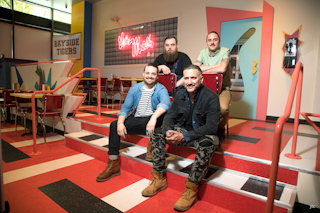 The Saved by the Max team, clockwise from top left: chef Brian Fisher, Derek Berry, Steve Harris, and Zack Eastman.Photo: Tyler Curtisfoodie-friendly restaurant. He and his business partners, Zack Eastman and Steve Harris, recreated Saved by the Bell's Max diner, using photo-friendly props, costumed servers, 1990s playlists, and on-theme dishes such as "A.C. Sliders" cooked by celebrated local chef Brian Fisher. Tickets sold out within minutes, and what was supposed to be a short-lived pop-up eventually ran in Chicago for a full year.
"We wanted to make sure that every bit of it was really thought out, from the front door where guests are greeted down to what they see in the restroom," explains Berry, whose team of contractors carefully studied the classic teen sitcom in order to emulate the Max as closely as possible. "Rather than being a tribute bar, it's like you're coming right on the set. We like to say, 'book your experience with us' rather than 'book your reservation' or 'buy your tickets.'"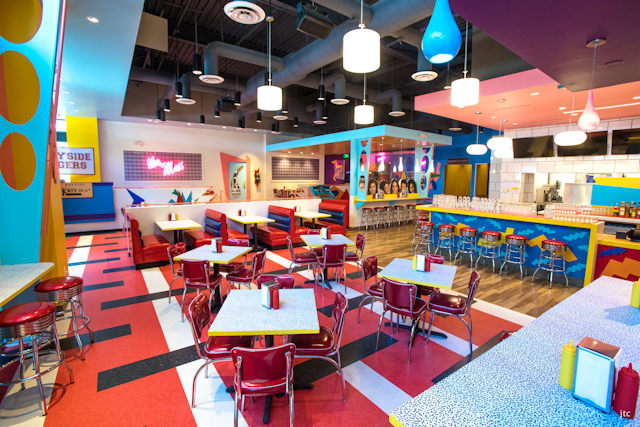 For the Saved by the Max pop-ups in Chicago and Los Angeles, contractors carefully studied episodes of Saved by the Bell so the pop-up could emulate the set as closely as possible.Photo: Tyler Curtis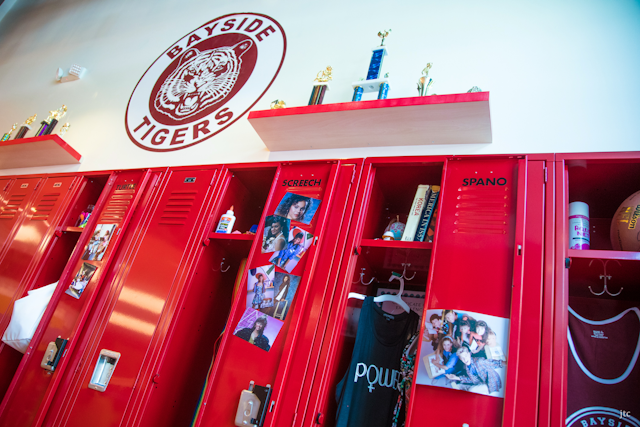 A row of Bayside High lockers further immersed guests in the Saved by the Bell world. Other details included a payphone that called 1-900-CRUSHED (inspired by an episode of the show), recreations of Principal Belding's office and Zack Morris's bedroom, and curated playlists.Photo: Tyler CurtisGrowing Success
Based on the national buzz generated in Chicago, the group decided to expand the concept to Los Angeles. The L.A. edition ran through April 2019 at 7100 Santa Monica Boulevard in West Hollywood, and included even more fun elements of the classic teen sitcom, such as Principal Belding's office, Zack Morris's bedroom, and a row of Bayside High lockers. 
Since then, the same trio has built similar restaurants for other classic 1990s shows. First up was the Good Burger diner, inspired by the 1997 movie and All That sketch. The pop-up, which took over the Saved by the Max space in July and runs through the end of 2019, features dishes from Eggslut founder Alvin Cailan and a colorful design by multi-disciplinary artist Floyd A. Davis IV.
Berry and his team are also currently operating the Peach Pit, a pop-up restaurant inspired by the launch of Fox's BH90210, a spin-off of '90s classic Beverly Hills, 90210. Located at 7507 Melrose Avenue (the site of Benefit Cosmetics' diner-inspired pop-up earlier this year), it's slated to stay open through the end of September.
"When TV shows come and go, there's a big press hit and there's silence while it airs," notes Berry. "But I think when we create these ongoing pop-up restaurants, it keeps people talking. There are a few hundred people coming a night, there are these Instagram posts that are all shouting out [the shows] … There's this daily, weekly, monthly marketing tool that's consistently pumping out."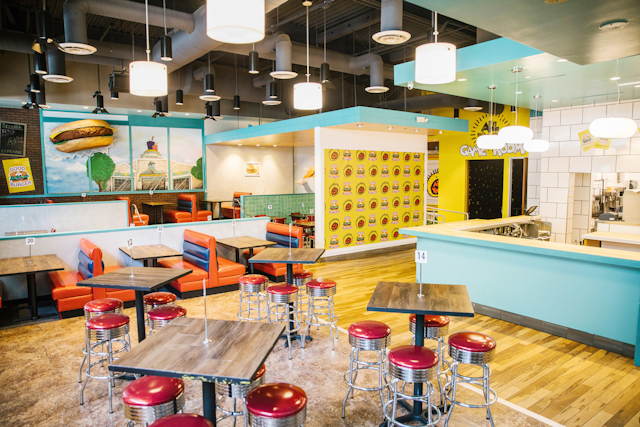 The Good Burger diner, a promotion for Nickelodeon's All That reboot, took over the Saved by the Max space in West Hollywood in July. It features a colorful, photo-friendly design by multi-disciplinary artist Floyd A. Davis IV.Photo: Nathaniel Wood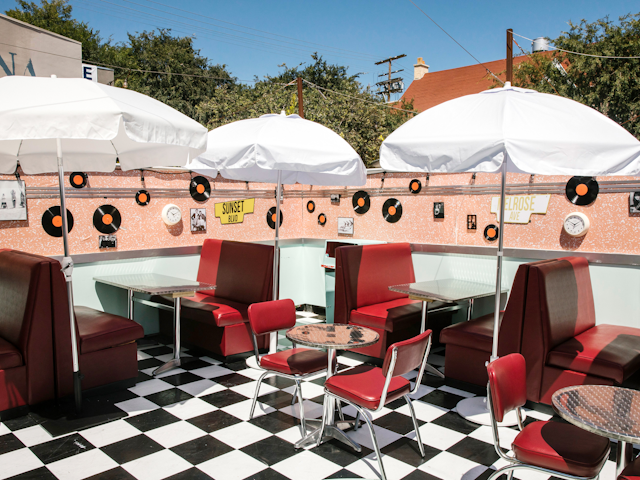 The indoor-outdoor Peach Pit pop-up serves Beverly Hills: 90210-inspired dishes with names such as "Steve's Grilled Cheese" and "Brandon (Veggie) SandWalsh."Photo: Courtesy of the Peach PitAn Unexpected Journey
While all three pop-up restaurants were created in partnership with the studios, that wasn't initially the case. When Berry first had the idea for Saved by the Max, NBC was not consulted—and Berry was well aware that studios were known for shutting down unauthorized events and pop-ups.
After talking to a lawyer (who said "NBC will sue your ass if they want to," laughs Berry), he decided to test the waters by creating an anonymous Facebook event page and asking his friends to share."I just wanted to see if anyone was interested," he remembers. It's safe to say people were. Within 24 hours, Berry says, outlets including Time and the Today show had picked up the story, and the event had a whopping 50,000 people marked as "attending."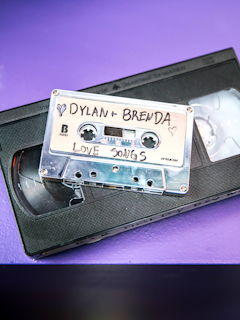 Like the other pop-ups, the Peach Pit space features nostalgic details inspired by the series, plus plenty of photo ops and official merchandise.Photo: Courtesy of the Peach Pit
That's when NBC reached out. Berry went into the meeting expecting the worst—until the network told him they loved the idea and wanted to collaborate. "So we worked out a deal with NBC to become partners, and then we got proper licensing and launched Saved by the Max a few months later," explains Berry, who cites Saved by the Bell as his all-time favorite show.
"It takes you back to a finer time," he says when asked why people are so drawn to nostalgia-inducing spaces. "When I think of Saved by the Bell, I think Saturday mornings as a kid, no real drama in my life. My friends who visit our restaurants always say, 'I had so much fun, I literally forgot what I was doing for that hour.' It makes people happy."
After the Chicago edition finished its one-year run, Berry moved his wife and three kids to Los Angeles to operate the West Coast edition. Eastman and Harris stayed in Chicago to keep running the group's other pop-ups and restaurants—including Dorian's, a cocktail lounge-slash-record store that took over the old Max space.
Expanding the Concept
Once he was in L.A., Berry quickly began having conversations with various studios, but wasn't finding projects the team was excited about—until he met actor Kel Mitchell, the star of Good Burger. Mitchell was hosting his birthday dinner at Saved by the Max and approached Berry about collaborating on a similar Good Burger pop-up.
"I told him, 'I think it would do really well, but it would require Nickelodeon being involved," remembers Berry. "So Kel and his team spoke to Nickelodeon and got the rights to it, and came back to me a few months later. At that time, we had just started winding down Saved by the Max because we only like to do about a one-year run, tops, for these pop-ups—when people know they're there for a limited time, it draws them in a lot faster. Nobody wants to miss out."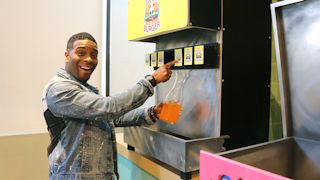 Good Burger star Kel Mitchell had the initial idea for the project.Photo: Nathaniel Wood
The Good Burger pop-up launched on July 10 as a promotion for the All That reboot, and helped further conversations with CBS Consumer Products about a similar Peach Pit-inspired diner for BH90210. The network had already hosted a successful two-day pop-up for press and influencers. They wanted Berry and his team to help expand the space into a fully functioning restaurant open to the public.
What's Next?
"We're talking about what comes next from here," says Berry. "It's really exciting to work on these IPs that I grew up on, so we can bring that element of real fandom to it. It doesn't feel like it's just a marketing activation from a big corporation."
That's part of why Berry and his team are super-selective with their projects. "If we were taking on 100 gigs at a time, or a 100 pop-ups at a time, we wouldn't be able to focus and give that same attention to detail," he explains. "So we're able to leverage these pop-ups a bit longer than most; we can do months at a time, or like Saved by the Max, a year at a time in a couple of different markets."
While Berry can't share details on their next project, he says that the team will continue focusing on marketing-driven restaurants for the foreseeable future. "That's been a major focus for us, to take a step back as a company now and say, 'Who are we, what are we?'" he says. "We're more than just the guys that did Saved by the Max. I personally look at us as a food and beverage company—a hospitality company that specializes in marketing. So we're able to bring these food and beverage experiences to life, and they all come with these nostalgic, Instagrammable moments.
"I think that's what separates us from these large corporations—they give you one or the other," he continues. "They'll give you the amazing photo moments and the re-creation of a set, and you have 15 minutes to get your photos and get out. But it feels like there's nothing really personalized to it. I think what we're able to do is combine those ideas. People feel like they're actually on the set, they lived and breathed on that set, they had a great dinner in that immersive space."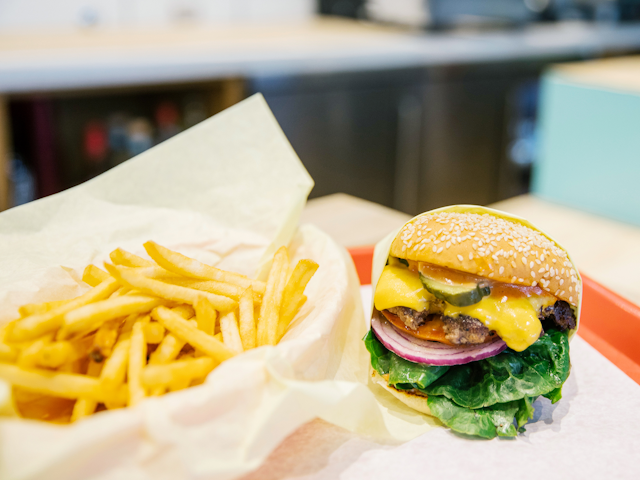 All three pop-ups feature on-theme dishes from celebrated chefs. At the Good Burger space, Eggslut founder Alvin Cailan created a menu of real-life "good burgers" and boozy orange soda cocktails.Photo: Nathaniel Wood