Lights Out
To entertain 50 media buyers, the Sci Fi network hosted a dinner that riffed off its show Ghost Hunters with holograms and a dark room.
October 30, 2008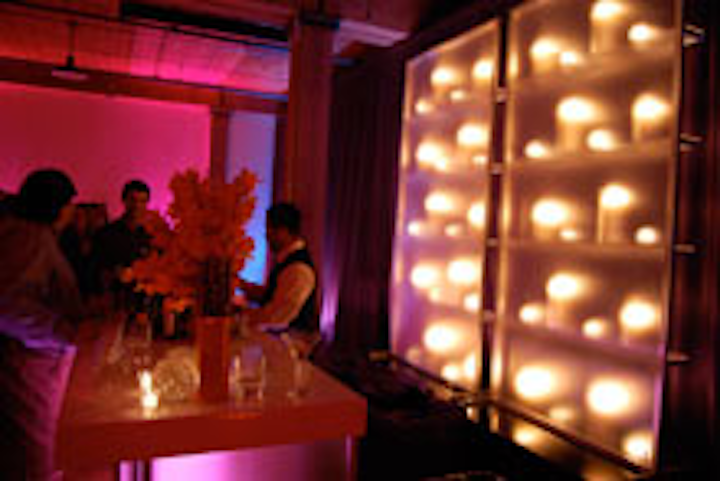 Photo: BizBash
At the Sci Fi network's dinner for 50 media buyers at XChange West on Tuesday, traditional small talk went by the wayside as one guest wondered aloud, "Where's my fork? I'm just gonna eat with my hands," and others bellowed "Marco" or "Polo."
The event used Opaque Restaurant's dining-in-the- dark concept, which plays out just how it sounds: Guests sit down to dinner in a pitch-black room, with the idea that temporarily losing sight will awaken their other senses. Opaque staffed the soiree with blind servers, who helped guide guests through each course with frequent tableside announcements and measures such as touching guests' shoulders and having them hold out their hands to receive the plate for each course. 
Paymon Parsia, an account manager with experiential marketing agency Cunning Communications, Inc., worked with Sci Fi vice president of strategic marketing Shari Weisenberg and director of strategic marketing Kim Volonakis to plan the event, which also featured a pre-dinner cocktail reception. "Commerical buyers get taken out for dinner all the time," Parsia said. "So our goal was to entertain them in a way that was memorable and unique."  
The concept also presented an appropriately spooky platform for educating clients about Ghost Hunters, one of the Sci Fi network's most popular shows. After guests took their dinner seats, a two-minute presentation on the program began. In lieu of a traditional drop-down screen, the presentation incorporated transcreen technology, which allowed Sci Fi vice president of sales Chris Czarkowski and two members of the Ghost Hunters cast to appear as holograms.
After the dinner, which Taste America catered, guests spilled into the neighboring room for a dessert reception amidst Kehoe Designs' lucite chairs, candlelit bar, and glowing pink-and-purple lighting scheme. Chatter revealed the attendees' consensus: The experience was fun, different, and something they probably wouldn't get the chance to do again. "Good," said Weisenberg when informed of the verdict. "We wanted to give them a once-in-a-lifetime experience." 
Featured Venues/Suppliers: