Why This Resort Created a Reality Cooking Competition Targeting Meeting Planners
In the Man vs. Chef mobile tour and reality show, JW Marriott Marco Island Beach Resort shows off its culinary offerings following a $320 million renovation.
October 28, 2019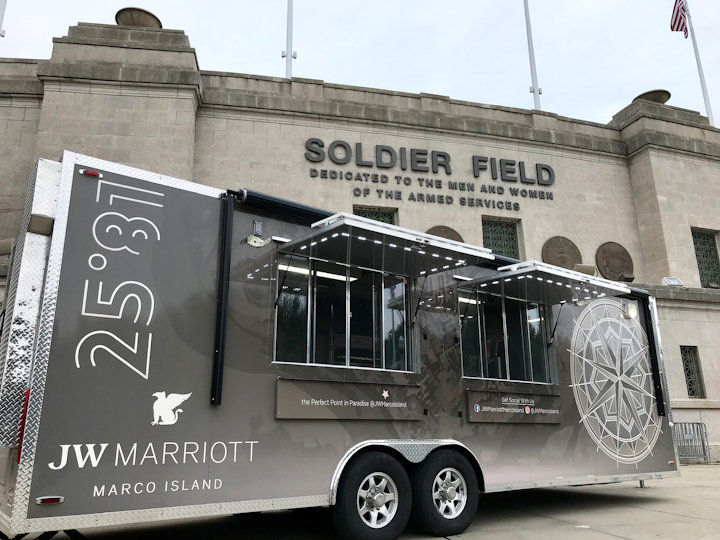 Photo: Tracy Tirrell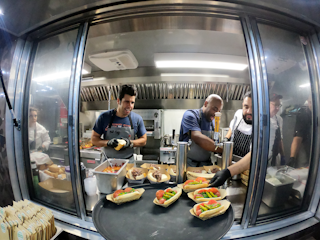 Food was prepared in the tricked-out Airstream trailer that usually serves beach fare at the JW Marriott Marco Island Beach Resort.Photo: Henrique KerchCHICAGO—There are any number of ways to show off new F&B offerings at a resort property. Following its $320 million renovation, the JW Marriott Marco Island Beach Resort devised a four-city mobile tour that doubled as a cooking competition and reality show for its social media channels.
The idea behind the Man vs. Chef tour—which stopped in Atlanta, Washington, New York, and finally, Chicago on October 15—was to show off the culinary offerings in an ultra-creative way after the massive renovation. In each city, a chef from Marco Island went head-to-head with the show's host and West Hollywood-based comedian, Pete Giovine (the "man") to prepare a dish inspired by the host city. For the challenge, Giovine cooked from a food trailer that had driven up from the southwest Florida resort and had help from a local chef who served as his mentor.
"One of the reasons why we wanted to take our food trailer on the road was, as chefs, to continuously grow by learning about the different regional cuisines around the United States and to challenge those chefs to see if our skills hold up," said JW Marriott's Marco Island executive sous chef Melissa Sallman in the first episode.
The trailer―usually a spot for beach fare at the resort―was a big hit on the road. Its fully equipped kitchen includes a six-burner stove, grill, salamander oven, a flat top, a kegerator system, fryers, and a freezer and cooler. For the tour kickoff in Atlanta, Giovine made Atlanta-style fried chicken with a chili honey glaze under the direction of Westin Peachtree Plaza chef Chris Chadwick. In Washington, the featured dish was Maryland-style crab cakes and in New York, a hearty lasagna was the entrée. All in all, the "man" won the culinary challenges in Atlanta and D.C., while JW Marriott chefs won in New York and Chicago.
"What I've really been amazed at has been our customer engagement, both here at these events, as well as online. From a marketing perspective, Man vs Chef has that perfect synergy between high-tech and high-touch," said Sharon Lockwood, the resort's general manager.
In Chicago, the resort invited meeting planners and other V.I.P.s to an indoor/outdoor event at Soldier Field. Guests took in the final competition, were a part of the live filming of the reality show (a first during the tour), and sampled the winning dish. Chicago Marriott Downtown Magnificent Mile's executive chef Frank Sanchez mentored Giovine in the competition vs. Ario's chef de cuisine Gerald Sombright. As judged by celebrity chef Kevin Hickey, Sombright's winning dish was a variation on the classic Italian beef sandwich. Chicago-style hotdogs and potato wedges with truffle aioli, gold-dusted bonito flakes topped with caviar, chives, and sea salt was also served.
Past episodes of the reality show played on several screens during the event which is also displayed through the JW Marriott's social media channels, expanding the message further through Facebook, Instagram, Twitter, and YouTube. This gave viewers the opportunity to get a behind-the-scenes look at their culinary team. Fans that follow the show had the chance to vote on ManvsChef.com from October 21 to 23 for their favorite chef and dish.
The event ultimately showed how planners can elevate their own food and beverage experiences when planning their own functions and showcases how the brand works together across the network of hotels.
"The number one thing meeting planners tell us is the pressure on them to try to find something that's better year after year. A lot of times they don't have increased budgets―so they really look to our hotels―particularly our Convention & Resort Network hotels to feed that inspiration," said Tammy Routh, senior vice president of global sales at Marriott International. "These kinds of events give them the ideas to show what's possible―and what's possible, not necessarily in a ballroom."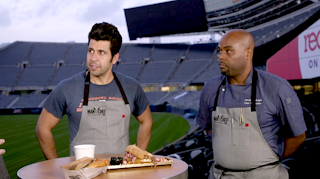 West Hollywood-based comedian, Pete Giovine (left) challenged Ario's chef de cuisine Gerald Sombright (right) in a battle of Italian beef sandwiches.Photo: Courtesy of JW MarriottThe out-of-the-box traveling roadshow was not without some challenges. "When you look at that trailer, it very easily parks itself on a 10.1-acre beach, but we've had some very interesting scenarios of getting it into certain cities and locations," Lockwood said. "The most difficult part was just the logistics of where to park it. Without the culinary talent that we have, our sales, marketing, and engineering teams that all came together to put this on, it wouldn't have happened." She also noted the support of the local hotels including the Westin Peachtree Plaza, Washington Marriott Wardman Park, Sheraton Brooklyn New York Hotel.
Man vs. Chef culminated at the JW Marriott Marco Island Beach Resort on October 25 with a ticketed event that was open to the public. The $85-per-person dinner included a cocktail reception, samples of the winning dishes, highlights from the reality show, a chance to meet the chefs, and a concert by country music artist Phil Vassar. Giovine also was on hand to crown the winning chef based on the votes. All proceeds benefit the Harry Chapin Food Bank of Southwest Florida whose food supply was diminished after sending supplies to the Bahamas after Hurricane Dorian.