Why This Charity Golf Event Featured $100 Meatballs
The inaugural Celebrity Chefs & Friends Golf Tournament combined the sport with good eats.
November 7, 2019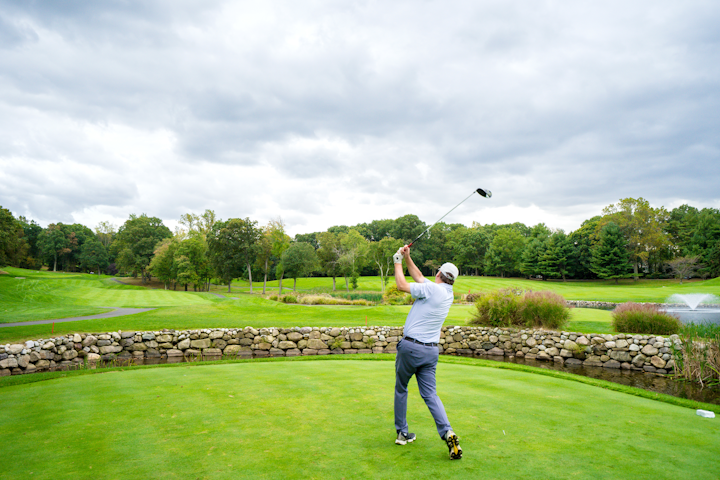 Photo: Eric Vitale Photography
DEMAREST, N.J.—More like a food tasting with a side of golf, the inaugural Celebrity Chefs & Friends Golf Tournament, benefitting City Harvest, teed off on October 7 at the Alpine Country Club in Demarest, New Jersey.
Hosted by chef Geoffrey Zakarian, golf commentator Nick Faldo, and event pro Herb Karlitz, the all-day event featured tournament play followed by a dine-around reception and live auction in the clubhouse. (The event was a revamped version of a similar event Karlitz used to host with former professional baseball player and restaurateur Rusty Staub.)
​"When you think of a celebrity golf tournament, you think celebrities playing golf, but the 100 percent total integration with culinary, spirits, and wine during the day followed by a post-event experience was a first," Karlitz explained.
Chefs in attendance included Zakarian, Michael Symon, Daniel Boulud, Dino Gatto, Todd English, Francois Payard, Kerry Heffernan, Ming Tsai, Alpine Country Club's executive chef Alex Lee, and others. Inside Access from Chase was the event's presenting sponsor; additional sponsors included Faldo Selection Wines, Inspirato, and Illy Caffe.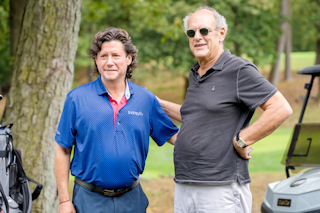 Karlitz and talent manager Shep Gordon chat during the tournament.Photo: Eric Vitale Photography
In addition to playing, some of the chefs also served up small bites and cocktails on the course and in the clubhouse after the tournament. Dishes included Michael Symon's barbecue pork sliders, Paul Bartolotta's sauteed sea scallops, Rao's meatballs from Ron Straci, and Simon Kim's marinated short ribs from Cote.
In terms of serving food on the golf course, Karlitz explained that the biggest challenge came down to distance and power. "Each station needs to be as self sufficient as possible in terms of set-up and execution. The golf course itself does not have power, so menu items could not require any electrical equipment," he said.
"An additional challenge with a shotgun tournament is that guests all start on different holes, which would mean you could have one group of golfers beginning their day at 11 a.m. with a tasting of a heavier dish, while another group began with lighter fare. As we look towards next year, we are working to improve the timing and flow, potentially incorporating an hour-by-hour change-up of food using carts, so that golfers can experience different bites timed throughout the day."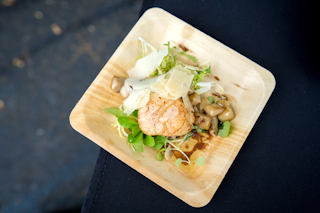 Some of the chefs served up small bites and cocktails on the course and in the clubhouse after the tournament.Photo: Eric Vitale PhotographyFaldo also hosted a special about the tournament, including segments where chefs taught him how to cook, which will air on the CBS Sports Network next year.
Following cocktail hour and the reception, attendees could bid during a live auction, which included items such as a round of golf and a cooking lesson with Symon and a year's supply of Rao's meatballs (which was won by Faldo). In order to attract bidders who were "looking to support the charity, but not in the four- to five-figure range, we auctioned off more Rao's meatballs at $100 each," Karlitz said. The event raised enough money to help provide more than 300,000 meals for New Yorkers in need through City Harvest.
As for next year's tournament, Karlitz hopes to expand by adding on a tennis tournament; this year's event included a mini tennis tournament prior to the reception on the club's courts. "You don't work this hard making an inaugural event this unique and special to not do it again next year," he said about plans for 2020.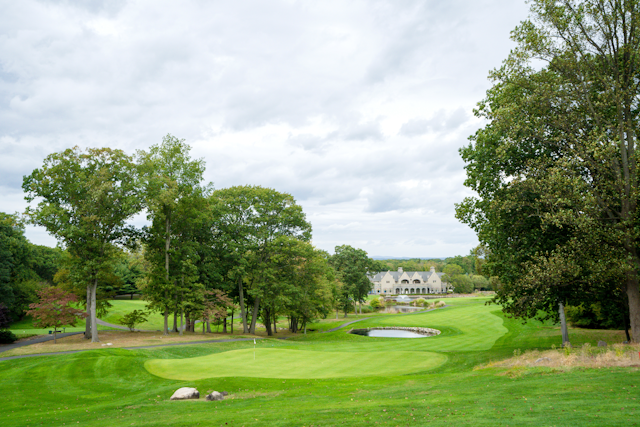 The tournament took place at the Alpine Country Club in Demarest, New Jersey.Photo: Eric Vitale Photography