Pride Event Preview: How Cities and Brands Are Celebrating Virtually This Year
Here's how the LGBTQIA+ community is marking a milestone—while supporting the Black Lives Matter movement.
June 16, 2020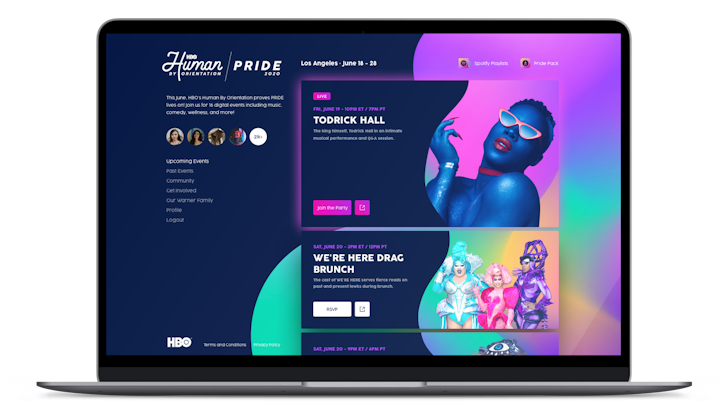 Photo: Courtesy of HBO
This year marks the 50th anniversary of the first gay Pride marches in the United States. But since large gatherings are still banned in most cities due to the pandemic, rather than parades through the streets, hundreds of Pride events have been canceled or postponed—or they're going virtual.
Global Pride
The biggest party of them all—Global Pride, which is set to happen June 27—promises to be a New Year's Eve-style broadcast, with digital dispatches across different time zones such as Sydney, Tel Aviv, and Rio de Janeiro over the course of 24 hours. The organization behind the event, InterPride, recently announced that they will also be amplifying black voices by working with the founders of the Black Lives Matter movement.
"As a black woman in the LGBTQIA+ community, I feel we must confront the systemic racism and violence facing my black brothers, sisters, and non-binary siblings in the larger culture and within the LGBQIA+ community. I could not think of a larger platform than Global Pride to do this," said co-chair of the Global Pride organizing committee Natalie Thompson in a statement.
The event, which will feature performances, speeches, and messages of support, will be hosted by Todrick Hall on his YouTube channel, as well as on iHeartRadio's YouTube channel and the Global Pride website. Political leaders including Joe Biden, Nancy Pelosi, and Justin Trudeau are also slated to make appearances during the broadcast.
More than 500 Pride organizations from around the world submitted content for Global Pride, which the volunteer production team will edit together for the 24-hour stream.
Local Celebrations
In addition to joining the worldwide celebration, most cities are also hosting smaller local events, many in support of the BLM movement. For example, on Sunday, the LGBTQIA+ community of Los Angeles organized a solidarity march in the spirit of the Stonewall Riots in New York in 1969, when hundreds fought against injustice and police brutality. The event featured a mural, created by Trailer Park Group, spelling out "All Black Lives Matter" in the colors of the rainbow at the intersection of Hollywood Boulevard and Highland Avenue. 
The city's virtual Pride parade, LA Pride 50th Anniversary Celebration, will air on June 27 at 8 p.m. on ABC7, and include historical vignettes that celebrate the culture and history of the LGBTQIA+ community in Los Angeles. Asher Entertainment will team up with the Iconic House of the Ninja to create a virtual vogue performance during the primetime broadcast.
Last year, an estimated five million people visited New York City for Pride weekend, but this year, revelers will need to tune in to join the festivities. On June 28, from 12-2 p.m., the city's Pride broadcast will feature performances by Janelle Monáe, Deborah Cox, Billy Porter, Luísa Sonza, and more. Leading up to that, NYC Pride is hosting several corresponding events, including Black Queer Town Hall. In partnership with GLAAD, this three-day virtual event, which takes place June 19-21 and is a revamped version of Pride 2020 Drag Fest, will include performances, roundtable discussions, and fundraising opportunities for black, queer organizations, as well as LGBTQIA+ performers.
Brand Activations
Because of the lack of in-person events and their inherent exuberance, corporate sponsorships and partnerships surrounding Pride have taken a hit this year. But some brands are still getting involved.
Yesterday, HBO launched its first digital Pride via its Human By Orientation site, which, from June 18-28, will feature daily events including a musical performance by Janelle Monáe, a drag brunch hosted by the We're Here cast, DJ sets, a queer comedy night, and more. Designed to be a safe digital space for the LGBTQIA+ community and its allies, the website is an extension of the brand's ongoing initiative, Human By Orientation, which launched in early 2019. "The purpose has always been to elevate and celebrate the queer community, allowing them to be their proudest queerest selves," explained Jackie Gagne, vice president of multicultural marketing at HBO.
In the past, the network has created grand IRL activations for Pride including a summer full of cultural programming in Provincetown, Mass. This year, the brand had to create a welcoming destination through social distancing.
"Our goal has always been to foster a sense of community, which we think is important now more than ever given the loss of live events, especially something as iconic as Pride," Gagne said. "We created a lineup for the entire LGBTQIA+ spectrum to enjoy together, and built our site with a social media integration that allows the community to mingle in a spirit only Pride can foster."
The site, which was produced by Lupine Creative, also highlights LGBTQIA+ and civil rights nonprofit partners, including the National Black Justice Coalition, Ali Forney Center, Audre Lorde Project, and others.
On Sunday, hair care brand göt2b created a virtual stage on Twitch to host a live drag show called Spray & Slay. Vanessa Marques, göt2b's assistant brand manager, said that the digital activation "presented an opportunity to provide an environment for people to celebrate, participate, and support."
Through the site's tipping option as well as Venmo, viewers were able to donate directly to the performers. "Twitch as an entertainment and streaming platform is native to celebrating diversity and self-expression," Marques explained about the brand's decision to host the event on the platform. Adding that, "it's also preferred by the talent."
And just in time for Pride, the queer grassroots platform Do the WeRQ debuted, with the mission to increase queer representation within the advertising and marketing industry. The group is currently hosting a digital conversation series, hosted on Zoom, honoring Pride Month with ad industry leaders such as CEO of Walton Isaacson Aaron Walton, Cossette vice president Chris Bergeron, and Laundry Service creative director Sarah Sears, among others.