Interactive Sponsor Activations Add Summery Vibe to Pandora's Massive Concert
The Summer Crush event included sponsor setups meant to facilitate a carefree—and cooling—atmosphere at the brand's biggest annual single-day event.
September 1, 2016
Pandora hosted the fourth incarnation of its free, invitation-only festival, Summer Crush—with performances by headliners Daya, Fergie, and 5 Seconds of Summer—on August 13. The event took over a full city block footprint for 4,000 attendees, and also streamed live on Pandora's platform. It's the largest single-day event for the brand, whose strategy is to create targeted events for impassioned fans.
The festival took over L.A. Live's Microsoft Square and the whole area around it, with Pandora's senior events director Nicole Carbone-Rogers overseeing the program.
"The experience was built to empower the fans, to get them excited to see their favorite bands, and to feel fully immersed in the Pandora brand," Carbone-Rogers said. "We created an environment that was truly unique, building an immersive experience so our audience could keep a social diary of their adventures throughout the day. The theme of the day was being connected at every turn."
Pandora produced the event, working together for the third consecutive year with Stoelt Productions. In addition to its sheer scale, the production was a feat because of logistical limitations: The team had just two days to load in. Producers took possession of the street in front of the Staples Center at 6 p.m. on Thursday before the Saturday event, with just that short window of time to deploy the staging, overall infrastructure, and a custom sail structure to keep attendees comfortable in the heat.
The event also included a sponsor village for key sponsors, offering cooling activations for the late summer heat as well as back-to-school-theme amenities.
Chevron hosted a "Refresh and Refuel Station," which featured a car wash-style entrance, keeping guests cool with misters and bubbles as they entered the space. The activation featured a backlit, mini gas station with custom designed gas pumps that distributed water into branded water bottles. 
At the huge SweeTarts activation, guests could battle it out with friends in a custom 30-by-30-foot inflatable gladiator style wrecking ball game. 
The Amazon Prime Student activation featured a photo booth complete with a step-and-repeat style backdrop with dimensional letters where guests could engage with props and share on social via remote iPad stations. Also on the back-to-school theme, 3M Post-It supplied concertgoers with branded fanny packs full of essentials.
Best Buy provided a phone-charging activation that was reminiscent of a high school hallway; lockers accommodated a variety of devices. Wrapped in vinyl, the lockers anchored the activation that also featured a lit acrylic bar and a massive eight-foot wide lit sign. 
Cacique handed out samples of its quesadillas, cooked on site using a variety of the brand's products. Its open-air mobile kitchen was housed in a custom-built casita-style frame with matching thatched umbrellas. Quiznos also served up chocolate chip cookies and coupons from a 12-foot-tall version of its recognizable oven.
New for this year, the event included a 14-foot-high and 32-foot-wide hard-wall stage backdrop with more than 38,000 individual hanging reflective discs and an integrated LED logo, making for a stunning stage show and a supremely sparkly look. Also new were two massive 16-foot-wide LED video screens flanking the stage, showing event images and social feed; a 12-foot-tall LED DJ booth; and a jib that captured all of the excitement on stage and in the crowd.
Other new features included an oversize sparkly Pandora moment for photo ops, 16 freestanding social-media signs, the 15-foot-long custom shade structure that included 12 gigantic sails, and hanging swing benches wrapped in event messaging. As well, a face swap wall featuring the artists gave guests a fun social media opportunity.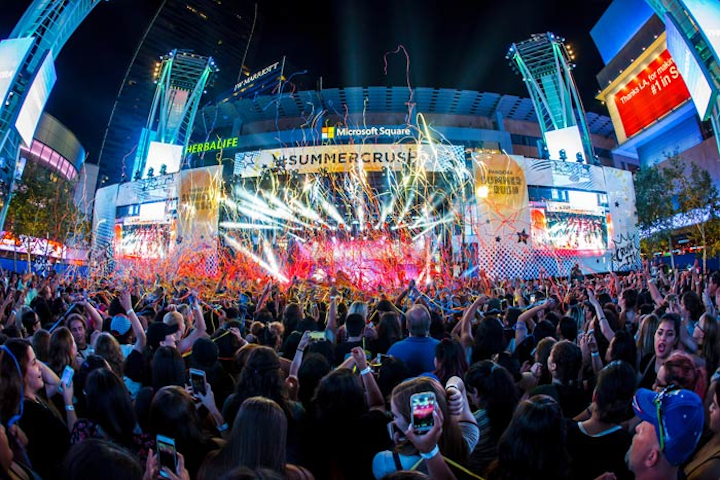 Photo: Vero Image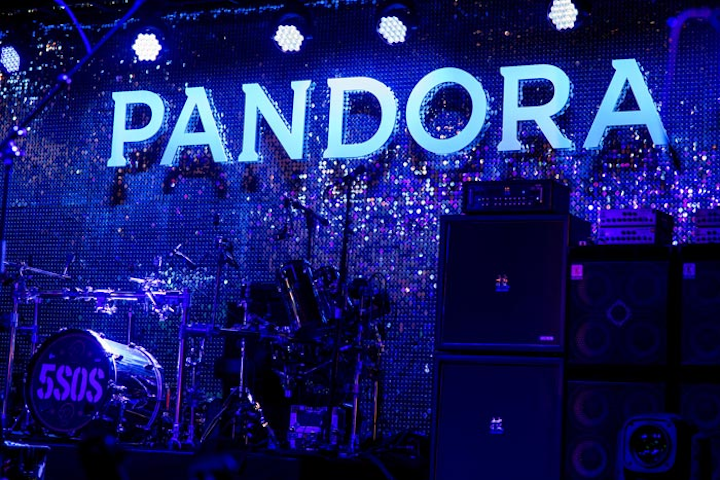 Photo: Vero Image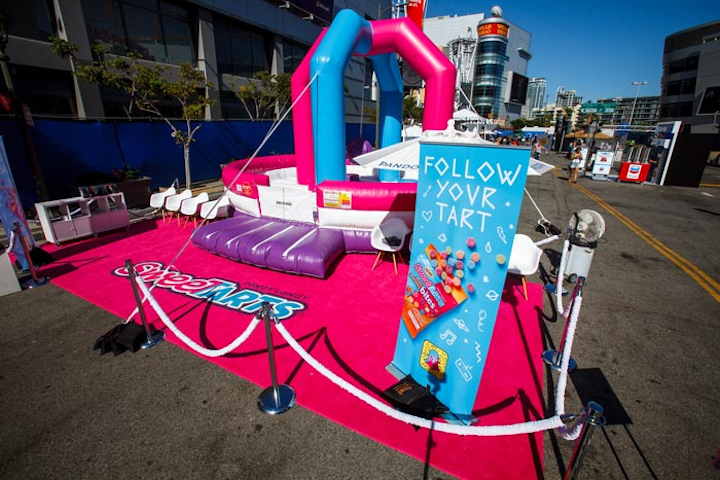 Photo: Vero Image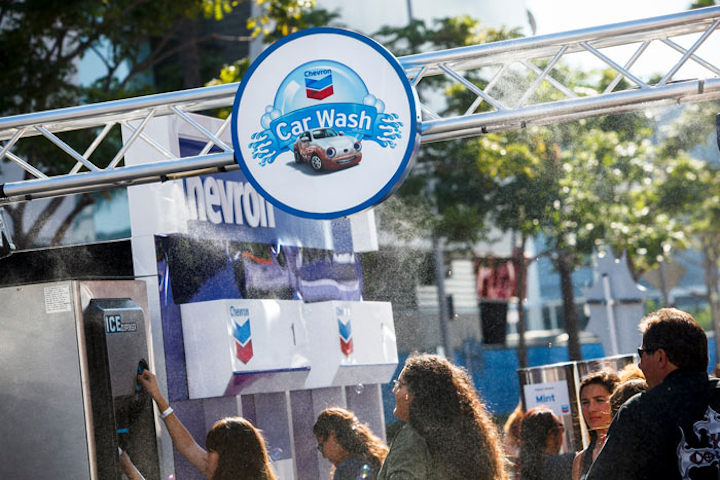 Photo: Vero Image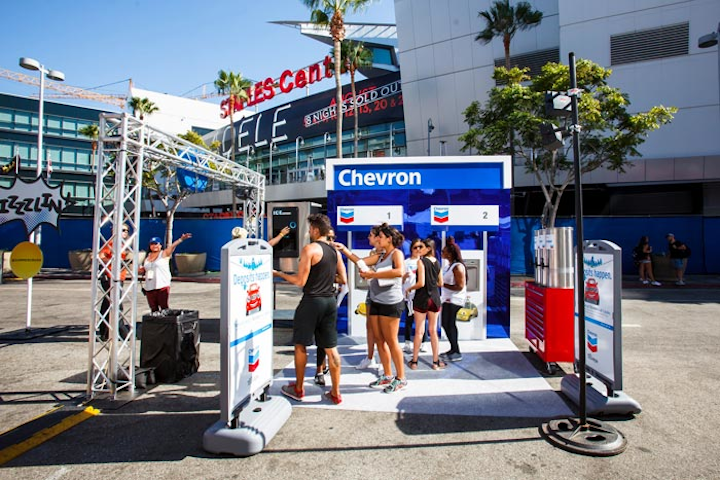 Photo: Vero Image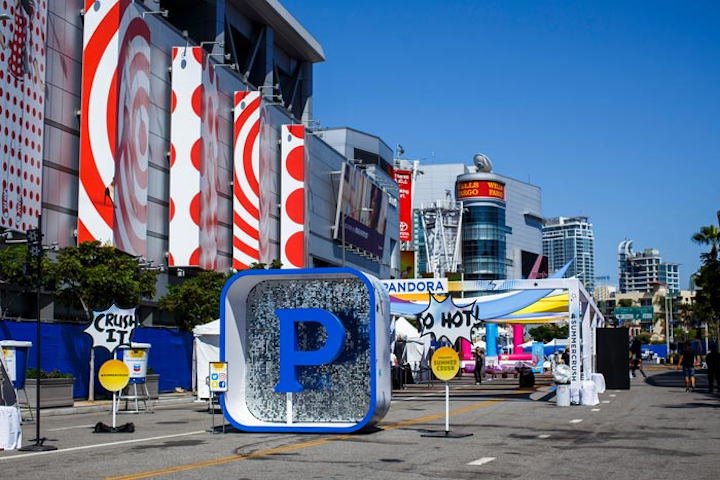 Photo: Vero Image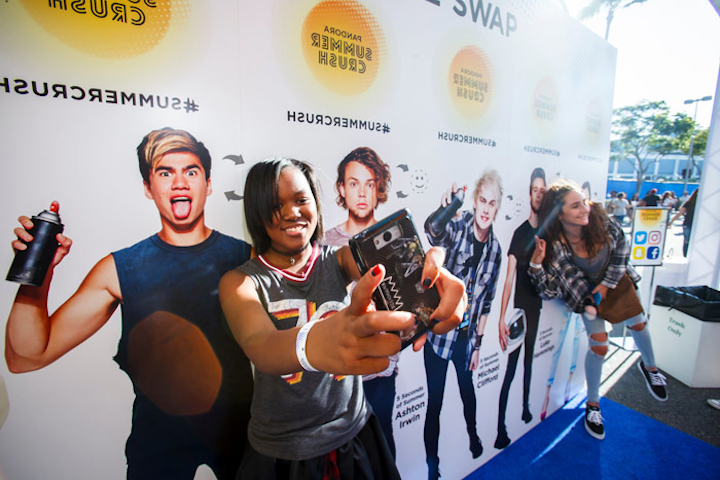 Photo: Vero Image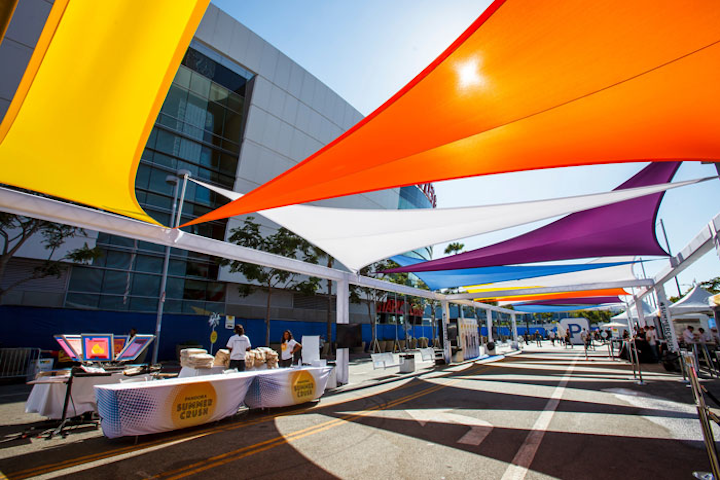 Photo: Vero Image
Photo: Vero Image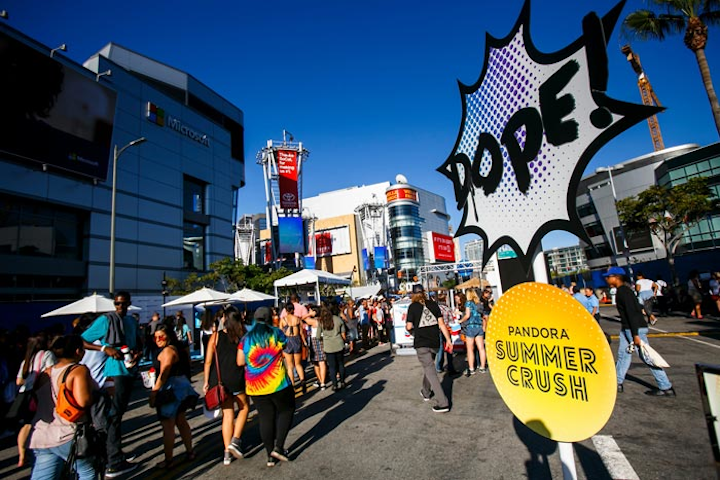 Photo: Vero Image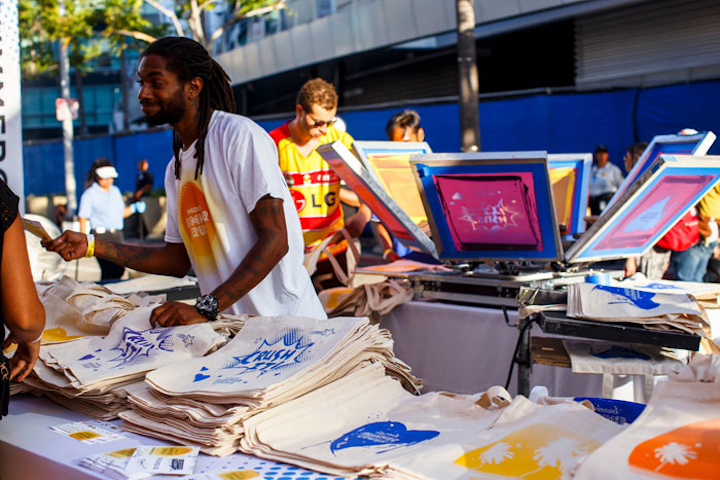 Photo: Vero Image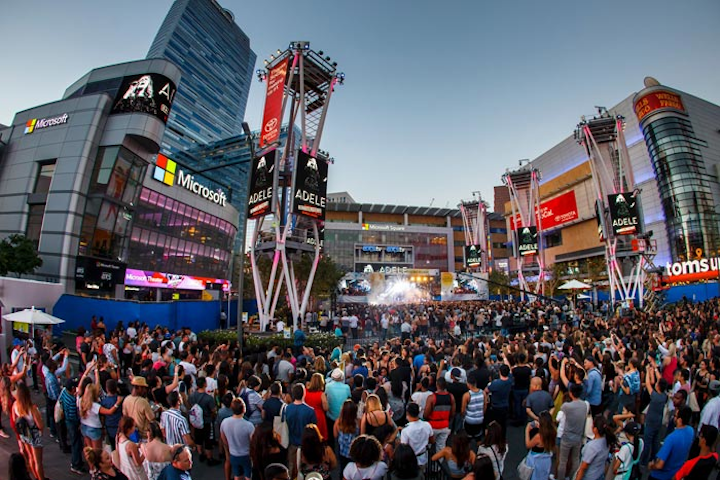 Photo: Vero Image
Featured Venues/Suppliers: