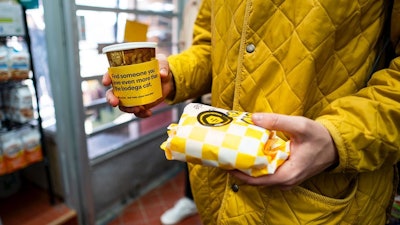 NEW YORK—Bumble may have made its best match yet: bacon, egg and cheese sandwiches and hungry New Yorkers.
From Feb. 19-26, the "Bumble Bodega" took over spots in various neighborhoods throughout the city, including Andy's Deli in the West Village, offering free sandwiches, hot coffees and tote bags to those customers who showed their Bumble Date, BFF or Bizz accounts. The delis were outfitted with the app's signature black-and-yellow color scheme with branded awnings, signage, food wrappers and cup holders.
"Bodegas are such an iconic part of NYC's cultural landscape. It was the perfect place for Bumble to create an integrated experience that's familiar to locals and provides them with a sense of joy and connection within their communities during this time of social distancing," explained Georgia Mavrookas, VP of community marketing for Bumble.
"As a New York-based agency, this work especially resonated with us," explained Amber Ward, founder and CCO of Invisible North, the agency that produced the experience. "Those moments—like grabbing a coffee at your local bodega—are the moments we feel the most grounded in our communities. For Bumble, a brand focused on fostering community, this idea was a no-brainer."
With gathering restrictions still in place throughout most of the country, many event planners and producers have realized over the last year that you need to meet consumers where they are—like a neighborhood convenience store.
Citing the Bumble Hive concept, which are temporary pop-up experiences in major cities, Mavrookas explained that "we've always prioritized engaging with the communities where we operate. At the Bumble Hive, guests could enjoy food and drinks, foster connections and experience entertainment and interactive sessions with entrepreneurs and thought leaders, all in one place. Although we're currently unable to engage with people in this capacity, we still wanted to create meaningful in-real-life touchpoints to remind our community about the power of connection."
She added that the bodega takeovers have received an "overwhelmingly positive response," with folks around North America asking for similar experiences in their cities.
"It is incredible to see the impact we can create for a global brand when we double down on supporting the places and people who support our communities on a daily basis," said David Jacobsen, head of integrated production for Invisible North.
In addition to its branded pop-up spaces, the social networking app has become known for hosting events—big and small. But the COVID-19 pandemic forced the company, which had its initial public offering at the beginning of February, to rethink its event strategy.
"In the past year, we've shifted our focus to creating fun and safe virtual events or socially distanced experiential moments. The pandemic challenged our team to reimagine how we engage and maintain an active presence within our community," Mavrookas said. "I'm really proud of our Bumble team for continuing to innovate and not being afraid to try something new during a time of enormous uncertainty, which has allowed us to keep spreading our mission of creating healthy and equitable connections."
Take a look inside the "Bumble Bodega."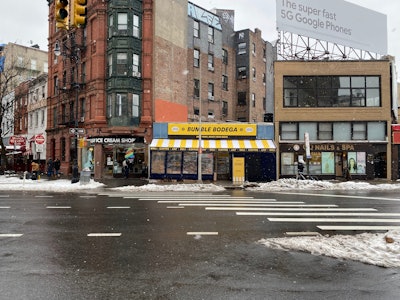 Photo: Courtesy of Bumble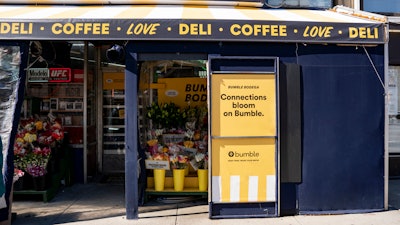 Photo: Courtesy of Bumble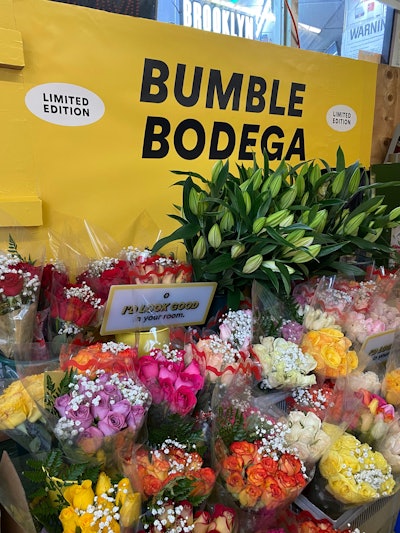 Photo: Courtesy of Bumble
Photo: Courtesy of Bumble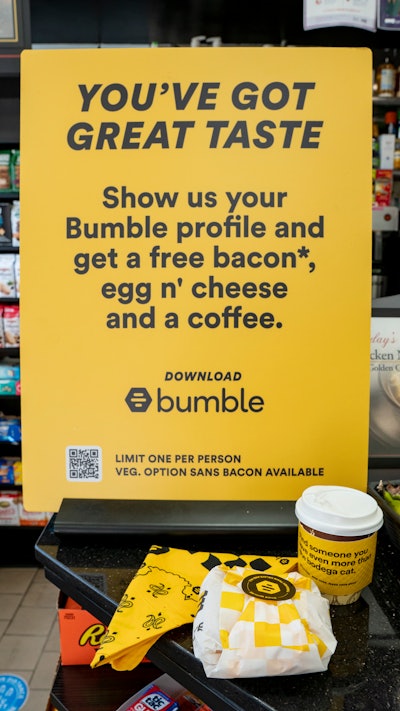 Photo: Courtesy of Bumble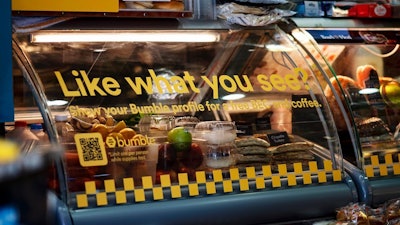 Photo: Courtesy of @invisiblenorth/Instagram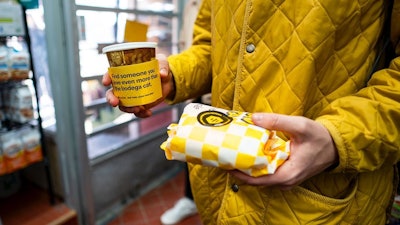 Photo: Courtesy of @invisiblenorth/Instagram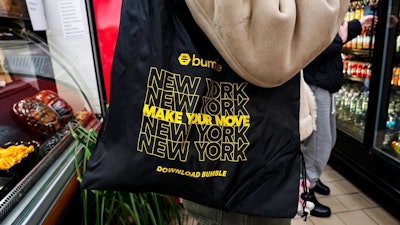 Photo: Courtesy of @invisiblenorth/Instagram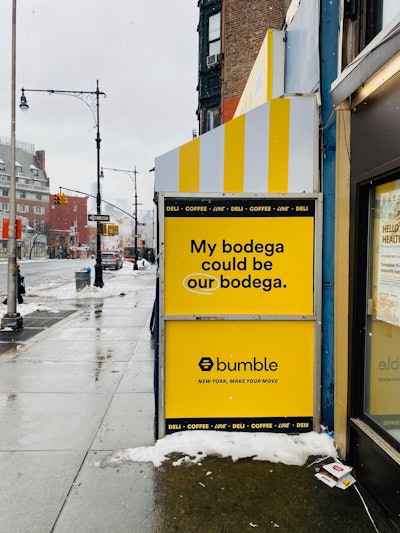 Photo: Courtesy of Bumble