Guest Column: 6 Key Ways to Support Media at Events
Ensure good press coverage for your event through proper planning, promotion, and follow-through.
July 5, 2018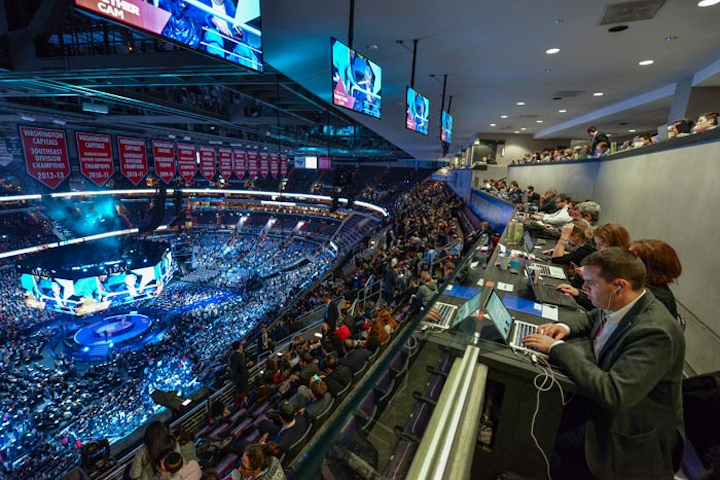 Photo: Scott Circle Communications
Matheson Sharp is a coordinator at Scott Circle Communications (@scottcircle), a Washington, D.C.-based public relations firm working with mission-driven clients.
Planning is perhaps the most important step for any event, whether organizing a major conference with hundreds of attendees or hosting a small seminar with a few dozen participants. And if members of the media are going to be in attendance, anticipating their needs is crucial. Understanding what you can do before, during, and after an event will help ensure that you harness the coverage you deserve.
Use these six easy steps to ensure a great experience for media and press at your event. 
1. Plan, plan, plan.
What information might a reporter need to inform their coverage or navigate the event itself? In advance, create a press kit filled with all necessary information and documents related to the event. Include schedules, maps, press releases, bios, FAQs, and a contact sheet for easy follow up. Identify a spokesperson who is knowledgeable about the event and can represent you in front of the media. 
2. Prepare press spaces.
Media attending an event are at work, so it is helpful to facilitate a seamless experience and make sure they have the resources to get things done. A filing center or pencil press area provides journalists a space where they can sit, set down equipment, and file pieces, often on deadline. Wi-Fi, power, and refreshments are often key components of any press area, and are a good opportunity to show you care.
If you are putting on a big event with lots of floor space, you may need areas for photographers and videographers, such as a buffer (a cordoned-off area directly in front of a stage) and a riser (elevated platforms that position media above the crowd). These options give the journalists space to do their job while not inconveniencing or impeding on the experience of attendees.
For TV, it is often important to have multiple angles, so consider having more than one riser. Work with the media to arrange a pre-event walkthrough of the space. This will help you help them, and as professionals they know where they need to be to get their shot.
3. Assign your team tasks—and remember there are no small jobs.
Details matter, and you may not get a chance at a second impression. Communicate, let your team know the schedule of events and where everyone needs to be, and create an event checklist with assigned duties. Make sure that there is someone in charge of every aspect of the operation, from check-in, to escorts for prime shots, to a media handler assisting with interviews. If everyone knows their job and why it matters, your event will be a success.
4. Position yourself to promote the event.
You are the best champion for your event, and by sharing relevant information on your channels, you become the best resource for media (and your general audience). Put your best foot forward on the web. Confirm that your social media accounts and website are up to date, and add any links to new information. Create a hashtag to follow interaction throughout the event, and take the opportunity to live stream or post while you have an expanded audience. To further boost your presence, engage with relevant influencers during the build-up and following the event.
5. Say yes and be positive.
You can prepare for every scenario, but there will still be times that things don't go according to plan. When the unexpected occurs, think clearly! Delegate and rely on your team to help be part of the solution, and make clear assignments and avoid rash decisions. Most media understand that things can happen unexpectedly, and they will appreciate anything you can do to be helpful.
Also, make a note of any issues that occur and revisit it after the event. Is there something that you can do to make sure this doesn't happen again? What led to the problems, and how were they resolved? Learn from your experience and implement necessary changes for future events.
6. Follow up.
After the event, reach out to media and relevant attendees, thank them for their time, and see if they have follow-up questions. Make all resources available—from presentations and handouts, to photo galleries and media wrap-ups—and provide media with the information they need to complete their story.
Furthermore, send this information to media that showed interest but were unable to attend the event. By continuing to be helpful even after the event, you'll establish a reputation as someone media can rely on as a useful resource—even with upcoming events or opportunities. 
Featured Venues/Suppliers: