Daniels Spectrum Wins International Prize for Design Excellence and Social Conscience (Sponsored)
August 12, 2014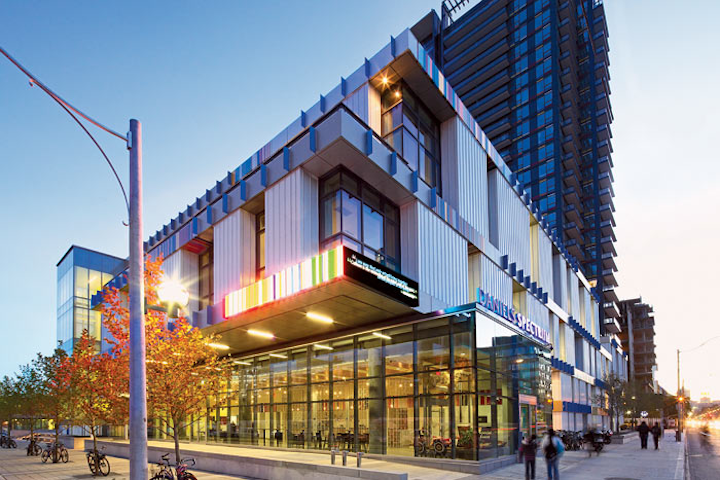 Photo: Lisa Logan
Daniels Spectrum, an event venue and community cultural hub in Toronto's Regent Park neighborhood, has received the Good Design Is Good Business award from Architectural Record. The prestigious award honors companies and organizations "that take advantage of design to further business strategies in ways that are innovative but appear effortless." This year's co-winners include Marc Jacobs, Camper Together shoes, and the NASA Sustainability Base.
Designed by Diamond Schmitt Architects, Daniels Spectrum features modern lines, bright and airy communal spaces, and a rainbow-hued façade that is inspired by the flags of the world. Its main event space, Ada Slaight Hall, boasts world-class theatrical functionality and acoustic design. Additional spaces include the multipurpose Artscape Lounge and lobby, the MDC Partners Courtyard, dressing rooms, and a greenroom.
The Good Design Is Good Business award recognizes the benefits of Daniels Spectrum that extend far beyond the built form. Daniels Spectrum is located in Regent Park, a former 1940s public housing project that is undergoing a radical urban transformation. In addition to operating as an event venue, the building is home to six local arts organizations and the Centre for Social Innovation. Its social mission is to provide creative space to the community, nurture local talent and create a new platform for culturally diverse programming.
Daniels Spectrum's event operations are a social enterprise, funnelling revenues directly back into the cost of running the building and keeping rates accessible for nonprofits and community groups. The facility is managed by Artscape, a not-for-profit urban development organization that manages nine arts and cultural facilities across Toronto, including Artscape Wychwood Barns, Artscape Gibraltar Point, and Artscape Youngplace.
Since opening in September 2012, Daniels Spectrum has established itself as one of the most in-demand new venues in Toronto. In its first full year of business, Daniels Spectrum welcomed more than 50,000 visitors, hosted more than 300 events, and was named Best New Venue for Meetings and Events in Canada by BizBash.
Featured Venues/Suppliers: