Four Event Branding Moments You're Forgetting
May 13, 2019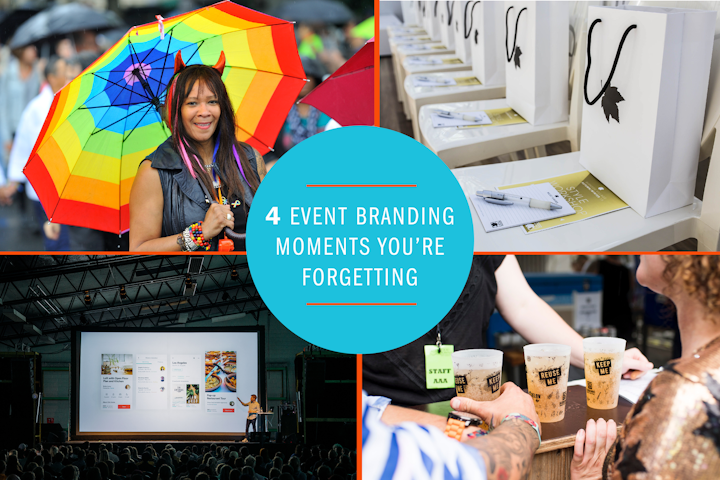 Photo courtesy of Axis Promotions.
At Axis Promotions, we're all about finding the most creative ways to keep every detail of your event consistent with your brand's story. From glasses to giveaways, there are plenty of opportunities to use your colors, hashtags, and logos to create a complete story.
Are you forgetting any of these important branding details?
1. Is it Outdoors?
While we always hope perfect weather will be the backdrop of our next event, Mother Nature often has other plans—and you should always be prepared. Instead of expecting your guests to brave bad weather, give them a hand (or a poncho) while keeping your brand story consistent.
Tips from the pros:
Surprise rainstorms can bring down the best outdoor events. Handing out umbrellas and ponchos or setting up tents that match your theme and display your brand with hashtags, colors, and your logo will keep your guests covered and tell your story.
Heat can also kill the mood. Items that help guests beat the heat are the perfect opportunity to tell your brand's story. Make sure guests are geared up with sunglasses, fans, water, and other cooling accessories.
2. Do You Have a Speaker?
We're not talking about the electronic devices that fill your event space with sound. (Although we have those, too.)
We're talking about the people talking through those speakers. If you have an expert, client, or employee speaking at your event, there are plenty of branding opportunities you might be missing out on—from backdrops and banners to microphones—but our favorite is the speaker gift.
By presenting speakers with gifts after the event, their experience is more than a job. These are items they will keep, reminding them that their time spent with you was less of a transaction and more of a partnership. Strengthen that partnership with a thoughtful gift that perfectly represents each of your brands.
Tips from the pros:
Hosting a fitness conference? Gift a personalized yoga mat.
Inviting experts to speak? Put a caricature of their face on a mug.
Presenting a leadership award ceremony? Choose an award that doubles as a phone stand.
3. Are You Serving Food?
We live in a world of social media. That means your attendees are taking photos every chance they get, especially when food is involved. Make sure whenever guests are snapping pics, there's something they can include with your name on it.
It's important to go beyond the typical event starter pack—don't settle for just branded napkins and glasses. Get creative with items like custom coasters, branded Popsicle sticks, and ice cubes of your own design.
Tips from the pros:
Serving popcorn for a movie premiere? Design a custom, branded popcorn bag.
Creating a signature cocktail for the event? Order branded drink stirrers in addition to your branded glasses.
For every catering item you serve, rest assured there's an accessory that can help complete the brand experience. (If you think you have something that doesn't, just ask us.)
4. Are Your Guests Leaving Empty-Handed?
Everyone expects to leave an event with a gift in hand. But that's not the only reason to come up with a killer giveaway. Whether you're hosting a trade show or corporate retreat, a branded giveaway is the perfect opportunity to continue building a relationship with guests after the event.
While budget can have a large impact on the item you choose, a small spend doesn't mean your guests have to go home with a forgettable gift. The most important thing is to choose a gift that won't end up in the trash. Get creative, get personal, and give your guests a gift that's 180 degrees from ordinary.
Tips from the pros: If you have the time and a finalized guest list, personalizing items for each attendee is an easy way to show how much you value them.     
To learn more, visit axispromo.com.  
Featured Venues/Suppliers: