Event Boosterapp—App to Boost Networking and BI at Events
June 13, 2019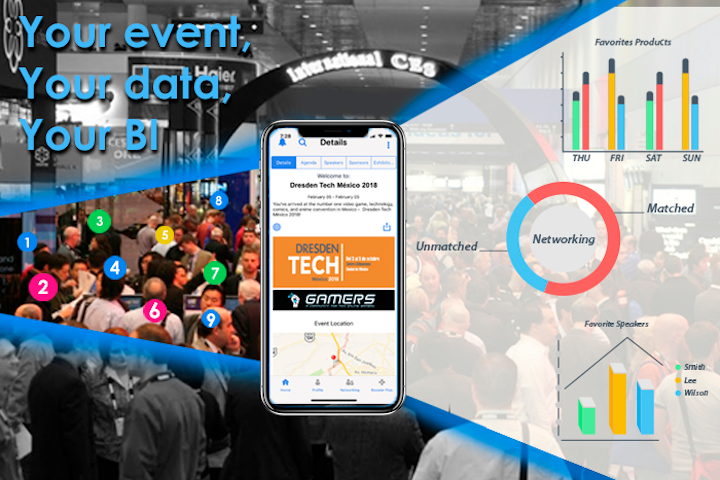 Photo courtesy of Event Boosterapp
California-based tech company Booster Technology Solutions has launched Event Boosterapp, an innovative SaaS event organization platform that facilitates entertaining and profitable networking for participants. With Event Boosterapp, visitors to fairs and congresses can contact each other and exhibitors, save products, and learn more about speakers and experts, while at the same time providing organizers with new advertising and promotional spaces to generate income and boost loyalty.
The app can be used to register and manage attendants, speakers, and exhibitors. In addition, multiple users can be stratified into various access levels to information, from the highest level with notifications and access to sensitive data to a number of lower and intermediary levels, including printing ID cards with their associated QR codes. The registering process is safe and reliable, guaranteeing compliance with data protection laws in force.
Push notifications and emails can be customized and segmented by interest groups. Additionally, it gives exhibitors a specific register system to view and manage their data, and QR codes and contacts for potential clients. Thanks to the data provided by the app, the exhibitor can get reliable feedback on the results of its booth and its sales reps at an event.
Unlike a simple informative app, Event Boosterapp allows you to "apptualize" an event in minutes. As well as including detailed information on the agenda, speakers, sponsors, exhibitors, advertising/banners, and networking opportunities, it can also capture leads or register voluntary data from attendants in real time with the possibility of exporting to an external database.
Exhibitors can thus obtain a clear return on investment thanks to capturing leads and sales contacts through the QR codes and the user-friendly networking system that encourages attendants to add and share contacts, with the possibility of creating private chats. The app also allows event visitors to save favorites, with speakers, themes on the agenda, and products of interest. Other added advantages of the app are the gamification options to stimulate involvement in events and anonymous live voting systems.
Event Boosterapp is also customizable, with the possibility of using a generic screen for all events or configuring it especially for multiple or single events. Companies and large organizations can also contract an enterprise license for exclusive use on their own servers.
Based on the SaaS model, Event Boosterapp offers great economic flexibility, as clients only pay for the days they use it. Exhibitors and attendants can also cloud sync all the contacts and information captured on their mobiles during the event.
For event planners, this all-in-one platform, with a cloud-based CMS, is a huge help that discharges them from many tasks and responsibilities. It automatically uploads all the information on the event to the system, in real time, creating a link for registering at the event via web or smartphone and facilitates the management of attendants and the printing of ID cards.
The app is currently available in three languages: English, Spanish, and Portuguese.