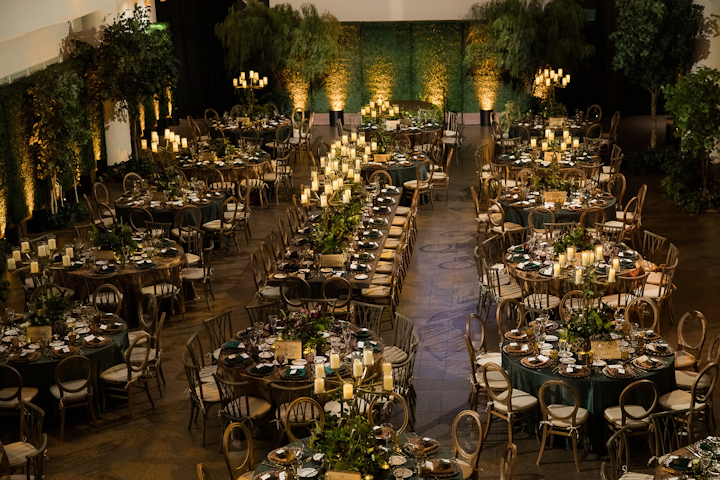 Photo: Eder Photo
TBD San Diego, one of the city's top event design and production firms, has become the go-to company for showstopping transformations. There are two reasons why: Jillian Ziska, owner of the 3-year-old company, and Rheana Coon, director of special events.
Both are experienced in creating unique event experiences. Yet, as TBD takes on larger corporate events, the field of venues that can accommodate them narrows. Annual events often return to the same space, which brings its own set of artistic challenges.
"This is our joy. This is when we go into overdrive to source new design elements and find new, inventive ways to transform the space," Ziska said.
Certainly, that was the case when an event planner with a large group of 1,500 guests approached TBD. The site was one that almost every corporate event-goer in San Diego has seen—The Prado at Balboa Park. However, when an event buys out an entire property, what can and can't be done changes considerably.
In this case, there were many designs that TBD was able to execute for the first time at that site. For the company's reimagining of Prado as a Spanish hacienda during an arts festival, blue fabric was draped from the entrance; "Evita" moments were created along the venue's many stunning balconies; and an artist's studio, sexy flamenco nightclub, and outdoor stage designed after the Festival of Lights were three more large concessions TBD was permitted to design. 
Balboa Park is home to another beloved venue—the San Diego Natural History Museum. While it is already rich with architectural and design elements, there are times when annual groups want to push the envelope. Such was the case for a 300-person corporate sit-down dinner designed by TBD.
"The objective was a lush fantasy forest. We brought that to life with details and experiences," Coon said. Entertainment was a large part of Coon's design strategy, beginning with stilt-walking vines that greeted guests outside and smoking cocktails handed to guests by a living wall. In terms of the bigger design picture, Coon offered three tips for BizBash readers.
Transforming a Historic Museum, Naturally 
Use the entire space by bringing attention to the perimeters. Hedge walls and trees pushed the sit-down area of the museum out to the very edge while also adding dimension and texture.
Don't forget the importance of lighting. At the museum, a forest of gobo projections displayed over the entire area added another layer to the design while the color of the lighting changed every hour.
Final word—details! In the forest, tables were named after different forests worldwide. Custom-made bars by TBD were covered with greenery with bar backs offering artistic shelving for floral. Cocktail tables were made from welded metal branches, and a projection on the stage area changed to show different forest views.        
Featured Venues/Suppliers: