Blueprint Studios Transforms The San Francisco Hilton Union Square into the Toast of the Town
August 8, 2019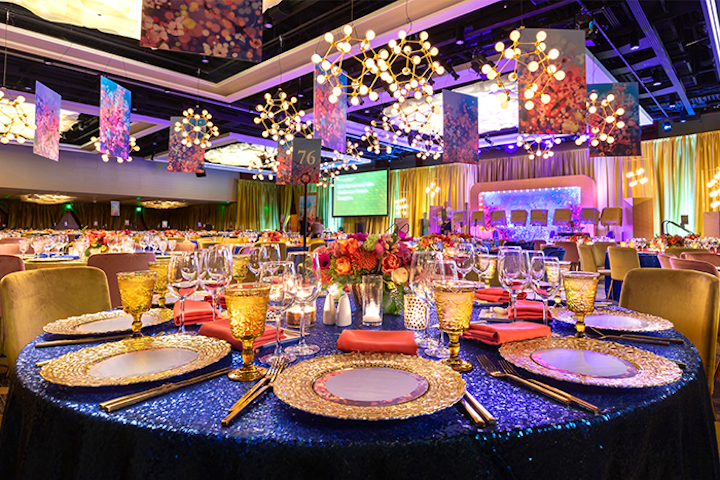 Show Ready Event Photography
Celebrating the success of a company is an art. Blueprint Studios took this principle to its pinnacle by designing and outfitting a multi-day service and sales conference for an elite financial institution in downtown San Francisco. Held in the San Francisco Hilton Union Square, the highlight of the conference was a lavish bubble lounge cocktail reception and an effervescent awards ceremony and dinner. 
The champagne-themed conference reception featured lavish pink velvet seating, sparkling blue and gold table linens mixed-metal tables throughout, with modern gold-framed chandeliers overhead casting a festive glow over the occasion. Custom crafted pillows emblazoned with champagne inspired prints played on the whimsical bubbly concept, inviting guests to sit, socialize and raise a glass in sumptuous surroundings. Blueprint Studios also designed and constructed a variety of specially made props. One of the specially crafted showstoppers was a gazebo featuring a lattice top adorned with fresh sprays of foliage and interwoven with ribbons suspending a chandelier of champagne bottles. Another attraction was the Instagram-worthy photo backdrop—a wall decorated with images of giant bubbles along with a spiral of white and gold balloons and a sparkling 3D display of the words "Bubble Lounge." This captivating photo set ensured that the party's impact would extend far beyond the four walls of the convention room, and make a social media splash, driving the client's messaging forward to an expanded audience.
Chartreuse, blush pink, and royal blue set the tone in the Continental Ballroom, providing a plush palette for the award ceremony and dinner, with shades of a Hollywood awards show spritzed throughout the dazzling décor. Atop the alternating table linens, gold-rimmed chargers, fresh florals and gem-toned goblets added luster to the proceedings. Billowing chartreuse draperies and velvet dining chairs in an array of rich hues piled on the lux textures and eye-candy colors, transforming the ballroom into a colorful mosaic. In the midst of this feast for the eyes, creating a focal point for the awards ceremony was a fest. Blueprint Studios produced the awards stage, illuminating it with a flurry of floral images framed by a custom constructed digital display with Geo Chandelier lighting fixtures in adding to the authentic award show environment.
Combining an array of artful elements, digital wizardry, and design ingenuity, Blueprint Studios transformed this corporate affair into the toast of the town.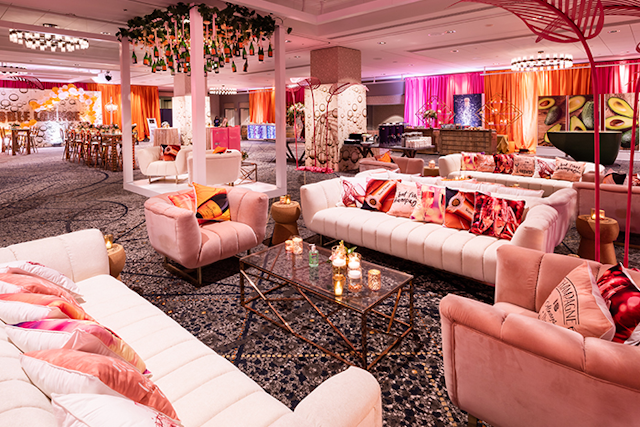 Lavish Bubble Lounge Reception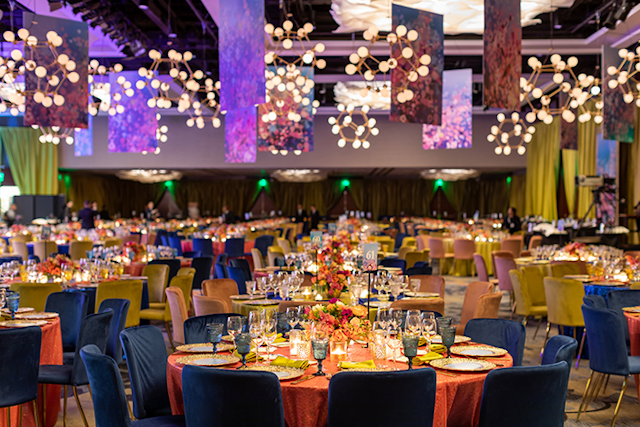 Awards Ceremony & Dinner

Featured Venues/Suppliers: