Top 5 Ways to Make a Corporate Event Shine
August 15, 2019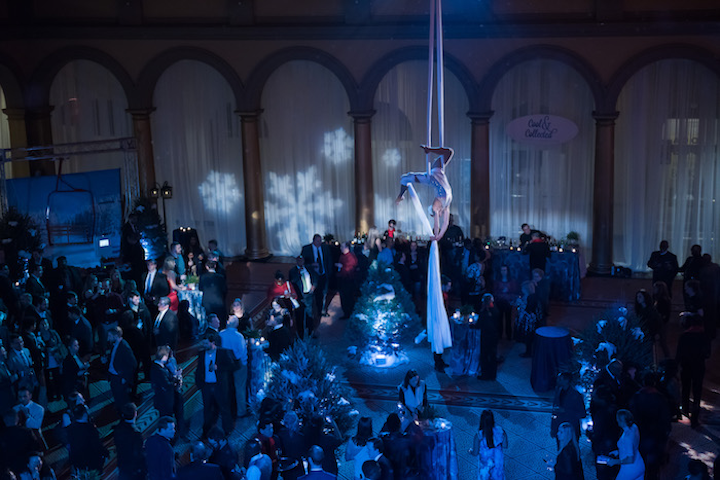 Photo: Eli Turner Studios
Corporate entertaining has reached creative new heights, and today's top companies in Washington, D.C., know how to let the good times roll. But more than just a good time, the most memorable events also serve as an extension of a company's brand image, both internally among employees and externally, among key business partners.
While splashy parties have long been de rigueur in cities such as New York, Los Angeles, and Miami, the tide has certainly changed in Washington as some of the nation's most creative companies now call D.C. home. So what are the best ways to knock your corporate party out of the park? Here are some ideas that can be incorporated into entertaining during the holidays or at any time of year.
1. Location, Location If the budget allows, a unique and special location sets the mood for a winning event. Featuring interesting architecture and decor, museums and other unique spots offer dramatic bang for the buck. Popular locations in D.C. include the newly relocated International Spy Museum, the Renwick Gallery, the National Cathedral, and Dock 5, an industrial warehouse space right above Union Market. Your caterer likely has strong relationships with many venues in your city. Ask them for recommendations, or to help scout and secure the perfect space.
2. International Flair Reflecting the excitement of D.C.'s award-winning restaurant scene, global cuisine has found its way into corporate catering. (Thankfully, those rubber-chicken dinners are becoming more and more obsolete.) Recent sightings include carts with Moroccan spiced meat and vegetable kebabs and Indian bhel puri cones, which are filled with puffed rice, potato, chaat masala, and tamarind-date chutney. Banh mi tacos, a Vietnamese street treat, are also a popular choice as they're easy to eat and bursting with flavor.
3. Ready, Set, Action! Food action stations are always a hit because they allow guests to custom-create their own edibles. Risotto stations with luxe toppings like lobster and saffron foam, ramen noodle stations, and gourmet tacos are always popular.
4. Food Experiences Top event designers know that food isn't just for eating—it's for entertainment. Attend any corporate event these days and don't be surprised if you see service staff whipping up nitrogen ice cream and cereal milkshakes, or an oyster shucker roaming among guests with a steel-mesh glove and knife in hand.
5. High-Flying Entertainment Although there's certainly nothing wrong with your standard jazz trio, local entertainment in many cities, including D.C., has been elevated to dizzying heights. A recent party at the National Building Museum featured an aerial fabric acrobat suspended 25 feet in the air. Other "wow" performances include an aerialist who poured champagne for guests from above and tightrope walkers who balanced over guests' heads.
Ridgewells Catering, which has led the catering charge in the Washington area for over nine decades, has created some of the most smashing corporate parties around. Read more about its remarkable corporate planning at ridgewells.com, and check out its Instagram for a stream of innovative ideas.
Featured Venues/Suppliers: