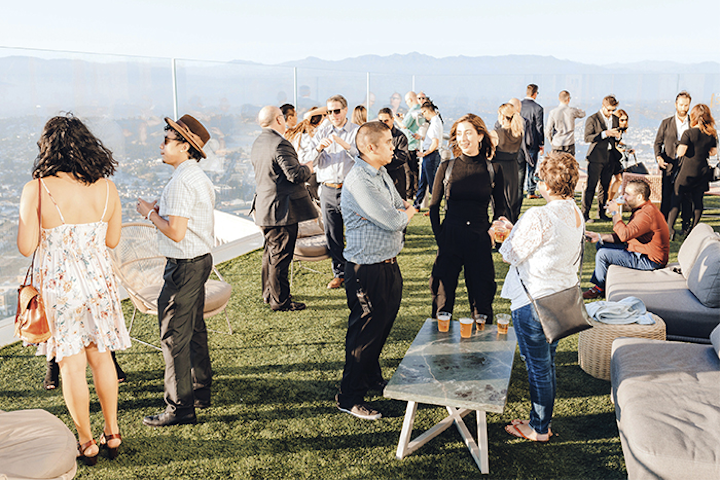 Photo courtesy of OUE Skyspace.
Towering nearly 1,000 feet over downtown Los Angeles, OUE Skyspace LA boasts California's tallest open-air observation deck complete with two outdoor terraces, a 300-person private event space, and a 45-foot glass-encased slide for thrill-seekers. Not only is this venue an excellent option for your next group outing, but OUE Skyspace is also a versatile event space with some of Southern California's best views. We put together a list of five things you might not know about this exciting venue.
Your guests can engage with interactive exhibits that speak to the uniqueness of Los Angeles.
Midway through your journey to the top of the iconic US Bank Tower, you'll find several interactive exhibits to learn more about the City of Angels. Learn about the sights and sounds that make this city so interesting, like bands that formed here or the sports teams that call Los Angeles home. There are facts for everyone, such as: 'Did you know the blinking light atop the Capitol Records Tower spells out the word "Hollywood" in Morse code?' 
The views are unparalleled.
Everything looks different from above. Towering almost 1,000 feet over Los Angeles, from OUE Skyspace you can see the city's greatest sights, like Dodger Stadium, the Hollywood sign, and even Santa Monica Pier. Grab a viewfinder on one of the outdoor terraces to get a closer look at beautiful Los Angeles. It's one of the best places in the city for epic sunsets, too.  
There are events happening weekly.
With ample space for guests, Skyspace regularly hosts unique programming of their own. From outdoor yoga on the terraces to wine tastings hosted at the brand new Garden Bar on-premises, there's no shortage of things to do at Skyspace. Look out for DJ nights in the summer plus holiday specials, too!
There are two bars in-house.
Skyspace is home to not one but two bars with unparalleled views and delicious beverages. Stop by the brand-new Garden Bar for locally-sourced craft brews and the finest wines from Southern California vineyards. It's a great place to catch up with coworkers after touring the space - and trying the gravity-defying Skyslide. 
Where else can you ride an all-glass slide suspended in midair?
Do you have what it takes? Experience the Skyslide, a 45-foot, fully enclosed, all-glass adventure landing on the exterior of the iconic US Bank Tower. Starting on the 70th floor and depositing sliders out onto the open-air observation deck one floor below, the Skyslide is an exciting new way to see the city.
Overlooking the creative capital of the world, OUE Skyspace LA is the ideal destination for hosting your next event. With ample space for groups and two open-air terraces offering breathtaking 360-degree views of iconic landmarks, Skyspace is the perfect venue for your next corporate meeting or family gathering.
Amenities include:
• Skyslide
• Projectors, microphones, and DJ-ready sound system
• Event branding, utilizing monitors and green-screen capabilities
• In-house food and beverage catering services
• Hollywood and Skyslide terraces
• Valet parking
• Preferred vendors
Featured Venues/Suppliers: