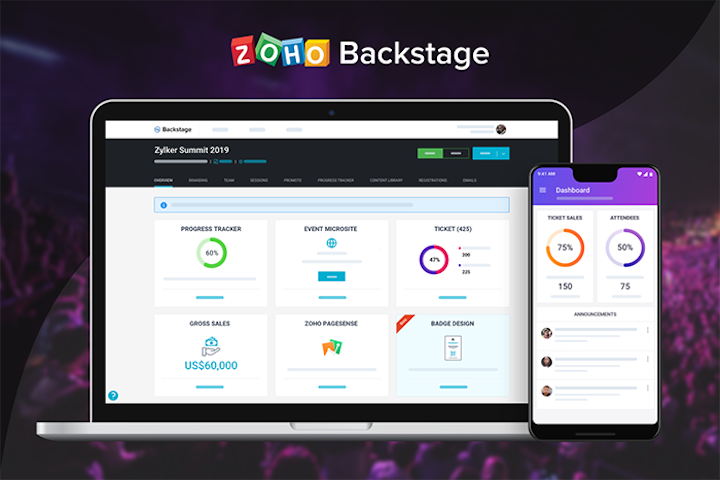 Photo courtesy of Zoho Backstage
Creating a memorable event experience can be both a dream and a nightmare for event planners. Fortunately, technology has come to the rescue in the form of event management tools and quickly become event planners' new best friend. 
In the beginning, it was all about specialized software that solved only one part of the event life cycle. An event planner could end up juggling three to five different software solutions to pull everything together.
Soon after, many comprehensive software solutions were introduced. These all-in-one solutions claim to take care of everything from building an event website to attendee registration and check-in. Is the all-in-one software really worth your money? Let's dive in and find out.
Easy Flow of Data
Naturally, it's tempting to pick the best solution available for each stage of the event life cycle, but is that really the way to go? The challenge of working with multiple software solutions is the pain of data flow between these apps since most tools require you to laboriously map data from one platform to another. 
With comprehensive software, you get to manage your event's registration, website, marketing, and post-event activities seamlessly without having to worry about losing data while mapping.
Leave a Lasting First Impression
Delivering a consistent event experience ensures that your attendees remember you. Do comprehensive tools help you design everything the way you want? While some comprehensive event management software solutions give planners the freedom to fully customize, the majority are not very flexible with their customization options. If you aim to engage attendees with personalized experiences, remember to check if the software offers the customization you desire.
Easy to Navigate   
When it comes to comprehensive solutions, they are generally more complex than their specialized alternatives. It's important to test their ease-of-use. Not all event planners are tech-savvy, and sometimes event management software can be a little overwhelming. That said, a good event planning tool will make sure you don't need a designer or a coder to create a custom event website or event app.
One Place for All the Support You Need
Every event organizer knows the importance of a software support person. Comprehensive solutions give you one go-to place for any hitch that you might encounter. These solutions are the clear winner when it comes to providing quick assistance—no more having to interact with 10 different people to solve a problem with the software.
Everything in One Place 
Having all your events in one place along with all the collateral, speakers, sponsors, and attendees makes event handling faster. When a single platform contains all the data, most event organizers feel that their tasks become a lot easier. With one touch, you can keep all your attendees in the loop at all times. How great is that? 
While most event organizers have reported a good experience with these all-in-one platforms, keep in mind that the solution you pick should be secure and reliable.
At Zoho, we're partial to our own comprehensive solution—Zoho Backstage—which provides event planners with an intuitive and secure platform. Zoho Backstage offers deeper customization, a rebranded mobile app, and smooth integration with Zoho CRM, which makes it one of the most efficient and affordable event management solutions on the market. Click here to access our free trial.