Changing the Trend-Setting Game: 6 Bold Trends, 1 Event
October 29, 2019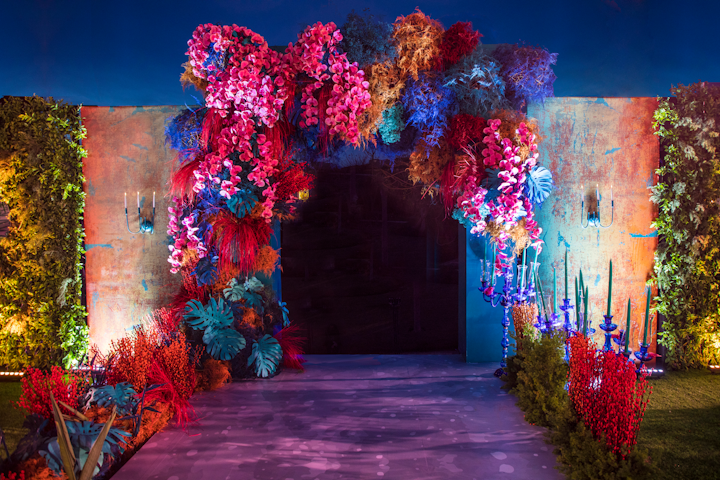 The art of event planning is continuously evolving with new trends always on the rise. Majeda Kassir Bisharat, founder and creative director of MY Event Design (MED), and her team are changing the trend-setting game across the event planning industry. Recently, their "Eden Garden Wedding," an enchanting garden-theme wedding in Cairo, Egypt, featured six of 2019's most popular trends.
Trend No. 1: Experiential installations are the ultimate artistic statement making a mark in the world of events. To transport guests into the wedding, MED created a three-in-one entry portal-inspired installation, transitioning guests from one altered reality to the next. The installation included three distinct tunnels; the first was a forest-theme installation with a twist. Teal colored tropical leaves and crystal chandeliers hung from tree trunks lining a grass pathway—exporting guests into a forest-like sensory experience with echoing sounds. The second tunnel represented a futuristic installation; an artistic world of metallic reflections, reflective street mirrors, and shaving mirrors. The third tunnel represented the tunnel of illusion; neon-lit 3-D doors and tropical leave prints covered the tunnel walls and floor.
Trend No. 2: Bold and eccentric colors are replacing the once favored softer pastel colors. While choosing the right color palette, selecting one solid color and mixing it with its different shades has been a popular approach. In 2019, using two contrasting bold colors instead of one has also seen popularity. At the wedding, MED unified a color scheme of bold colors across different decor and design elements—from floral installations and combinations to abstract floral arrangements and Gucci inspired furniture.
Trend No. 3: Backdrop statements and floral installations can be made using balloons, neon lights, flowers, or other decor elements. Backdrops help transform spaces, serving as perfect structures to hide away unwanted background elements. Floral backdrops are especially trendy this year. MED built an abstract backdrop using bold and eccentric flowers as the couple's entry arch. Inspired by their love for abstract art, they used dried flowers, preserved baby's breath, and colored foliage, creating a free-style floral background structure.
Trend No. 4: Tapered candles are a classic trend that has made a strong comeback in 2019. With minimal effort, candles can uplift the decor of any event. The MED team used blue and teal colored tapered candles making sure the centerpieces matched the event color scheme, creating an overall organic feel.
Trend No. 5: Interactive and decorative bars are a big hit this year. Bars are points of decorative references where guests can mingle. Paying homage to the desert and cacti, MED created a bar terrarium using cactuses of different shapes and sizes. They filled the bar display with sand and abstract tree installations, creating a wilderness inspired bar display 
Trend No. 6: Indoor-outdoor is all about transforming indoor spaces into outdoor experiences. To enhance these experiences, event planners resort to different decor elements—suspended flowers, swings, installations, green walls, garden-inspired prints, vines, and more.