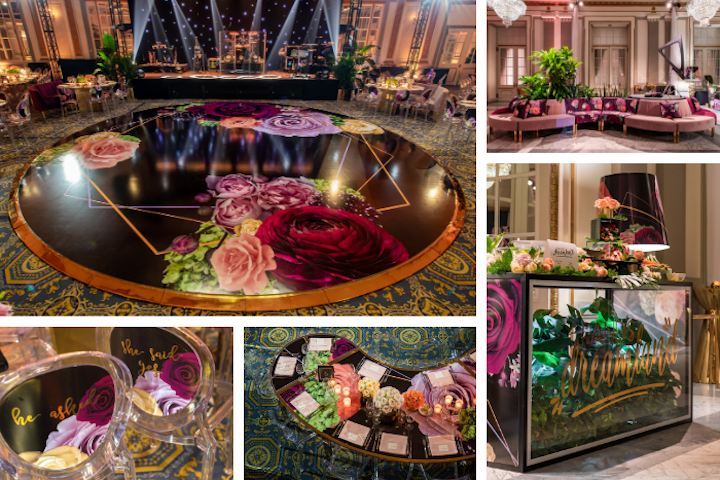 For their big day, many couples look to customize their wedding with personal designs that reflect their aesthetic. Whether it's sending out invitations with unique graphics or giving their wedding a specific vision that wows guests, putting an individual stamp on the event is paramount.
Charles Kay, C.E.O. and creative director at Modern Event Furniture (MEF), who designed this beautiful wedding says: "While wedding colors and themes are fairly common, most couples still miss out on a huge customizing opportunity by renting furniture and leaving it as is. There is no limitation to how furniture and decor can be used and branded at an event to give that personalized touch." Customized furniture can have a huge impact when it comes to creating a design concept, Kay believes.
Kay knows it's sometimes a challenge to reflect the newest trends when it comes to traditional event design. In producing the MEF collection that is sold to event industry professionals, also developing products to brand the furniture has been essential. Products can be transformed from event to event effortlessly by applying MEF-printed low-tack vinyl and carrying through the same graphic onto fabric and carpet. In doing so, anyone can interpret the newest trends from social media platforms like Pinterest in an unexpected way.
Kay, who has nearly 20 years' experience designing high-end events and event furniture, points out that the goal should always be to create a consistent and cohesive design concept. "I always try to see an event as a whole, and perfection is reflected in the details. Custom-branded tabletops, chairs, bars, dance floors, lampshades, carpet, and even custom-printed lounge furniture—everything comes together, and there is literally no limit but your imagination."
Companies like EventGraphics.com are event printing specialists and ship globally. They print custom carpet, pillows, linens, lounge furniture, signage, and adhesive vinyl for events. Their in-house graphic design team can help you create the perfect layout from concept to completion.
New for 2019, MEF now offers custom-printed lounge furniture, a total game-changer when it comes to custom weddings, galas, and corporate events!
For more information please visit moderneventfurniture.com or contact info@moderneventfurniture.com, and check out our Instagram page.