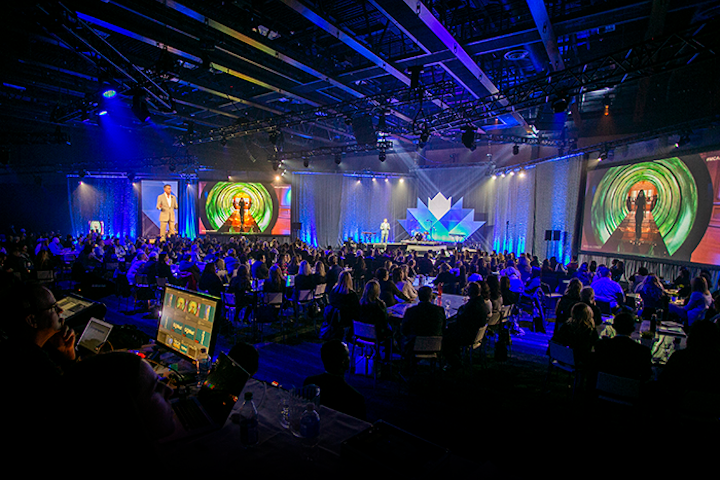 Photo: Nick Hirschmann
Canada's Event for Event Professionals is set to take place in Edmonton, Alberta, one of CVENT's Top 10 Meeting Destinations in Canada! The producers at Timewise Event Management are taking steps to make 2020 even more memorable and experiential. What can you expect at GO WEST 2020? Here are seven experiences to engage in at the 2020 edition of GO WEST this January 19-21.
V.I.P. Planner Reception
The host hotel, The Westin Edmonton, is rolling out the red carpet for all planners staying at their property. This includes a V.I.P. invite to an exclusive reception where planners will meet each other, as well as mix and mingle with some of the industry's top influencers. The only question remains, will it be champagne and caviar or bourbon and bonbons? This is a not-to-be-missed reception for the who's who of planners.
The Tech Showcase with Dahlia Agency
GO WEST packs in the knowledge sessions, and The Tech Showcase is no exception. This year, with tech guru Dahlia El Gazzar producing and hosting this segment, there are sure to be some surprises. Tech companies have the opportunity to do a five-minute pitch from The Main Stage. The following morning, in The Experiential Hall, they will do live demos where attendees can try out innovative tech products and gadgets.
The Nightcap Lounge
New this year at GO WEST 2020 is The Nightcap Lounge. This quiet evening lounge, hosted by Hotels Red Deer, gives planners a space to kick back after a full day of education and networking. A chance to relax, reconnect, and continue the conversation over hot chocolate and Baileys or a little schnapps!
The Main Stage
The Main Stage is back again for 2020, with the event designers of GO WEST creating one (albeit elaborate) stage. Delivered theatrically with only V.O.G. and no emcee, these sessions are high-energy, back-to-back TED-style talks that keep event profs engaged for hours. Creative seating allows learners to choose what works for them. A pop-up espresso and charging station keeps everyone caffeinated and charged.
Deep-Dive Sessions
For those who cannot get enough of The Main Stage education, deep-dive sessions will be offered on Monday afternoon. OneWest Event Design and FMAV have teamed up to create interactive unique learning spaces for attendees to roll up their sleeves and dive deep. These sessions will be coveted by planners who are eager to have face time with industry thought-leaders in a more intimate setting.
The Experiential Hall
After the successful sold-out trade show in 2019, The Experiential Hall continues to be highly sought-after by planners looking to meet and build relationships with vendors and resources. The Hall delivers a huge dose of creativity and excitement by foregoing a traditional grid layout. Attendees can take part in hands-on creative workshops, learning lounges, tech demonstrations, and a speakers den. An array of activations at the booths allow planners to interact with suppliers in a nonintimidating environment.
Industry Influencers and Thought-Leaders
The producers of GO WEST have used their own influence to bring together some of the industry's top influencers to Edmonton. These are experts that planners have heard on podcasts, viewed on webinars, read in blogs, and now actually get to meet in real life. These influencers and thought-leaders will be accessible for the duration of the event, so attendees cannot only learn, chat with, and take a selfie but also very likely begin new friendships.