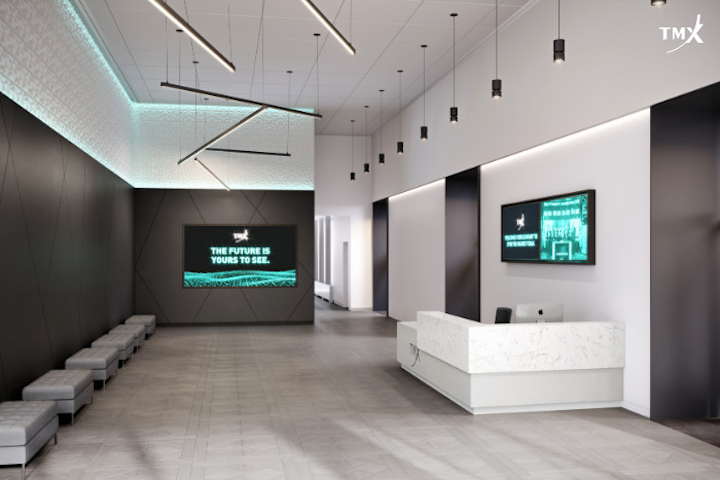 Image courtesy of B&H Architects
A Unique Venue
TMX and Toronto Stock Exchange have stood as a beacon of opportunity in the heart of Canada's financial capital for more than 167 years. In 2020, TMX Market Centre™ will establish a new global business landmark and a fresh, powerful presence at the core of Toronto's financial district.
Our state-of-the-art event destination is perfect for businesses of all sizes that are seeking an accomplished host for their next conference, boardroom meeting, or corporate event.
TMX Market Centre will be able to accommodate anywhere from 15 to 300 guests. Each event space comes equipped with versatile A/V technology and lighting that work together seamlessly to bring your brand's unique vision to life, all while providing your guests with an unforgettable experience.
From small to large bookings, leverage our decades of experience, and collaborate with our talented staff for your next high-profile event.
The Rooms
Configurable rooms: Pearce Bunting Room, Barbara Stymiest Room, and TMX Market Hall
Modern air-wall enclosures allow various options for our event space. Book Pearce Bunting Room, Barbara Stymiest Room, and TMX Market Hall in various configurations.
Pre-Function
The entry point to the new TMX Market Centre is a multifunctional space perfect for registration, product displays, activations, pre-event drinks, and much more.
Boardroom
Whether you're brainstorming your next big idea or closing a deal, our boardroom is equipped to handle it all. This highly adaptable space seats up to 16 and includes the necessary technology to make any presentation a success.
Room Capacities
Pearce Bunting Room, Barbara Stymiest Room, and TMX Market Hall combined—theatre, 206; classroom, 115; rounds, 168; half rounds, 90; cocktail, 320
Pearce Bunting Room and Barbara Stymiest Room—theatre, 63; classroom, 35; rounds, 48; half rounds, 30; cocktail, 100
TMX Market Hall—theatre, 80; classroom, 45; rounds, 72; half rounds, 45; cocktail, 120
Pre-function—cocktail, 150
Boardroom—16 seated
Featured Venues/Suppliers: