Want Better Sound on the Go?
March 5, 2020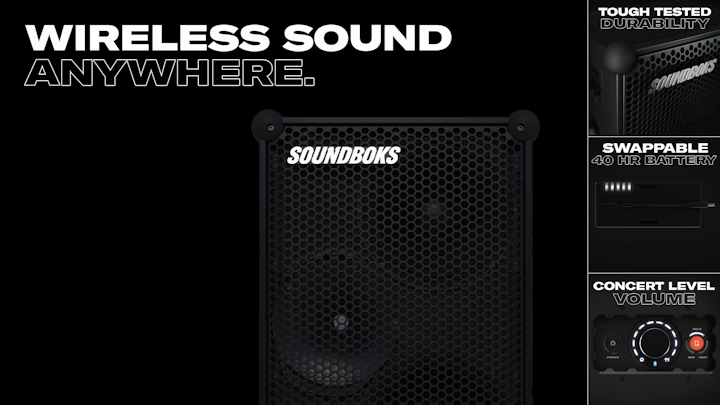 Take Your Next Event Off the Grid and to the Next Level
Mobile sound is tricky. You want amazing sound for your event, but you don't always have the budget for a sound engineer—and you don't want to rely on a tabletop Bluetooth speaker to provide enough music for a 50-plus person event. 
And music is incredibly important. According to one event planner with over 20 years of experience with brands like Red Bull and Weedmaps, "Nothing changes and elevates the mood or creates an environment like music. The ability to bring studio-quality sound to any location can really broaden your horizons as an event planner."
Thankfully there are a ton of products and solutions, but rarely can you demo speakers side-by-side. So you're left to do spec comparisons online and hope for the best. And unfortunately, the world of mobile audio seems full of compromises. 
Usually, if you want more volume, you sacrifice battery life—good bass uses a lot of power. If you want more durability, you sacrifice sound quality—sealed, waterproof speakers rarely have good projection and resonance. If you want pro sound, you sacrifice ease-of-use and quick setups. 
But don't worry! The right solution is out there for you. Here are some things to consider when choosing or updating your mobile sound setup. 
Keep it Wireless
A truly wireless sound system is easy to carry, easy to manage, and easy to set up. 
When it comes to mobile sound systems, cables and wires add unnecessary bulk and variables. Wires and cables can also mean a lot of limitations and can trip you up, literally and figuratively. Bluetooth speakers make things easier for connecting your devices, but if you want to really deliver killer sound, it's important to give yourself the option for wireless daisy chaining to connect multiple speakers without cables. SKAA wireless technology provides ultra-reliable, high-quality signals between speakers, so look for products equipped with SKAA transmitters.
Go Above and Beyond
One of the keys to a solid on-the-go speaker solution is to always overestimate and over-prepare. You might think you want a small speaker for the portability, but what you gain in ease of transport, you sacrifice with volume and bass. A thin-sounding speaker cranked to its maximum volume will sound shrill and annoying, and trust us: people will notice.
A larger speaker with bigger woofers, on the other hand, will sound full at manageable volumes while always giving you the option to go louder if needed. You never know when the party might start!
You'll also want to make sure you over-prepare when it comes to battery life. Always bring backups or a charging solution.
Self-Sufficient Sound
A completely worry-free audio solution doesn't just mean good sound with an easy setup. You always want to make sure your speaker or sound system isn't reliant on WiFi or outside power sources to keep the music going. 
First of all, be sure to download enough music for your entire event, so there are no gaps in the music caused by buffering in streaming services. Second of all, be sure to get the right solution for your style of events. Off-sites/Off-grids or any event at a remote location won't be able to use WiFi surround sound, for instance. And if you're trying to travel light, generators can really weigh you down. A speaker with a hefty battery can really come in handy in this case.
Make Sure it Bumps!
The goal of good mobile sound is just that: good sound! Any event coordinator, planner or producer knows that quality sound makes all the difference and really adds a new dimension to your atmosphere. You want music to fill the environment, and you want people to enjoy the sound. You don't have to be an audio expert, just listen objectively to as many options as you can, and be sure to get a speaker that sounds pleasing to you.
Here at SOUNDBOKS, we throw events for our communities almost every month, and as a speaker company, we have very high standards for our sound. Our product development team has worked to perfect our products to be the most durable, best sounding, battery-powered (with an easily-swappable battery!) wireless speakers on the market. We're proud to say that we use one or more for every event we throw. 
If you need a better mobile audio solution, put SOUNDBOKS to the test. And with our 100 Day return policy, you really can! For BizBash readers, we're offering a special deal on soundboks.com from now until May 1, 2020, when you use the coupon code BIZMAR20 at checkout.