3 Tips for an Inclusive Online Registration Form
May 28, 2020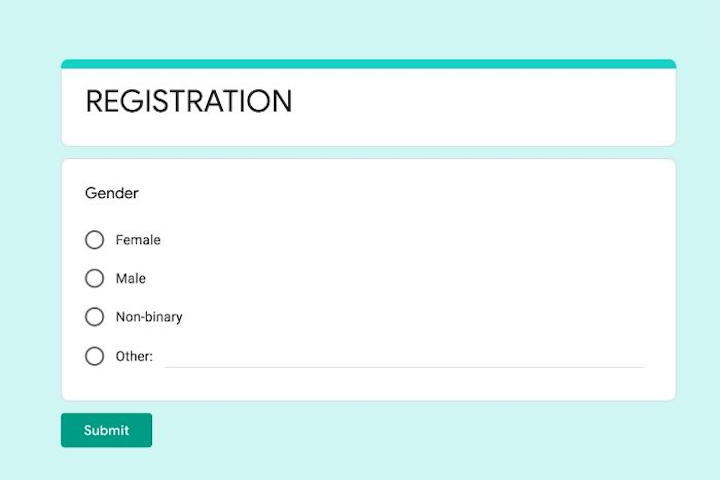 Photo: Courtesy of SHIFT Consulting LLC
In our increasingly digital world, it is important to ask: How do we make our digital events more inclusive and equitable? One way to foster safe environments in online spaces is through registration.
Registration is often the first touchpoint that participants have with event organizers and is an excellent way to set the tone that all folks are intentionally included. If your registration is not asking the right questions, you will not have the right information you need for your participants to equally thrive from your online event.
SHIFT Consulting has compiled three practical tips for registration forms.
1. GENDER If it is necessary to ask participants their gender, include an option for folks to identify as non-binary and/or "other." Non-binary is an umbrella term for anyone who does not identify with the traditional male or female gender labels, such as gender fluid, two-spirit, or agender. In addition, an important practice is inquiring about a person's pronouns (which can include, but are not limited to, he/him/his, she/her/hers, or they/them/theirs). Just how you wouldn't assume someone's name, you shouldn't assume someone's gender.
2. ABILITY Positively digital spaces open up avenues for differently-abled folks to participate in online events. The first step to leveraging technology to expand your reach is knowing if your participants require any special accommodations. On your registration, be sure to ask if they have different needs. Many online meeting platforms have tools to support those who may have different needs, such as connection to screen readers, access to closed captioning, and keyboard accessibility.
3. COMMUNITY AGREEMENTS Upon registering, have participants check a box of agreements on how people will proceed in speaking, participating, and being mindful of others in the digital space. Doing this ensures that everyone understands how to access mic time and how to dialogue constructively over digital meetings, as well as sets the stage for equitable involvement. While the extent of verbiage will vary from event to event, one possible agreement can look something like:
"I understand that this online space has a zero-tolerance policy for racism, sexism, homophobia, transphobia, ableism, ageism, classism, and body-shaming."
While the three tips above are a start, it is important that we emphasize that they are simply the first step. The next piece, as organizers, is to implement the information gathered from registration throughout the event (ie. including necessary technology for differently-abled folks, pronouns on all event materials, etc). It is important to be wary of simply co-opting the language on your registration forms if you are unable to meet the expectation of creating an equitable and inclusive digital event.
There is no one formula for inclusivity. There must be continuous dialogue between organizers and participants to ensure their range of needs are being welcomed and met.
For more information and ideas on planning an equitable online event, get in touch with SHIFT Consulting at www.shiftingculture.co or team@shiftingculture.co.