Less Talk, More Hustle: 6 COVID Survival Tips From A Top U.S. Caterer
September 10, 2020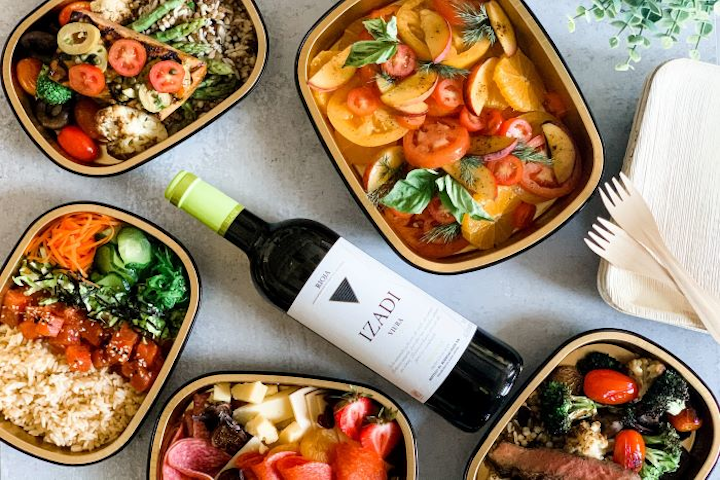 Photo Courtesy of Ridgewells Catering
More than six months after the COVID-19 pandemic took its hold in the United States, the live event industry is still hanging in the balance and waiting for the dust to settle. As many other industries find ways to adapt and create a "new normal" for their businesses, those of us in live events, an industry that was arguably bigger and better than it had ever been only months ago, have struggled to gain any ground. Many of our businesses have shuttered completely, and those of us still here have no playbook on how to survive. When your business relies on people gathering to be successful, your story can change quickly.
Ridgewells Catering has been a household name in catering and events in Washington, D.C. for more than 90 years, and it is highly regarded as one of the nation's top caterers. Yet even for a business like Ridgewells, with an established history and strong local roots, the effect of COVID-19 has been devastating.
Ridgewells Companies By The Numbers
| | | |
| --- | --- | --- |
| | Pre-COVID | During COVID |
| Full-time Employees Across All Ridgewells Companies | 275 | 30 |
| Projected Number Of Events – June 2020 | 500 | 10 |
| Catering at the U.S. Open Men's Golf Championship | 35,000-plus corporate guests served over seven days | Zero corporate guests; essential worker and staff meals only |
| Revenue For All Ridgewells Companies – June 2020 | $13.37M Projected | $201K Actual |
So how does Ridgewells, and other companies like it, move forward and plan for a better future? How do they press ahead with the unwavering certainty that not only will they survive, but they will come out stronger on the other side? Here are six tips from the top caterer on surviving and thriving now and post-COVID:
Less Talk, More Hustle.

While their energy may not be focused on large corporate holiday celebrations or epic galas at the moment, the team at Ridgewells is pouring everything they have into how they can safely operate right now for smaller business, as well as what comes next in a post-COVID world. "This is our reality now," says Susan Lacz, Ridgewells' president and CEO. "It's tough, and we're working harder than we've ever worked for much smaller rewards, but we're pouring every bit of our spirit and passion into what we're doing. Whether it's a corporate drop-off menu, or a micro-wedding, we're putting ourselves out there every day to let people know that we can handle whatever they throw at us—now or in the future."

Don't hate the "pivot."

Speaking of micro-weddings, Ridgewells has been working tirelessly to pivot their business. They quickly partnered up with event planners and suppliers to bring solid Virtual Gala packages to the market immediately after COVID-19 hit, helping several clients with large galas move to a virtual setting—complete with gourmet meal deliveries, of course. And it didn't stop there. Small weddings, at-home celebrations, pick-up catering, and resized holiday menus for smaller gatherings are just some of the ways the caterer has changed their approach to business. "People are still having babies, getting engaged, and celebrating all of life's many milestones," says Katie Fleury, director of sales. "There's still a place for celebration and joy, and we're here for all of it."

Their CFO doubles as a delivery driver.

Every penny counts, and no one knows that better than the person in charge of a company's finances. The entire team at Ridgewells quickly got on board with strategies to keep costs down so they could keep as many people working as possible. The leadership team can frequently be spotted hustling in the warehouse to pack orders, or behind the wheel of a delivery truck!

Their employees are their family.

Like most of the rest of the live events industry, many of Ridgewells' employees remain furloughed. In addition, they've said goodbye to some longtime employees and outstanding performers who have embarked on new paths, a side effect of the self-reflection many of us have done throughout these months. It's been a painful truth, but one the company's leaders appreciate and respect. "We have to communicate," says Lacz. "We lead monthly all-company video calls to give everyone a status update. Even if not much has changed, we want to give everyone the opportunity to share their thoughts, and to hear from us on what's happening." They've also been providing employees with resources on everything from how to navigate the unemployment system, to prioritizing physical and mental health and wellness at home.

Safety above all else.

When the pandemic hit, Ridgewells was proactive in their health and safety measures. They immediately adopted new policies and procedures to help keep their employees, clients, vendors, and partners safe. From daily digital screenings to temperature checks, to providing proper PPE and safety training, they've left no stone unturned.

Power in numbers.

Ridgewells is a member of the International Catering Association, Leading Caterers of America, and several other professional industry organizations. Rather than retreat into their own space, they've been actively involved with other industry professionals—including their local competition in Washington, D.C.—to share ideas and help form a unified voice for the live event industry. "This is the time to unite," says Lacz. "We will get through this, and we'll do it together." #WishIWasThere #PassionForCelebration @RidgewellsDC
For more information, visit www.ridgewells.com.