Cherry Blossom Festival Extends to Five Weeks for Centennial Celebration
March 27, 2012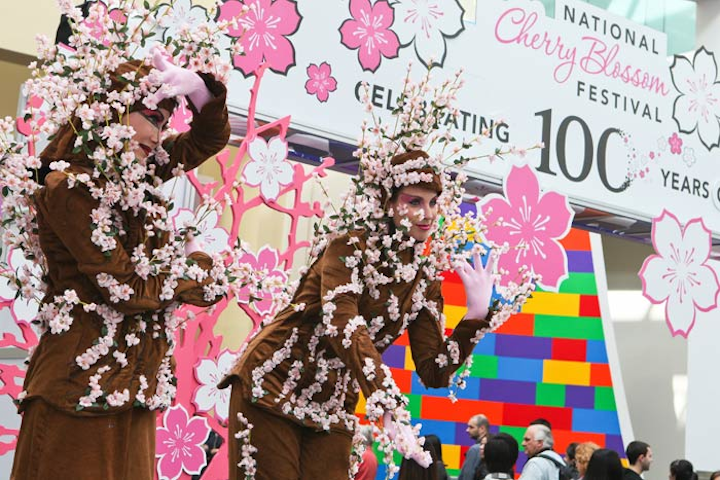 Photo: FotoBriceno LLC
The National Cherry Blossom Festival held a performance-filled opening ceremony Sunday night at the Walter E. Washington Convention Center for 6,000 residents, visitors, foreign dignitaries, and local and international media. The night of American and Japanese music and artistic performances is one of more than 100 events in the festival this year, which expanded from two weeks to five for its centennial celebration of the gift of trees from Tokyo.

"We've been planning for the centennial for a long time, and about five years ago we started thinking strategically of what we wanted to do to recognize a gift of international friendship," said Danielle Piacente, the festival's communications manager who helped coordinate the 11 signature events planned in-house. "We knew we wanted to make it something that was a once-in-a-lifetime experience."

Sunday night's lineup included remarks from deputy director of operations for the National Park Service Peggy O'Dell, festival board chair Susan E.S. Norton, Mayor Vincent Gray, and Ambassador of Japan Ichiro Fujisaki, as well as representatives from sponsors MetLife and the Japanese company Daiichi Sankyo. Performances by top Japanese recording artist Misia, drummers TAIKOPROJECT, the Washington Ballet, a finale from Sara Bareilles, and others came between the speeches. "[The night's] really meant to tell the story of how this gift of trees became the greatest springtime celebration through performance," said Piacente.

Other events coordinated in-house by festival organizers include last week's Pink Tie Party and the Cherry Blossom parade on April 17, which will be hosted by Alex Trebek and Katie Couric and syndicated for the first time to 18 of the top markets around the country. More than 50 local organizations and cultural institutions host the remainder of the nearly 100 sanctioned events that include lectures, art and cultural exhibitions, and musical performances through April 27. Throughout its run, the festival is expected to draw more than one million people to Washington, with nearly 45 percent coming from outside the city.

Top corporate sponsors include MetLife, EventsDC, Canon, and Daiichi Sankyo.
Featured Venues/Suppliers: