8 Ways to Update Company Holiday Parties This Year
Industry professionals share their tips for hosting memorable corporate end-of-year festivities in 2014.
September 24, 2014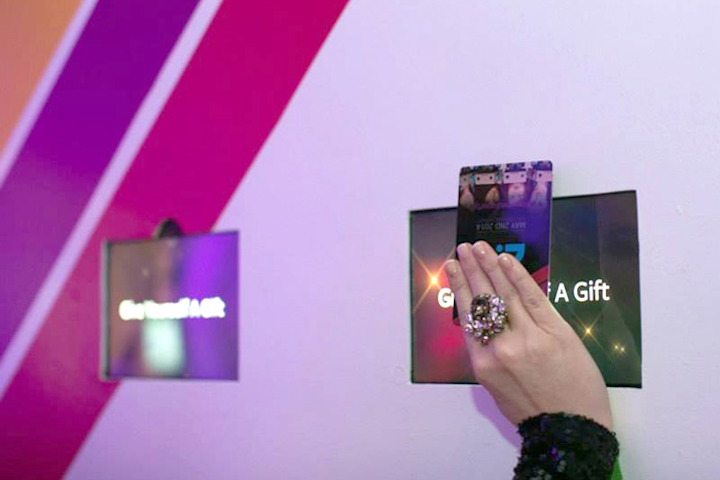 Photo: Courtesy of Event Farm
From gift giving to seating strategies, event planners and industry experts offer innovative ideas, creative concepts, and last-minute reminders for throwing a memorable company holiday party in 2014.
Charitable Giving Goes High-Tech
For companies that encourage employees to donate during the holiday season, Washington-based Event Farm offers donation stations—a sort of digital toy store. Individual electronic tablets denote different gifts, such as dolls, basketballs, and books. Guests wave their N.F.C. badges over the tablet to donate the gift of their choice, charging it automatically to a pre-registered credit card. Alternatively, the tablets could be used to signify different nonprofit organizations, with each screen representing a charity.
Food Worth a Thousand Likes
"Dishes that spark conversation and photos are taking over," says Jaleesa Kirk, event sales manager at the Hard Rock Hotel Chicago. "Passing a shrimp cocktail across a room doesn't garner quite the same attention it used to. However, passing an Iron Chef slider with an adult root beer float shooter does. It seems to be all about taste and tweets!"
Gluten-Free Beer on Tap
"The mixed cocktail seems to be losing steam as the spotlight shines on micro-distilled artisan spirits, locally produced beer and wines, and barrel-aged drinks," says event designer David Stark. "Bourbon and whiskey bars, craft beer bars, including gluten-free offerings, as well as wine-tasting bars are not only delicious, but offer fun guest interaction with knowledgeable servers."
"I've found that the term 'dietary restrictions' is quickly becoming a thing of the past, and instead vegan, gluten-free, and organic are simply an expected representation on the menu, as common as 'starters' and 'desserts,'" Kirk adds.
Seating Chart Smarts
"The best parties have a mix of seating that takes the personalities of guests into account—lounge seating by the dance floor for the party animals, lots of high-tops and tall communal tables by the bar to create a bar scene, a dark lounge tucked away so that wallflowers feel cool and have a space to observe, traditional guest seating for older folks, and a reserved place for senior management to hold court. Building the floor plan should take real people into account," says Josh Tierney, director of style and design for Great Performances.
Oranges Are the New Black
Citrus is in season during winter months and provides an alternative to floral decor, says Savannah, Georgia-based event planner Rebecca Gardner. Punctuate a traditional mass of greenery with brightly colored Meyer lemons and clementines. Plus, the fruits serve as as an anchor for escort cards.
Mistletoe With a Twist
For a more playful group, Event Farm's MistleYesorNo? offers a high-tech spin on traditional mistletoe. During registration, guests are asked to enter the name of their significant other or date. When caught under the mistletoe tablet, a potential couple waves their badges. If they both entered each other during registration, the mistletoe will flash "Yes;" if they're not a match, then "No."
Remember the After-Party
Decide beforehand which bar or lounge will be your company's late-night destination, says Brett Dreznick, senior catering manager for the James Chicago. "Don't wait until last call as too much time will be wasted agreeing on a place, and you'll lose people in the process."
More Bang for Your Buck
"Companies are interested in venues that have existing vendor relationships that they may be able to benefit from by either enhancing their event or helping manage overall event cost," says James Lewis Wark, director of catering and special events at Thompson Miami Beach.
Featured Venues/Suppliers: