The 2009 BizBash Chicago Event Style Award Winners
August 26, 2009
On Friday, we posted a list of the winners of BizBash's 2009 Event Style Awards, which were announced on Thursday at a ceremony following our annual expo at the Merchandise Mart. Here's a closer look at the winning work.
Best Nonprofit Event Concept
Children's Memorial Hospital's "Seasons: A Year of Discovery" Children's Ball
Submitted by Hilton Chicago
Using the seasons as inspiration, planners of this annual gala employed four separate decor schemes. In the Hilton Chicago's grand ballroom, a costumed butterfly nymph pranced around a tree hung with lanterns, and pink umbrellas topped cocktail tables. The International ballroom evoked a winter landscape with blue lighting, sugar crystals, and beaded white linens, and dinner comprised autumnal dishes such as chestnut soup and baby pears soaked in cabernet. Violinists performed a modern take on Vivaldi's "Four Seasons."
Best Corporate or Association Event Concept (Budget Over $50,000)
Harley Davidson's 105th Anniversary Party
Submitted by Production Plus Technologies Inc.
For a temporary exhibition that explored the history of the motorcycle company, Production Plus erected a 70- by 20-foot tent outside Milwaukee's Discovery World museum. Filling the structure with flooring, solid walls, air conditioning, lighting, videos, and large-scale graphic panels, the production company brought a museum-like environment to the outdoor space. The exhibition drew an average of 80,000 to 100,000 visitors per day

Best Invitation Design
Children's Memorial Hospital's "Seasons: A Year of Discovery" Children's Ball
Submitted by MacKenzie Brown Design
MacKenzie Brown captured the benefit's four-pronged theme with a single logo. Decorated with butterflies, flowers, swirling vines, and snowflakes, the gala's invitation also incorporated a theme-appropriate quotation from William Browne. The team also designed the event's campaign kickoff invitation, tucking colorful leaves into each envelope. Seasonal flowers accompanied save-the-date cards.

Best Fresh Idea
Bacardi Flavor Exchange
Submitted by Event Creative
Held at the South Shore Cultural Center, this event had themed areas meant to evoke different countries. Event Creative's juice bar was the centerpiece of the Jamaica room. Incorporating plexiglass fixtures and illuminated canisters, the sleek contraption housed six types of juice, and tubing hidden within the bar provided a labor-free technique for keeping the canisters refreshed. The device added an interactive component, letting guests pour their own mixers.

Best Overall Catering at an Event
Hilton Hotel Corporation's "Good to Great" Event
Submitted by Hilton Chicago
Tasked with feeding the Hilton Corporation's top executive chefs and food and beverage directors, caterers at the Hilton Chicago avoided staid meeting fare. During the three-day gathering, morning snacks included apples wrapped in prosciutto and truffle honey. A plated lunch, served at 100-seat communal tables, offered loin of lamb with rhubarb compote. At an afternoon teambuilding competition, guests designed custom mojitos from a bar stocked with more than 100 ingredients, including fire-roasted peppers and agave nectar.

Best Lighting Design
Arboretum of South Barrington's Grand Opening Event
Submitted by the Meetinghouse Companies Inc.
When Chris Isaak performed before 6,000 guests at this suburban shopping center, Meetinghouse designed a lighting scheme to compliment the singer's show. Employing devices such as Source Four PARs, tinted gels, rotating gobo patterns, and foggers pointed into the crowd, the company created an illuminated-canopy effect over concertgoers' heads.
Best New Venue
Loft on Lake
Submitted by Loft on Lake
This 40- by 60-foot photo studio in the West Loop is outfitted with exposed brick walls, timber beams, and a 65-foot skylight. The space, which Ford recently used to unveil a new vehicle, can host receptions for 200. The owners have partnered with a local recycling company, and can arrange for food to be taken to shelters, flowers to be delivered to nursing homes, and balloons to be dropped off at children's hospitals after events. 

Best Event PR Strategy
Nacional 27 Chicago's "Happy Hour" Cocktail Classes
Submitted by Edible Ink Inc.
To introduce Nacional 27 to a broader audience  and brand it as a cocktail destination, Edible Ink PR developed monthly cocktail classes. Led by the Latin restaurant's resident mixologist, Adam Seger, the classes teach participants to design seasonal cocktails that incorporate unusual ingredients. To market the classes, Seger added the option of private group sessions. The promotion has increased monthly attendance at Nacional 27.

Best Entertainment Program/Concept
Art Institute of Chicago's Modern Wing Opening Gala
Submitted by Jam Entertainment & Creative Services
Tasked with bringing an element of spectacle to this spring fund-raiser, Jam created a site-specific performance intended to highlight the Modern Wing's architecture. As guests faced the structure from a vantage point on Columbus Avenue, theatrical lights illuminated the building's facade. Japanese taiko drummers then performed an original percussion composition while aerial dancers descended from the museum's roof, performing mid-air flips and spins.

Best Use of Technology
Belgard Chicago Flower and Garden Show
Submitted by Sound Investment A/V
Sound Investment's interactive light and sound installation evoked the changing light and weather conditions that take place in Chicago over the course of a day. Enhanced with the sounds of thunder and chirping birds, the installation cast images of sunshine, sunsets, and the city skyline onto the walls and ceiling of Navy Pier's convention hall, providing an outdoorsy backdrop for the show's exhibits. After an initial pre-event installation, the system was completely self-automated and ran continuously for a week.

Best Video for an Event
Toshiba's Navy Pier Saki Ceremony
Submitted by Go West Events and Multimedia
Toshiba conferences traditionally end with saki ceremonies. For a post-meeting event that the company hosted at Navy Pier, Go West designed a video that explained the history of the beverage and its associated rituals. Projected onto a giant water wall, the film incorporated Japanese-style animation and was accompanied by a live drum performance. 

Best Overall Event Decor (Budget Under $50,000)
Technology Company's "Foliage From Afar" Party
Submitted by Kehoe Designs
Tasked with creating a launch party that would associate a technological product with health and serenity, Kehoe Designs brought fruit-filled Lucite smoothie bars to the Garfield Conservatory. Wheat-grass arrangements decorated the stage where the product was unveiled, and Sound Investment brought in custom fruit-and-vegetable shaped gobos. Sunflowers arranged in glass cylinders, birch highboys, and white couches strewn with leaf-patterned throw pillows rounded out the look, while Limelight's menu of sushi and ceviche underscored the health-conscious theme.

Best Staging/Set Design
Pharmaceutical Company's "Believe…Achieve!"
Submitted by Plexus Productions LLC
Following morning and afternoon meetings in the Sheraton Chicago's ballroom, Plexus had 90 minutes to turn the space around for an evening award show. Instead of physically changing the stage set—a maneuver that requires a large crew and additional labor costs—the company transformed the room with digital technology, relying on new lighting instruments to project images onto a variety of surfaces. Once set up, the technology required supervision from a single production designer.  

Best Overall Event Decor (Budget Over $50,000)
Harris Theater's Fifth Anniversary Gala
Submitted by Heffernan Morgan Inc.
The Harris Theater celebrated its fifth birthday in Millennium Park, where Heffernan Morgan filled a dinner tent with some 60,000 strands of organza butterflies. Hand-strung with mirrored disks that created a fluttering effect, the butterflies cast patterned shadows onto a white dance floor. At each dinner table, silver bowls held floating amaryllis-blossom centerpieces, and oscillating blue and amber lights shone throughout.   

Best New Product
Crystal Velon
Submitted by Velon Designs
A plastic film with cling properties, Crystal Velon was created by Robert Fountain. Made with recycled plastic, and 100 percent recyclable itself, the product can be printed with customized logos, colors, or personal messages. Crystal Velon adheres to several types of surfaces and can be used to dress up Ghost chairs, plexiglass bars and furniture, mirrors, and glass vases and tables.

Best Corporate or Association Event Concept (Budget Under $50,000)
Association of Bridal Consultants' "Frank's Favorite Things" Meeting
Submitted by Frank
When Frank Andanoplas hosted this industry gathering, he selected as his venue the Drake, one of his favorite Chicago hotels. From there, he planned an evening that showcased several of his favorite event ideas, including miniature Grecian lamb chops for appetizers, seating assignments on custom scrolls, and different linens and centerpieces on each dinner table. The event culminated with a dessert reception where stations offered nostalgic treats such as cake and cookies.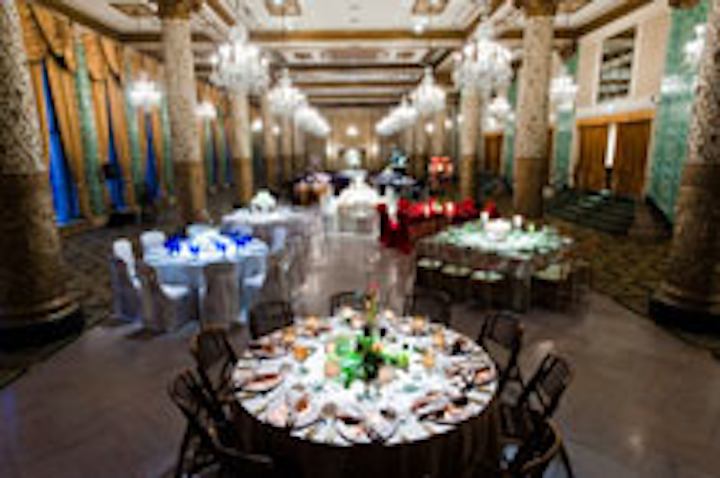 Photo: Courtesy of Frank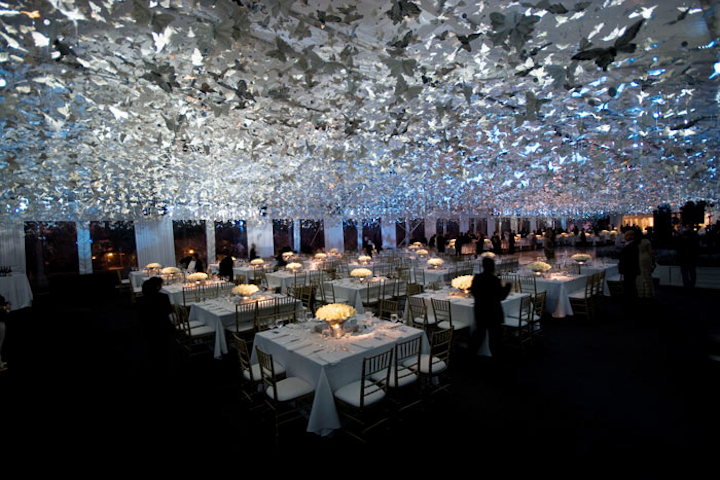 Photo: Tay Kaune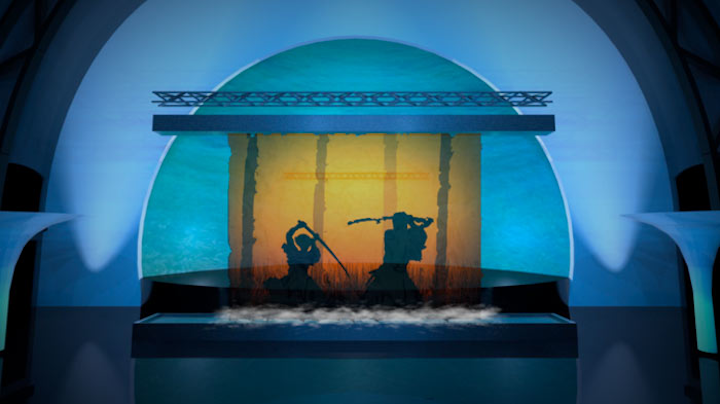 Photo: Courtesy of Go West Events and Multimedia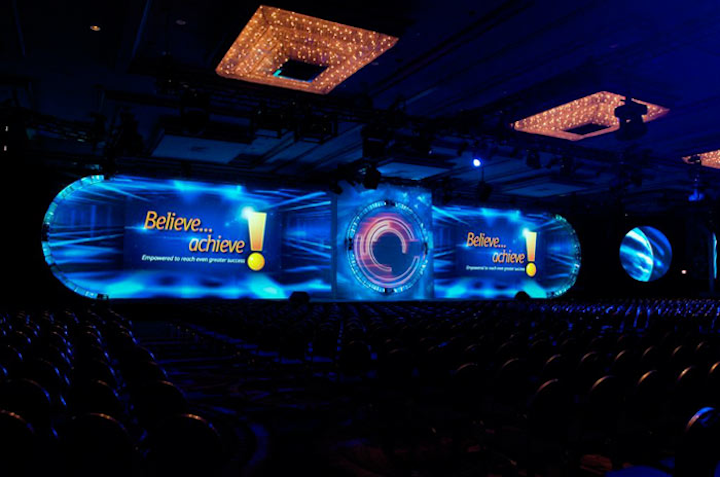 Photo: Courtesy of Plexus Productions LLC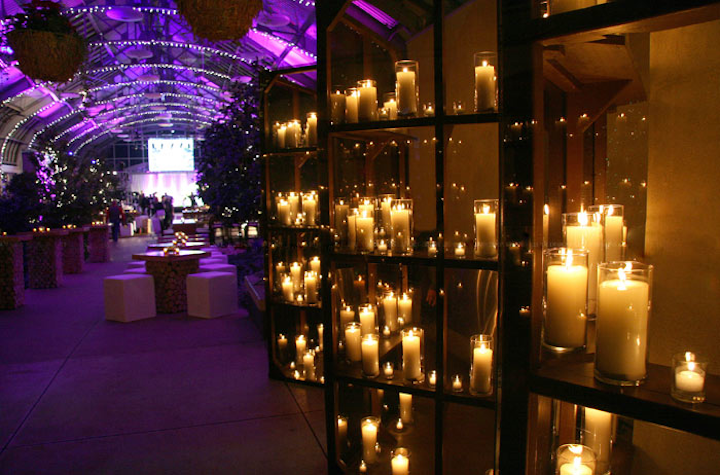 Photo: Courtesy of Kehoe Designs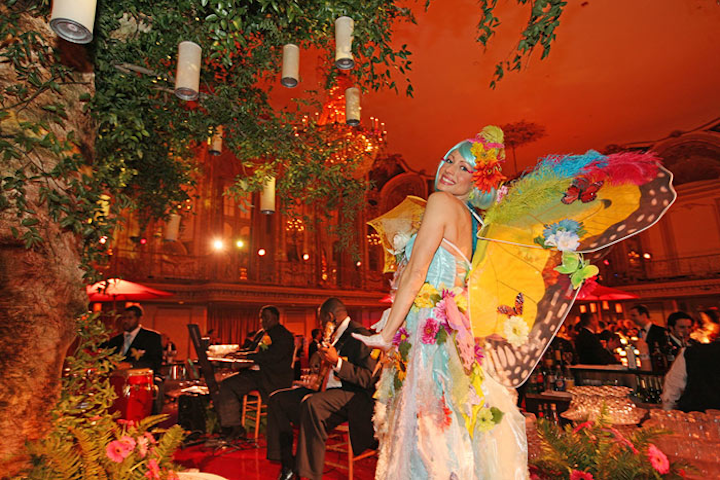 Photo: Barry Brecheisen for BizBash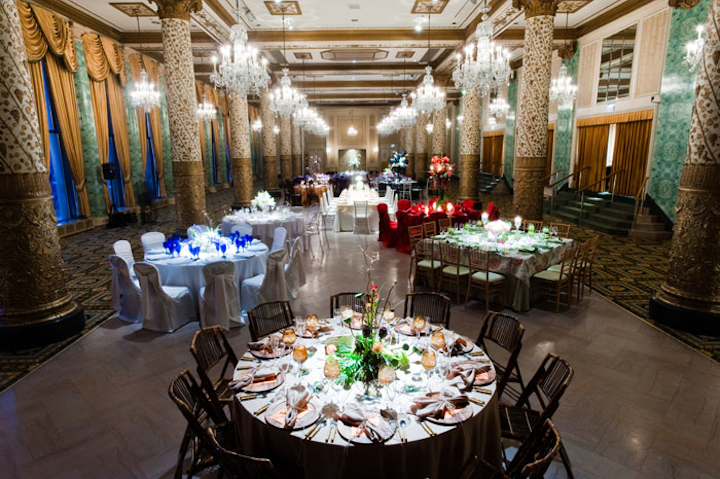 Photo: Courtesy of Frank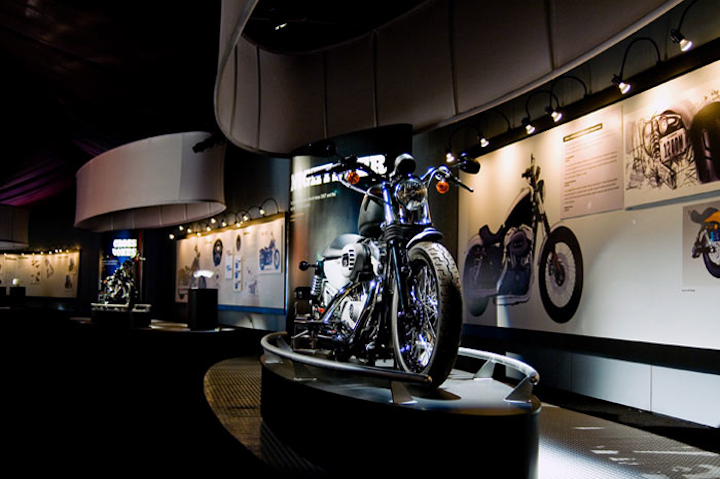 Photo: Courtesy of Production Plus Technologies Inc.
Photo: Courtesy of Event Creative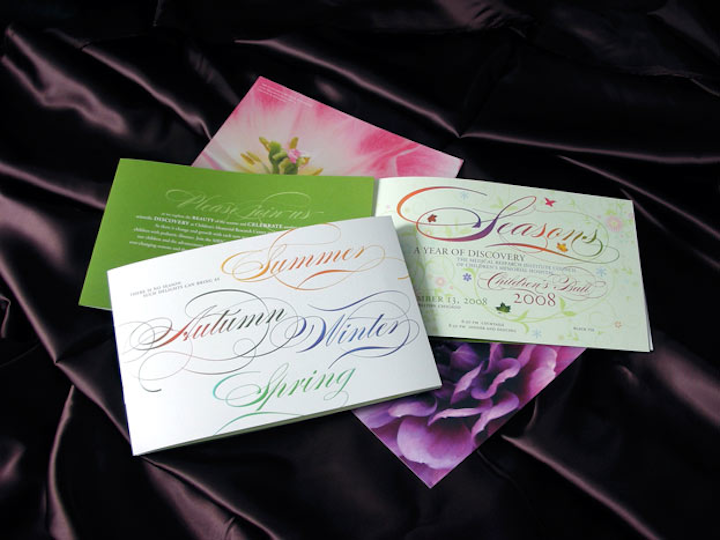 Photo: Courtesy of MacKenzie Brown Design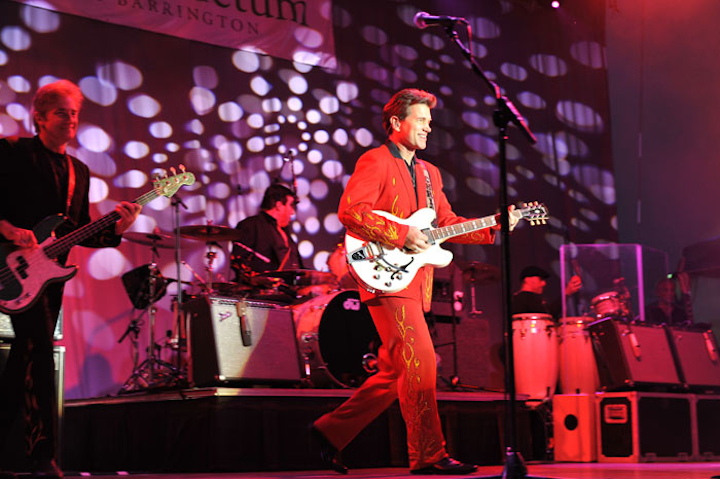 Photo: Courtesy of Meetinghouse Companies Inc.
Featured Venues/Suppliers: