Art Basel Preview: 10th Anniversary Celebrations, More Galleries at Design Miami, Mini Cooper's Flash Mobs
November 29, 2011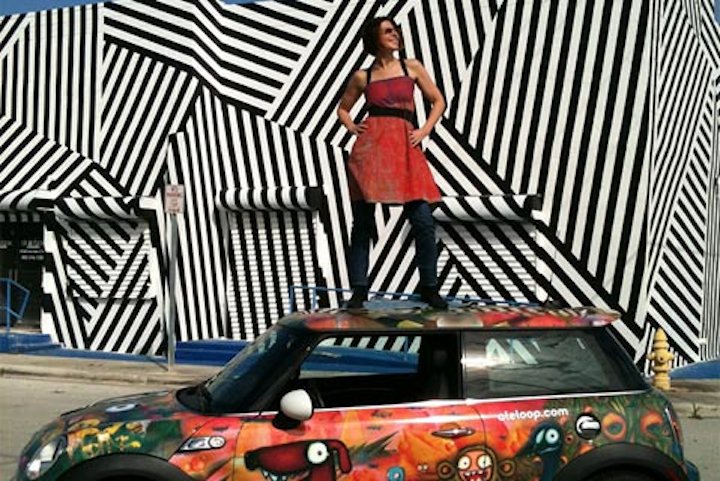 Photo: Courtesy of Aleloop
Some 40,000 art collectors, artists, dealers, and curators are expected to head to the Miami Beach Convention Center for the 10th iteration of Art Basel Miami Beach (sister event to the Basel, Switzerland-based international art fair), which runs from Thursday to Sunday. More than 260 booths and 2,000 artists are set to take over the fair's main floor, representing work from Europe, Latin America, Asia, Africa, and the United States. UBS is returning as the main sponsor with Cartier and NetJets as associate sponsors.
As in years past, the fair is broken into seven exhibition sectors, each named for the type of art being showcased or the informational programming they provide ("Art Film," "Art Salon"). This year's fair inaugurates a new collaboration with the Bass Museum of Art on the Art Public sector, which will debut at the official 10th anniversary event on Thursday. For Art Public, Collins Park will be transformed into a gallery of sorts with artwork and performances set in a custom structure built between the W South Beach and the Setai. For the first time, Art Video will be showcased on a 7,000-square-foot projection wall of the New World Center during the anniversary party, which Shiraz Events is catering with an alligator-inspired menu for the expected 1,500 guests.
Design Miami, one of the largest satellite events during Art Basel, begins Tuesday and runs through Sunday. The fair will boast an expanded gallery program with exhibitors from the United States, Europe, Asia, and Africa, highlighting work from the 20th and 21st centuries. This year, the fair will see a 50 percent increase in participating galleries. For the second year, the forum's Design Talks series will be moderated by Stefano Tonchi, editor in chief of W magazine, and will explore the careers of some of the world's top architects. Designer of the Year winner David Adjaye, a United Kingdom-based architect, created a pavilion for the show entitled "Genesis," which will encompass giant architectural furniture. As part of the show's series of satellite exhibitions, the fair also welcomes a capsule exhibition of the French design show "Liberty, Equality, and Fraternity" presented by the Wolfsonian Museum. 

Also at Design Miami are exhibits from sponsors Fendi, Swarovski Crystal, and Audi. Fendi, with designer Elisa Strozyk and artist Sebastian Neeb, is experimenting with the company's discarded leather materials to create "Craft Alchemy," which will also extend into the fair's exclusive Collectors Lounge. Automotive sponsor Audi is collaborating with Danish architect Bjarke Ingels to bring his vision of a "digital street" to life in an interactive, three-dimensional LED installation called "Urban Future". Swarovski has created a new display this year with LED artist Erwin Redl, who created an experiential, meditative space that will allow visitors to explore the sensory effects of crystal through a maze of 16 kinetic modules rotating on a disk suspended from the ceiling.

Other satellite events on tap this week include the Veuve Clicquot Cafe and Champagne Bar, a mobile food truck and adjacent lounge that will pop up in key locations in Miami, beginning with the Design Miami Pavilion today. Local food truck chef Jeremiah will create food pairings to be served with the Champagne. Professional networking company Dot429 and Fiat are hosting the 429Inspired series this week at the Epic Hotel with cocktails, music by DJ Kristian Caro, and a collection presentation by David Yurman. Mini Cooper is sending a fleet of 10 cars bearing pop surrealist Aleloop's art around town on Thursday and Friday with stops at the fairs, parties, galleries, and restaurants. At each destination, a flash mob of 40 performers will pop out of the cars showcasing a variety of mediums like juggling, hooping, and dancing. Meanwhile at the Scope Art Fair, Smart Cars will be wrapped in custom designs by participating artists for the Gen Art Detour Presented by Smart. The fair, which begins November 30, will debut the Gen Art lounge and Smart Car vehicles in the Wynwood District.
 
On December 1, Guess and Motorola will sponsor the Miami launch of fashion and beauty Web site Refinery29 with an Andy Warhol-inspired garden at Cafeina Wynwood Lounge. The exhibition, created by artist Justin Belmont, is dubbed "Factory Fun House" and will feature 10 large-scale circular art pieces throughout the venue's courtyard, beauty applications by Violent Lips, a photo booth, and music from DJ May Kwok. Also beginning Thursday, Absolut will take over an empty lot in the Wynwood Arts District to feature artist Mr. Brainwash who will create installations. A 40-foot shipping container will also be converted into a pop-up gallery and vodka bar.

Other satellite events such as parties and exhibits will be held at the Raleigh. Architectural Digest is hosting two invitation-only events, including a retreat with a social-media lounge, beauty treatments, and art installations Friday through Sunday. The magazine's other event, being held Friday evening, is the Macallan Single Malt Scotch party with X-ray photographer Nick Veasey and DJ Mike Nouveau. The hotel will also hold a beach party around the iconic pool hosted by the Museum of Contemporary Art, Los Angeles and Jeffrey Deitch. Duo 2 Many DJs will spin music.
But perhaps the most sought-after invitation is for Interview magazine's party at the garage venue 1111 Lincoln Road. The evening event will honor Ferrari chairman Luca di Montezemolo and feature the new Ferrari 458 Spider and art inspired by Formula One racing by Marco Brambilla.
Featured Venues/Suppliers: