The Krustyland area of Universal Studios was an obvious venue fit for Fox's 27th season premiere of The Simpsons on September 24. The newly renovated section at the amusement park easily accommodated the 1,000 guests and was right on theme, but it provided a few logistical and production challenges as well.
Fox Broadcasting Television senior producer of special events Bob Stillo, along with producer Russell Harris and their teams, couldn't begin the set up for the event until after hours when park guests were no longer on property. That meant load in began at 6 p.m. on the previous evening, after guests were cleared out.
The first order of business was to install a massive of a 24-foot-wide, 15-foot-tall LED screen that would show the season's first episode. "This was logistically challenging [because of the substantial] weight of the screen," Harris said. The team secured it with 3,500-pound blocks on each leg.
Then, on event day, there was just a one-hour slot to finalize the setup between 6 p.m. when the park closed and 7 p.m. when the event started. A major labor force helped quickly set up the bar, tables, linens, and get the rest of the space up and rolling.
The party entrance at the Globe Theatre was marked by a 150-foot-long yellow carpet, as well as lettering on the theater's marquee spelling out the night's occasion. Sign twirlers holding signs with custom Simpsons logos interacted with guests and guided them to Krustyland through the back lot streets of Universal.
Inside, guests found artists offering custom Simpsons tattoos in airbrush and glitter designs. LED cocktail tables, each decorated with a character from the show, lined the street. Yellow spandex and custom logo slipcovers covered 15 V.I.P. tables—meant for guests to slip off and take home as mementos. Custom centerpieces bore Simpsons characters as well.
Memorably for guests, show creator Matt Groening opened the night with a speech alongside Simpsons voice Nancy Cartwright. DJ Paw Paw spun for the crowd.
Games and The Simpsons ride were open to guests throughout the night. All the existing venues—Moe's, Krusty Burger, Cletus Chicken, and Duff's Brewery—were used for food and bar service for the evening.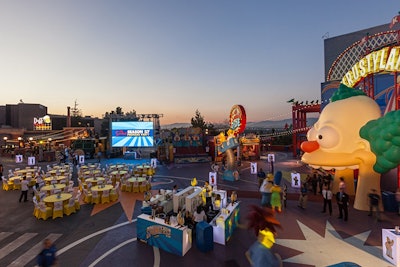 Photo: Dan Scott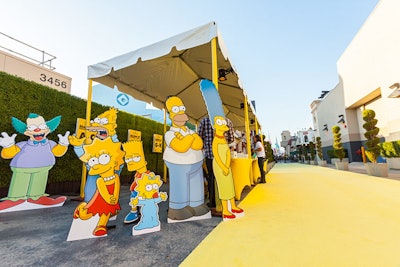 Photo: Dan Scott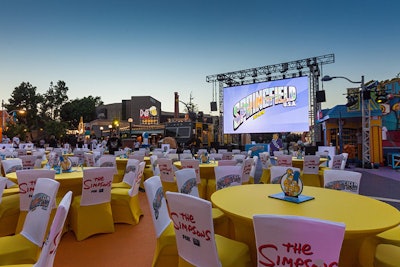 Photo: Dan Scott
Photo: Dan Scott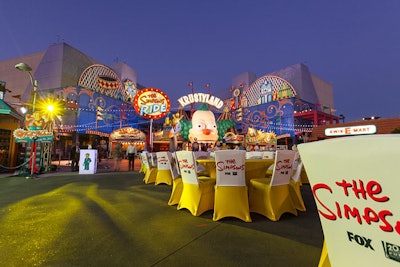 Photo: Dan Scott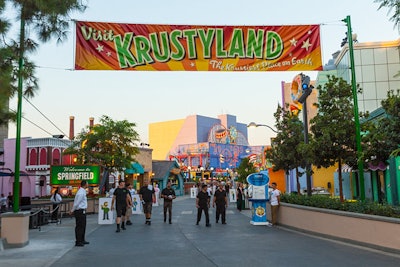 Photo: Dan Scott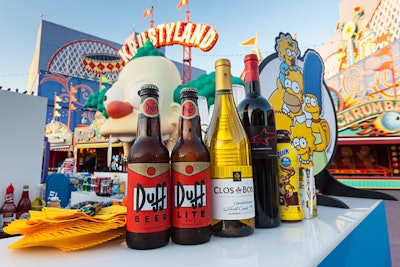 Photo: Dan Scott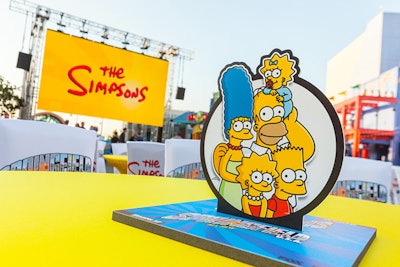 Photo: Dan Scott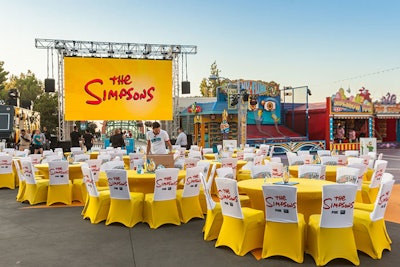 Photo: Dan Scott