Duke It Out
At Ringside for Mercy's Sake, financial traders supported the Mercy Home for Boys and Girls by buying tables, bidding, and taking each other on in three-minute boxing bouts.
November 11, 2008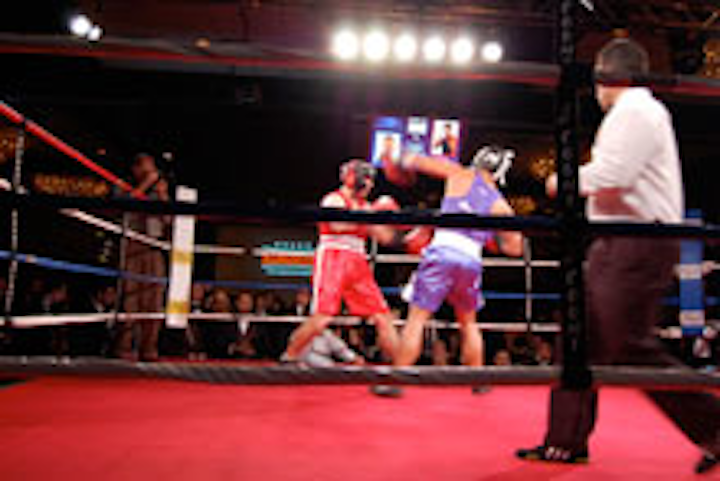 Photo: BizBash
On Saturday night, Ringside for Mercy's Sake, a black-tie fund-raiser for the Mercy Home for Boys and Girls, drew approximately 1,200 guests to the Chicago Marriott Downtown. The majority of those guests were associated with a local or national financial exchange, and if the benefit suggested anything about its audience, it's that traders get a rush out of a good competition.

Each year, financial exchanges support the Mercy Home by purchasing tables and putting forth employees to serve in the evening's main entertainment: amateur boxing. This year's benefit saw fighters from nine companies, including CME Group, Citadel Trading, and NYSE Euronext, take each other on during three-minute bouts held in a temporary ring set up inside the hotel's grand ballroom.
Mercy Home director of marketing and special events Mary Anne Leonard said that while the event was slower to sell out this year than in years past, "table sales were still robust in the end." She attributes this fact to the evening's cause. "The bond that attendees have with Mercy Home is very strong," she said. "It's telling that ... members of the financial exchanges came together to help our kids, despite everything they have to deal with in the markets."

Of course, "there's also some pride on the line," Leonard said. "You're there, having a good time, helping kids by buying auction items or raffle tickets. But you also come to see your colleague ... try to best the other guy. So, it's exciting. The crowd really gets into it." 
Indeed, many guests rose from their dinner seats throughout the evening to stand ringside and cheer on fellow employees with shouted exclamations along the lines of  "Jab, Sammy, jab!"
Apart from dinner, auctions, and boxing, the benefit featured dancing, a video presentation about Mercy Home, and short speeches from Mayor Richard Daley and celebrity guests Bill and Giuliana Rancic.

 
Featured Venues/Suppliers: