This Week in Los Angeles: Tiffany & Co.'s Pop-Up Cafe, the Recording Academy's New C.E.O., Michael Cimarusti's First James Beard Award
West Coast bureau chief Claire Hoffman covers the week's biggest event news.
May 10, 2019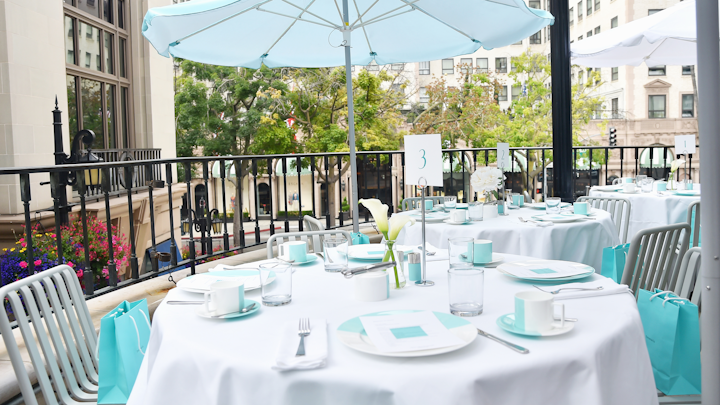 Photo: Stefanie Keenan/Getty Images for Tiffany & Co
LOS ANGELES—Welcome to BizBash's Los Angeles-based column, where West Coast bureau chief Claire Hoffman covers the week's biggest local news. Got a tip? Get in touch!
Moves & Milestones
Deborah Dugan is the next president and C.E.O. of the Recording Academy, effective August 1. The first woman appointed to the role, Dugan most recently served as C.E.O. of AIDS nonprofit (RED), and has also held executive positions at Disney Publishing Worldwide and EMI Records Group/Angel Records.
Margaret Launzel-Pennes is the new C.E.O. of Extraordinary Events, where she'll partner with founder and president Andrea Michaels. Launzel-Pennes was previously head of experiential for Beautycon and has held leadership positions with C2, PTTOW!, Cabi, and Herbalife.
This week, creative and production agency OA Experiential launched a new initiative called "OA Immersive Core." The new division will work with experts in the immersive theater industry to design brand activations for OA's clients, which include NBC and FX.

In Case You Missed It
We wrapped up our Coachella coverage with an in-depth look at HP's on-site activation, a psychedelic, interactive space that showcased the power of the brand's technology. We also looked south to the San Diego Museum of Art's flower-filled Art Alive benefit, which drew a whopping 12,000 attendees over four days.
In the News
After nine consecutive nominations, Providence chef Michael Cimarusti took home the James Beard Award for Best Chef: West on Monday night. Eater: "It was, however, the only win of the night for the L.A. restaurant scene overall. The individual accolade came on the heels of a particularly robust round of semifinalist and finalist nominations for many of the city's best culinary talents, including Jessica Koslow and Jon Yao of Kato."
While the sultan of Brunei has announced a moratorium on capital punishment for homosexuality and adultery, city councilman Paul Koretz is pushing for a continued boycott of the Hotel Bel-Air and the Beverly Hills Hotel. Los Angeles Times: "The move was not enough for Koretz, who authored a resolution passed by the City Council last month calling for the boycott of the hotels, which are owned by the government of Brunei. ... The L.A. council's resolution says the city will refrain from conducting business at the two hotels, including participating in any event or other business that requires city resources and officially discourages all city employees and residents from staying at or attending any functions at either hotel."
The L.A. L.G.B.T. Center's new $141 million Anita May Rosenstein Campus in Hollywood will offer an employment center, housing for homeless teens, a senior drop-in center, and space for meetings and community events. Los Angeles Magazine: "A 1,600-square-foot retail space will eventually play host to a café and pop-up shop run by residents. ... At night, [director Kristin] Flickinger says, the center will rent out the space for things like poetry readings, open mics, performance art, and community meetings. A spacious room for board meetings offers sweeping views of Santa Monica Boulevard."
Venue Buzz
The first U.S. location of Naples eatery L'Antica Pizzeria da Michele opened yesterday. Taking over the former Cafe des Artistes space in Hollywood, the 6,000-square-foot restaurant focuses on pizza and other Italy-inspired dishes from head chef Antonio Giordano. The venue has two greenery-filled garden patios and an indoor lounge and bar; more than half of the seating is located outdoors. The restaurant's Naples location is best known for its inclusion in Elizabeth Gilbert's popular Eat Pray Love memoir.
Surprise Event Metric of the Week
$36.6 billion—the overall economic boost that tourism provided for the city of Los Angeles in 2018. According to a new report from the Los Angeles Tourism & Convention Board, the tourism industry supported 534,258 jobs in L.A. County in 2018, the highest total on record.
Overheard
"More people have access to movies than ever before, but that access is for mainly watching it alone, or maybe your spouse or your family. But how much nicer would it be, to be able to present that possibility to people in a variety of cities, and give them access to a theatrical showing?"
—Longtime film critic Leonard Maltin, discussing the new film festival he's hosting at the Egyptian Theatre this weekend. MaltinFest aims to introduce people to what the Maltin considers "hidden gems," a.k.a., mostly unknown films; there will also be live podcast recordings, Q&As, and more. Maltin and his daughter, Jessie, hope to eventually bring the festival to other classic theaters around the country.
On the Scene
The Musica Angelica orchestra hosted its 26th annual gala on Monday night in the Long Beach Convention & Entertainment Center's Pacific Ballroom. A ceiling of umbrellas added a colorful touch.
What's Next
Tonight is the 26th annual Race to Erase MS Gala at the Beverly Hilton. The star-studded benefit will honor actress Selma Blair and the Hausman Family Foundation, and it will feature performances from Aloe Blacc and Flo Rida. There will also be a runway show from Alice & Olivia.
Also this weekend is Playboy's Playhouse, a free, public activation that aims to immerse guests in the pages of the publication's spring issue. Highlights will include the launch of Playboy's new coloring book, a whiskey lounge with music by Samantha Ronson, a conversation with writer Roxane Gay, and a discussion on the future of masculinity.