How Hurricane Irma Is Affecting Events in Florida
Planners canceled trade shows and conferences in the days leading up to the huge storm's arrival in the state.
September 12, 2017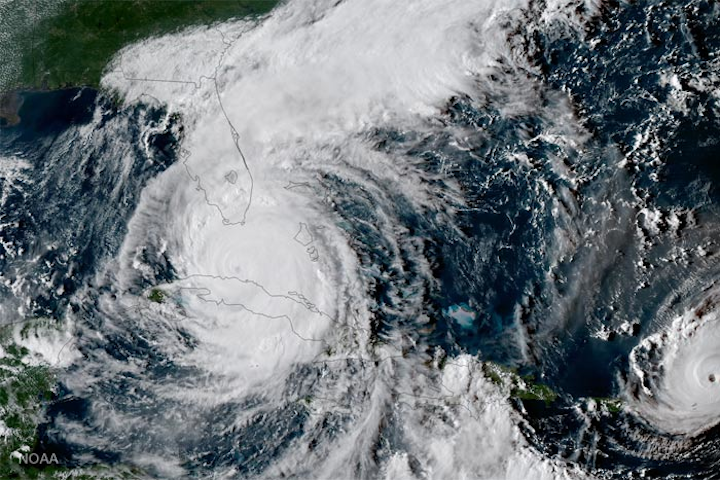 Photo: Courtesy of NOAA
Government leaders and tourism officials in Florida are assessing damage from Hurricane Irma, which made a devastating trip up the peninsula starting early Sunday morning. More than 6.2 million homes and businesses were left without power from the Florida Keyes through Jacksonville, and, naturally, events in the area were impacted as well.
The storm's size and strength—a massive Category 5 with winds of 185 miles per hour—was apparent for days before it arrived in Florida, causing Governor Rick Scott to declare a state of emergency in all 67 counties and triggering mandatory evacuations in many coastal areas. As a result, planners with events scheduled at convention centers in Miami, Orlando, Tampa, and elsewhere canceled or cut short their events.
The Miami International Auto Show, originally scheduled to open Saturday at the Miami Beach Convention Center, has been postponed. In a statement on the event's website dated September 5, the South Florida Dealers Association said they hoped to open the show this week, but no further announcements have been made.
In Orlando, the Surf Expo was scheduled to take place Thursday to Saturday at the Orange County Convention Center. Initially show organizers announced on Twitter that the show would close Friday evening—a day early—but by Thursday afternoon they posted an updated message that the show would close at 6 p.m. that evening and not reopen due to the worsening conditions from the storm.
That sort of flexibility is critical in severe weather situations, when conditions can change rapidly, said Kathie Canning, executive director of the Orange County Convention Center, in an email statement. The facility falls under the direction of Orange County Government and follows its guidelines for severe weather.
"The main considerations planners are keeping in mind are the safety of their exhibitors and attendees. Months or even years of work goes into planning an event of this size, and event planner, exhibitors, and attendees need to be flexible to uncontrollable events such as a hurricane," she said.
As of Friday morning, several other Orlando events had been postponed, including the ISE Expo, CAMX, and the Landscape Show, and the Florida Restaurant & Lodging Show is rescheduled for October 11 to 13. Instead of hosting these events, the Orange County Convention Center became the staging ground this weekend for hurricane aid teams that included 500 military personnel and fire and rescue workers from at least six states. Helicopters, boats, and other equipment were also stored inside, while the facility's parking lot housed utility repair vehicles waiting to go to work once the storm cleared.
In Tampa, the Tampa Boat Show, which had been scheduled to take place Friday through Sunday, has been rescheduled for October 13 to 15.
Featured Venues/Suppliers: