Miami FunShop Heats Up With Latin Flavor
The third FunShop of the 2006 season took advantage of Miami's spicy Latin culture to bring guests from across South Florida a mid-week heat wave.
November 10, 2006
In a galaxy far, far away…well, it's really in the city of Palmetto Bay, which is way down South where the
Palmetto Bay Village Center
is located and was the setting for the 2006
BiZBashFla
's Miami FunShop. "We chose the
Mojito Mambo
theme because we felt it would be a great way to showcase our creativity to South Florida," said
Eric Karter
of Orlando's
Art of the Party
. "Our special twist on a Latin-themed event took what might be considered ordinary to truly unique."
Beauties from
Dance Attack
in skimpy red costumes greeted guests into the event style reception, which was an explosion of colors, sounds and flavors. Art of the Party brought in numerous massive 12-foot-tall pillow walls made of square suede pillows in blue, red, orange and yellow to decorate the 52-foot-long space. In between the backdrops, hand-painted murals of women, men and abstract characters added even more punch. The vivid backdrop made
Room Service
's snow white lounge furniture pop against it. Silk pillows in equally bright colors accented the furniture. Beautiful foliage from
Jeren Foliage
and faux palm trees—a combination of metal fronds and a white spandex base uplit with lighting that changed colors throughout the night—completed the look.
Towards the center of the room,
Panache: An Event Rental Company
set up various seating areas with spandex linens and black Chiavari chairs next to a stage ready for the band
Coco Salinas: The Latin Sound Feeling
from
Mike Sipe Entertainment
to perform. The eight-piece band played everything from Latin classics to 70's hits. The stage also featured the large pillowed backdrop, but with a painting of a dancing couple. Dance Attack took over the dance floor with a hot choreographed number and equally hot performers. The women wore red, frilly two-piece costumes, while the men wore white shirts, black pants, and red sashes—perfect to rumba, salsa and cha-cha in. They weren't shy about ditching their partners and grabbing guests for a spin and dip or two. Another couple danced on a raised platform near the entrance as gobos flashed on the wall behind them. Performers from
CircX
joined in the fun, dancing to the beats just like everyone else—except they were on stilts.
CuisineWorks
'
Nuevo Latino ceviche bar was comprised of two white acrylic bars placed next to each other. Both bars were lit from within with blue lights. Gazpacho soup was served from a large bowl made of ice placed upon a field of banana leaves and served with an acrylic spoon into martini- and tall shooter-style glasses. Ceviche including salmon and sea bass; black grouper with mango sauce; red snapper, sea bass, and avocado; and red snapper with Mexican sauce were presented in cups carved from lemons, limes, and cucumbers displayed on top of a square ice block.
At an adjoining station, also white acrylic lit with blue lights, delectable sweet skewers were presented on ceramic platters and surrounded by various exotic fresh fruits. The dipping sauces—.phpberry, chocolate mascarpone, white chocolate, or caramel—were placed upon a warming marble plank that sat above glass cubes filled with baby gala apples, pineapple, strawberries, and marshmallows.
Across the dance floor,
Catering by Les
offered seared tuna on wonton squares grilled on granite rocks and served with Les' Oriental BBQ sauce; grilled and carved churasco served in plantain cups with chimichuri; and grilled snapper yakatori with mango chutney, horseradish aioli, and bernaise sauce. Enhancing the delicious food was edible decor. The caterer created cascading tropical strawberry trees with additional fruit for guests to pick and nibble on.
As if that was not enough, one entire wall was lined with additional treats from
Chocolate Fountains of South Florida
, who filled a table with a variety of items for guests to cover with molten chocolate;
Schakolad Chocolate Factory
's luscious chocolates; and more cake bites from
Cake Designs by Edda's
. When guests couldn't eat another bite and needed to take a breather,
Airheads Oxygen Bar
was right there to indulge them.
Continue
reading about the FunShop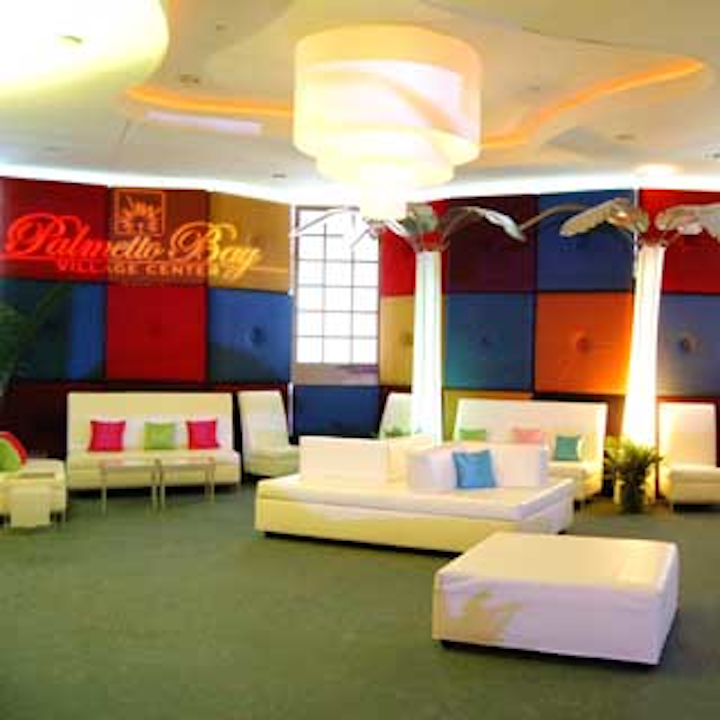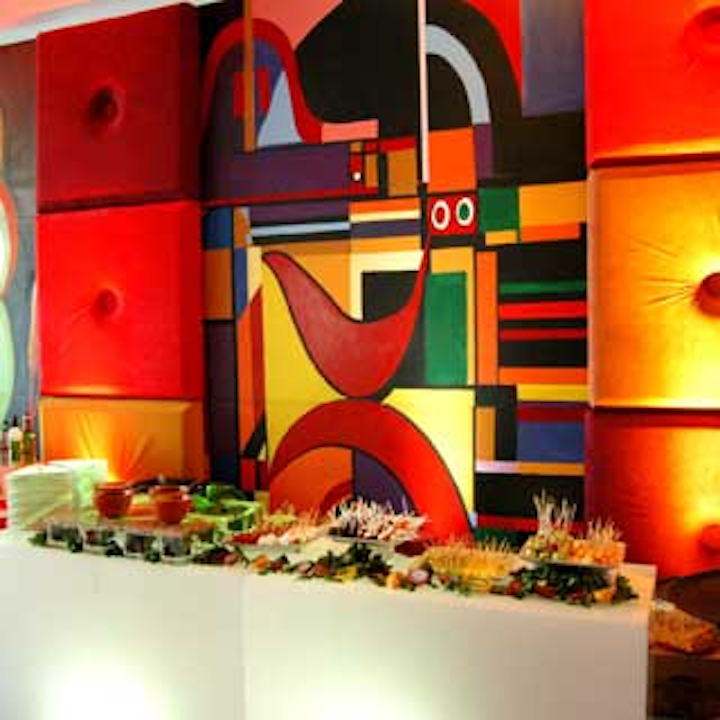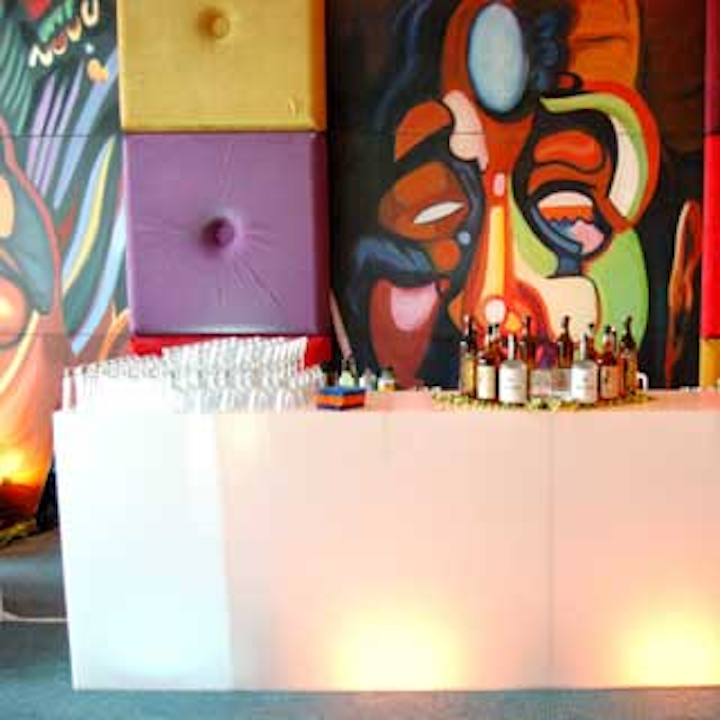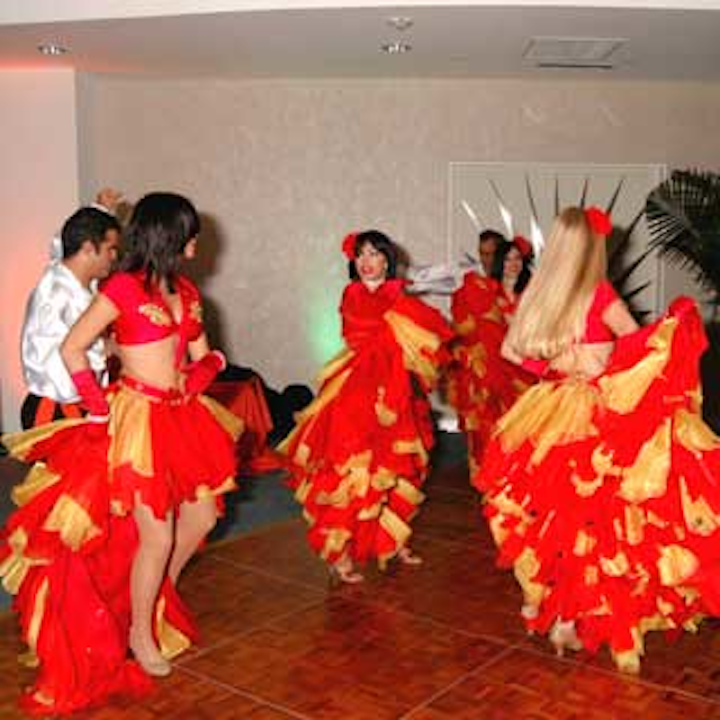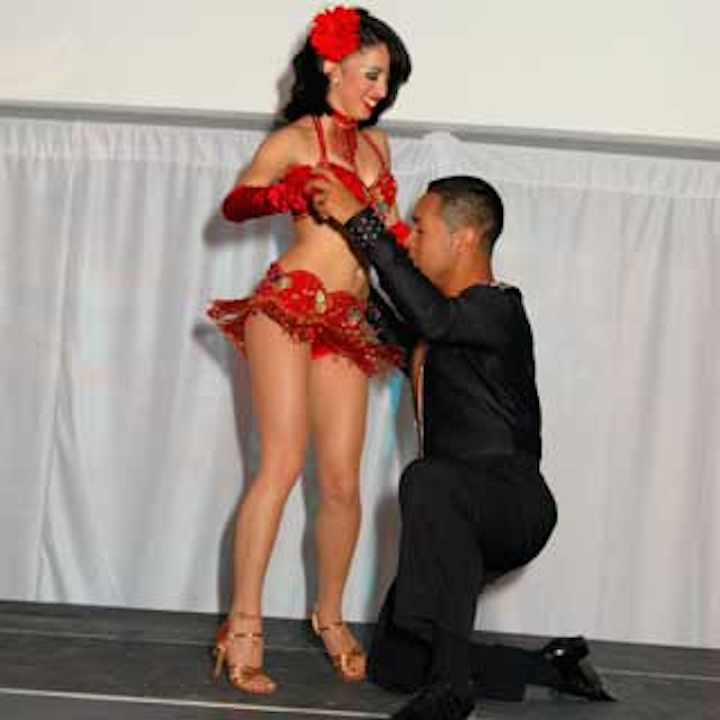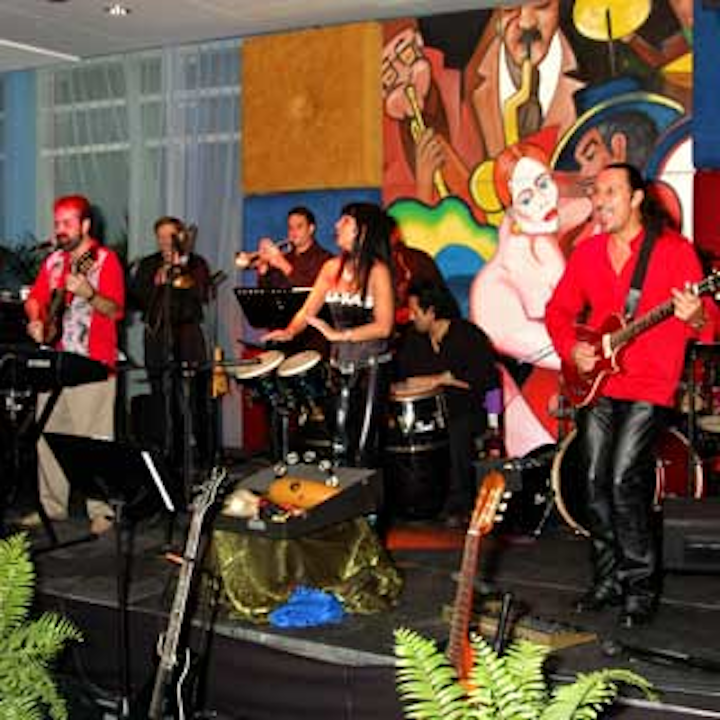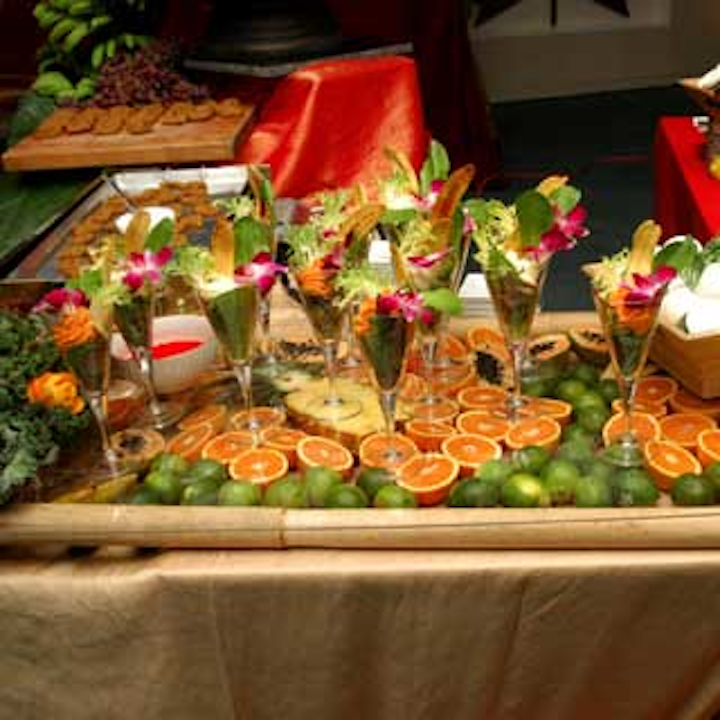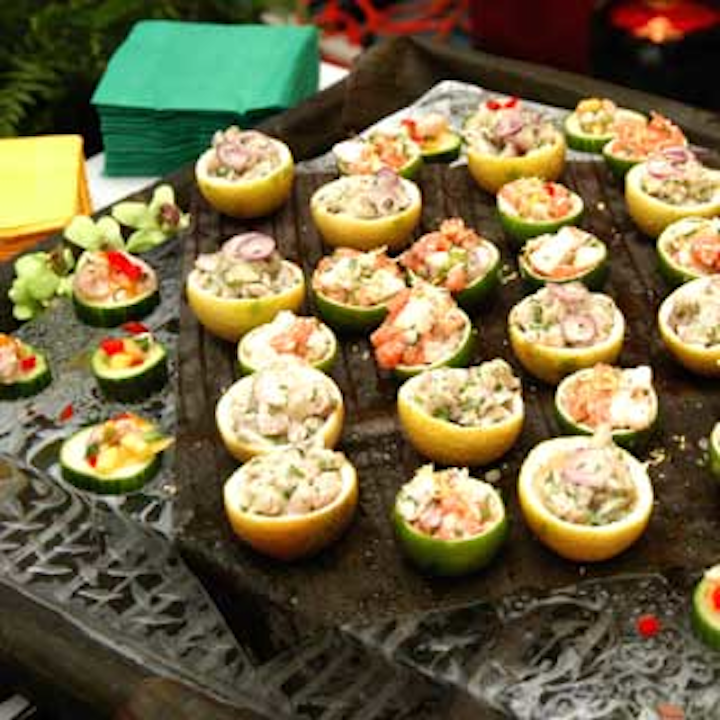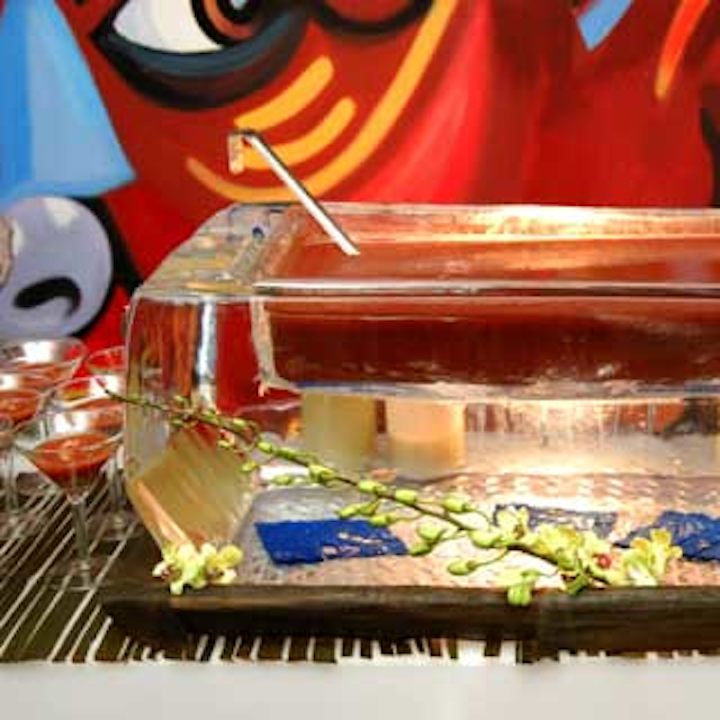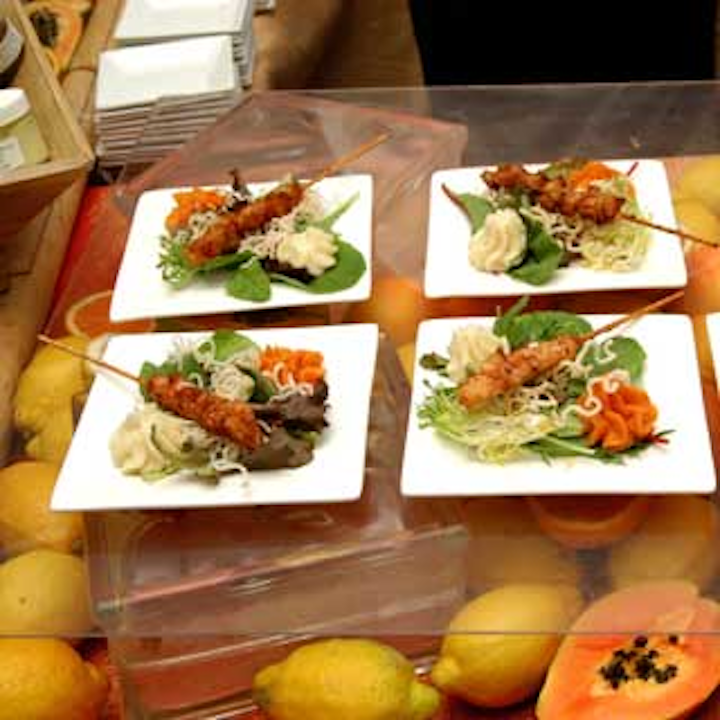 Featured Venues/Suppliers: